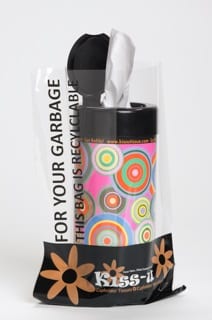 Kiss-u Tissue has launched its new, reseal-able cap on the back of customer demand.
The company said it developed the product on the back of customer feedback that tissues were getting dirty when dispensers roll around in the car or are used in a backpack or other carry-on.
Company founder Amy Davies said the newly designed cap snaps shut and is easier to use as well as being more environmentally-friendly.
The exclusively designed refillable Kiss-u Tissue Tube® and Kiss-u Wet Wipe® now contain new and softer tissues.
Kiss-u Wet Wipes are also intended for car cup holders and are made with a natural softness-enhancing formula that is safe for people of all ages and for use on all surfaces, and is also refillable.
Davies added that no other wet wipe dispenser on the market is refillable.
Kiss-u Corp was founded by Davies in 2008 to provide environmentally-friendly tissue dispensers.