By Greg Grishchenko, Industry Expert
Before the world economic crisis of 2008-2009 reached Kazakhstan, its local tissue market grew at 10% per year. Industry expert Greg Grishchenko gets the latest.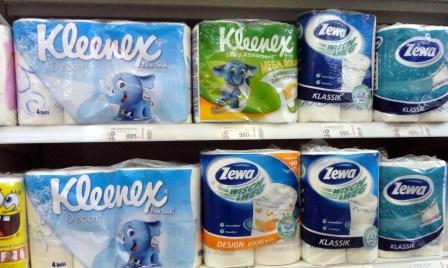 Along with the other central Asian republics, Kazakhstan gained its independence from the collapsing Soviet Union in 1991. The country inherited serious environmental problems from the Soviet era after intensive agricultural development and its use as a testing ground for nuclear weapons. The first and current President Nursultan Nazarbayev since the beginning of his term pursued a balanced foreign policy initiating an approval of the Nuclear Non-Proliferation Treaty in 1993.
Modern Kazakhstan is the largest landlocked country in the world and the ninth-largest country by area (2.7 million square kilometres) with a population of 17million. Its economy is developing rapidly with unique natural wealth and world class tourist sites. South Central Kazakhstan's city of Baikonur is known worldwide as a launch site of the Russian space programme.
The tissue segment in Kazakhstan has emerged in the early 1990s almost coinciding with the Soviet Union collapse when supply channels for such products from limited Russian sources began to deteriorate. In the Soviet-planned economy Kazakhstan was assigned to be an important industrial base for the USSR's military, space and nuclear programmes that included numerous manufacturing, mining and testing sites. Geographically set at mostly desert and steppe terrain, Kazakhstan is poor in forest resources (about 1.2% of its area), which is why the local pulp and paper industry never took off.

At that time new supply channels from neighbouring Russia, China and even distant Turkey brought in a variety of tissue products. The lowest price toilet rolls and napkins were converted locally from imported jumbo rolls by some newly opened small shops.
Before the world economic crisis of 2008-2009 reached Kazakhstan, the local tissue market grew at an average rate of 10% per year. Since 2011 after negative growth in 2009 and 2010 the market has recovered showing continuing mild growth in lower single digits with the highest increase in bathroom tissue. There is a considerable discrepancy in income between the wealthy and poor, as well as between the urban population of the large cities and the rural population of the country regions, where spending for tissue goods remains negligible.
The last four years, however, have seen some consumers steadily switch from economy brands to standard and even premium products benefited by the growth of disposable income. Advanced urban consumers are willing to pay more for greater comfort which is mainly offered by international manufacturers (especially in the incontinence segment) using more advanced technology than domestic suppliers. However, for the majority of the country's population a preference for products with lower price rather than higher quality prevails for the time being.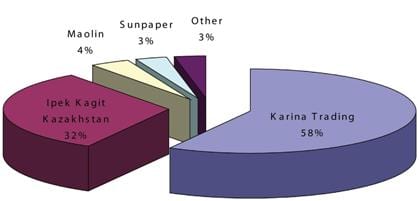 According to Euromonitor International, 83% of the country's $20 million tissue retail sales are bathroom tissue, with other tissue products like towels and napkins making 15% in 2012. Annual per capita tissue consumption is about 1.4 kg. Tissue imports in the form of higher quality bath tissue, kitchen towels and napkins are insignificant if compared with incontinence goods exclusively coming from multinationals such as Procter & Gamble Central Asia, Kimberly-Clark Corp and SCA.
While private labels do not exist, low priced economy tissue brands remained the most popular with consumers during 2012. Many leading international manufacturers and their local distributors within tissue segment have budget priced brands. However, the current leader of a standard and economy product range is Karina Trading TOO, domestic supplier located in Almaty with the second place held by Ipek Kagit Kazakhstan TOO, a subsidiary of the Turkish company under the same name. The AfH segment in Kazakhstan so far is very small despite the country's strong mining and processing industries and is limited to growing fast food restaurant businesses.
RETAIL CHOICES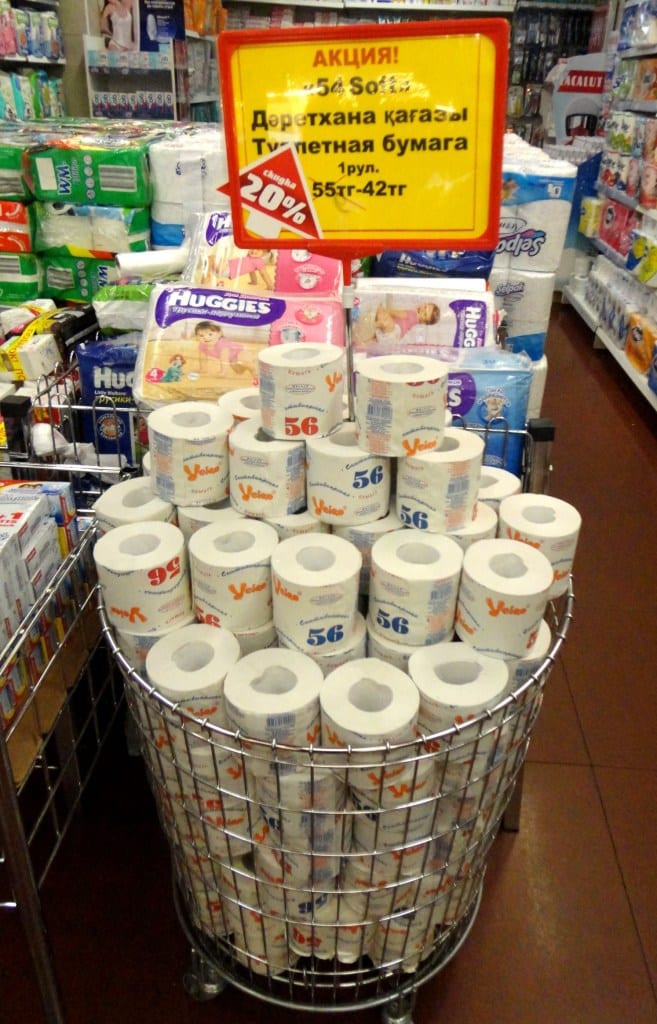 Independent small grocers (58% of tissue retail sales according to Euromonitor International) still currently prevail as a key distribution channel with convenient locations in residential areas across Kazakhstan. In recent years large cities have faced extensive growth in the number of supermarkets. While small groceries sell a limited range of mostly economy brands, supermarkets rely on better distribution systems and display a variety of both low-priced and luxurious tissue products for all regions of the country. In 2012 the largest retail sales were reported by Magnum
Cash & Carry TOO, followed by Ramstore Kazakhstan TOO. While international supermarket chains like Ramstore (Turkey), Metro (Germany) and Maxima (Lithuania), gradually increase their presence, domestically headquartered chains are more popular among consumers because its outlets work 24 hours, 7 days per week and offer affordable prices.
The diversity of tissue product brands in supermarkets closely reflects the country's proximity to manufacturing centres, establishing distribution affiliates in the country and "grey" market channels as well. With the absence of private labels, the bath tissue, kitchen towels and napkins which are on the shelves of supermarkets are of Mola, Lambi and Öko- Purex (Metsä Tissue), Kleenex (Kimberly-Clark), Zewa (SCA), Sammy (Wepa), Selpak and Silen (Ipek Kagit –Turkey), Karina (Kazakhstan), Veiro (Syktyvkar Tissue –Russia), Ruta (Ukraine) and even ClearWordPure from distant Clean Nara Co.Ltd (South Korea). Private label tissue products such as toilet paper and napkins in limited quantities occasionally appear in supermarkets, however, its presence is associated to mostly international chains.
MANUFACTURING
Kazakhstan produced approximately 31,000 tonnes of tissue products in 2012. In the planned economy of the Soviet Union, the Kazakh Soviet Socialist Republic was designated to be a mining, space and nuclear test/processing region. There was not too much room for the household products industry and basic tissue supplies were shipped from Russia. After independence, supply channels among former Soviet states were broken, creating a void in tissue and hygiene supplies that had to be filled. Tissue product economics (importing v making) created a group of local entrepreneurs willing to take risks. Some of them like Karina Trading grew into a leadership in this business becoming full cycle integrated tissue producer (see field report below), but some of them closed.
Out of the country's less than dozen tissue product manufacturers only Karina Trading TOO with annual capacity approximately 18,000 tonnes can be considered a fully integrated producer. Ipek Kagit Kazakhstan, a fully owned subsidiary of Ipek Kagit, part of Eczacibasi Group based in Turkey, takes second place. The company was established in 2006 at first as a distributor and eventually opening converting facility near Almaty with annual capacity of about 10,000 tons.
The company Sunpaper, located in Almaty, is devoted to 100% virgin tissue converting into toilet rolls, kitchen towels and napkins for the AfH market. Despite its short four year history, it has received certification to supply the United States Armed Forces in Afghanistan through its GSA Global Supply Catalogue of the US General Service Administration. Chinese company Maolin was established in 1995 in the Almaty suburb. The company reportedly makes its own tissue from recovered fibre on four small electric tissue formers from one to two tonnes per day. Maolin also converts 100% virgin fibre jumbo rolls from China.
The rest of small tissue converters in Kazakhstan (Almaty Paper Factory, Emin LTD, Deldal -Actobe, Mika-Chimkent, Shugat, Papyrus, Kasen 7, and Kvind) produce substandard quality toilet paper and napkins from waste paper. Lowincome consumers dominate the country's population and still ensure the arrival of new entrepreneurs willing to start a tissue business. There are several distributors in Kazakhstan offering complete turnkey installation of mini-plants made in China with complete toilet roll production cycle.
The country's proximity to China creates opportunity for tissue converters to import low-cost jumbo rolls. Kazakh tissue producers can take advantage of the country's membership in the Custom Union with Russia and Belarus to get access to low cost virgin pulp and jumbo rolls.