By Sertaç Nişli, general manager, İpek Kağıt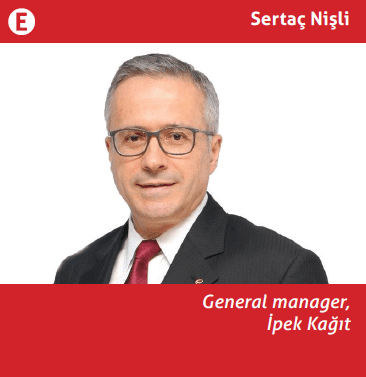 A long-time pioneer and leader of Turkey's tissue paper sector, İpek Kağıt has opened two new plants in Turkey and Kazakhstan that will advance its goal of regional leadership. Sertaç Nişli, general manager of İpek Kağıt, highlights its recent investment.
İpek Kağıt was established by the Eczacıbaşı Group in 1969 to manufacture bathroom tissue and promote the use of this product in Turkey, where tissue paper, at that time,
was a new and unobtainable product for most people. When we started manufacturing tissue paper a year later at our paper mill in Yalova, the first facility of its kind in Turkey, the tissue paper market was virtually non-existent.
Today, we dominate Turkey's bathroom and facial tissue, napkin, handkerchief, and kitchen towel segments as well as a new line of bladder protection pads– with the five most popular brands: Selpak, Solo, Silen and Servis for retail customers and Selpak Professional for away-from-home use. Selpak, our flagship brand and the generic name for tissue paper products in Turkey, is the best known and best loved tissue paper brand, with a reputation for innovative products and a true sense of caring about customers' well-being.
A pioneer of Turkey's tissue paper industry, İpek Kağıt has maintained its leadership over the years by focusing on quality, innovation and the development of a range of brands that cater to diverse customer segments and expectations. İpek Kağıt had steadily advanced towards its goal of becoming a regional power since becoming a fully owned Eczacıbaşı Group company in 2012.
During this period, we achieved a rapid acceleration in growth, maintaining our leadership in Turkey while increasing the number of international markets to more than 60 countries across five continents. Over the next five years, we aim to sustain this momentum by growing our international sales fourfold and doubling our total revenue.
To this end, İpek Kağıt has opened two new plants in Turkey and Kazakhstan that will advance its goal of being a regional powerhouse. The cumulative value of the investment is over EUR 90 million.
65% increase in capacity with the Manisa investment
In addition to our plant in Yalova, which received an "Environment- Friendly Plant" award from the Turkish Healthy Cities Association, we have manufacturing operations in
Manisa, Turkey, serving both local and international customers. İpek Kağıt's new investment in Manisa, which completed in 20 months, embodies the newest and most advanced technology in the tissue paper industry.
The most important component of the investment is a new paper machine that is 5.6 meters wide and produces 2,200 meters of paper per minute. The machine has increased İpek Kağıt's capacity by 65% from 110,000 tonnes to 180,000 tonnes per year.
İpek Kağıt's second investment in Manisa – Turkey's first and only bladder pad production plant – will support the company's powerful entry in the medical hygiene category with a wide array of medical products of international standard for adults with incontinence. Ipek Kağıt plans to market these products internationally as well as in Turkey.
Astana plant will reinforce İpek Kağıt's regional power
Our former plant in Almaty, Kazakhstan, was constructed in 2006 to serve the growing markets of Central Asia and the Caucasus. Here, drawing on our marketing expertise in Turkey, we have succeeded in leveraging the competitive advantage of our position as Kazakhstan's first large-scale tissue paper manufacturer to make Selpak the most popular premium tissue paper brand. İpek Kağıt's new investment in Kazakhstan aims to advance its goal of leadership in Central Asia. Compared to its former plant in Almaty, the new plant in Astana is bigger, better situated and equipped with newer, more efficient technology. Aside from cutting costs, the new plant will produce a broader range of products that facilitate the company's expansion in Central Asia. Over the next decade, İpek Kağıt aims to expand the leadership of its flagship Selpak brand in the premium segment
of Kazakhstan, Azerbaijan and Georgia's tissue paper markets to other countries in the region.
These new investments have reinforced the quality, technology and innovative power of İpek Kağıt and brought us closer to our goal of becoming a regional power. As we extend this achievement to new markets, in line with our vision of being a powerful regional player with the leading brands in both the premium and standard segments of the personal hygiene market, we look forward to cooperating closely with our business partners and creating new partnerships in each market to achieve our shared goals.
In the period ahead, we aim to accelerate our international expansion through investments in our brands, strong distribution partnerships in strategic markets, and the development of innovative products that respond to the specific needs of customers in each market, while advancing our commitment to personal hygiene and healthy, sustainable lifestyles. As the pioneer of the Turkish tissue paper market, we are confident we will achieve these goals.