In June, Turkish tissue manufacturer Hayat Kimya expanded its geographical presence with the inauguration of its $100m Nigerian diaper and tissue plant in Agbara, Nigeria. Hayat first entered into the Nigeria market in 2015 with its flagship diaper brand MOLFIX, and it now manufactures MOLFIX diapers and Papia Familia tissues at the facility.
Hayat Kimya has 14 production sites around the world and its Nigerian diaper and tissue factory is currently ranked as the most modern Hayat plant globally. This is the company's first major investment in sub-Saharan Africa. TWM interviewed Hayat Kimya Nigeria's general manager and managing director Hakan Misri.
TWM/1: What does the new tissue plant bring to the Nigerian tissue market and Hayat's global tissue footprint?
Misri: "With the start-up of our tissue mill in Nigeria, Hayat Kimya is now the world's 16th largest tissue manufacturer with 420,000 tonnes of tissue production capacity. Nigeria is Hayat Kimya's first and largest investment in sub-Saharan Africa, and with this plant we have also become the largest tissue manufacturer in the Africa, Middle East and Eastern Europe regions.
"With nearly $100m invested in technology and the land and people of Nigeria, we have been producing superior diapers and tissue products in our production premises located in Agbara.
"The plant covers 200,00sqm  of land and produces 1.3bn baby diaper products and 13,000 tonnes of tissue products annually. The warehouse stores more than 40,000 pallets of goods and has 15 loading points for trucks at any given time. The factory generates its own electricity, a total of 15 megawatt."
TWM/2: What tissue markets are you in with this site?
Misri: "Our MOLFIX brand is the second strongest in Nigeria's baby diaper market. In May 2016, we launched our 2-ply tissue brands PAPIA and FAMILIA into the Nigerian market as well as various toilet paper and kitchen towel products.
"PAPIA is our premium luxury tissue brand while FAMILIA combines high quality with affordability. These unique products provide our Nigerian consumers with comfort and performance they are looking for."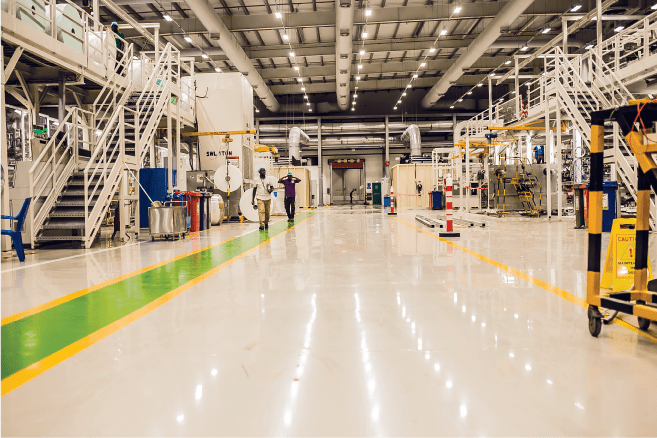 TWM/3: Do you have plans to grow further in Nigeria and the rest of Africa? 
Misri: "Our tissue plant investment in Nigeria will help serve as an export hub. This factory will not only serve the Nigerian market but also the entire West and Central African sub region as well as augment Hayat's North African factories where necessary. We had made a vast investment in Nigeria in just a couple of years and hope to achieve mutual prosperous results.
"Nigeria is part of the Economic Community of West African States (ECOWAS) countries. Member countries include Cape Verde, Gambia, Ghana, Guinea, Senegal and Togo. Today, the majority of our sales are done within the Nigerian market. We continue our investments to develop and strengthen our export potential."
TWM/4: Why is Nigeria a key tissue market for you? 
Misri: "Nigeria offers a great economic potential with her high population and arguably the largest economy in the continent. Yet, the tissue consumption per capita still offers space to grow. The total tissue market in Nigeria is 80,000 tonnes whereas in Western Europe it is as high as 6.3 million tonnes.
"The tissue market in Nigeria currently dominated by relatively low quality, mostly recycled products compared to what Hayat's brands are offering.
"Nigeria's consumption trends in the tissue category are said to be 80% in toilet paper and 8% in kitchen towel. Toilet paper is used for multi-purpose, not only for sanitary purposes.
"Hayat Kimya's brands Papia and Familia distinguish themselves with the quality and the comfort offered to consumer, especially with the 100% pulp-base of all our tissue products. Our tissue products succeed in foreign markets that require high quality as well as innovative technologies from global companies, but with the affordability of local products.
"We believe that increasing sanitary education and income levels of the country will help convert more consumers to our tissue category products.
"Hayat Kimya believes everyone has the right to access good quality products. As part of this approach, Hayat applies high and globally accepted standards in all its production premises around the world with no exception.
"Therefore, any consumer around the world will use the same high-quality Hayat product. Innovation and high quality meets affordability with our brands and differentiate Hayat from its competitors. We invest in the market as we mean to stay in it. Therefore, we do our best to understand the consumer needs and offer them our best."
TWM/5: How is Nigeria's economy affecting the tissue market? 
Misri: "In 2016, Nigerian's economy slipped into recession for the first time in more than two decades. The outlook for 2017 is for a moderate economic recovery with real GDP projected to grow at 2.2%.
"Consumers therefore tend to shift their shopping tendencies to open markets, shopping necessary unit amounts rather than bulk sizes. They prefer to buy familiar and recommended brands.
"Hayat, as a company offering globalised brands, has succeeded to establish its brands in the market with strong marketing that is directed at consumer activities. We will continue to listen to the consumer and offer products that suit their demands."