The Americas – lands of opportunity
By Futura's Christian Viviers and Fernando Herkenhoff
The Americas cover everything from the most mature, developed markets in the USA and Canada, to the youthful and fertile ground that is Latin America, particularly Brazil, which has been identified along with China and India as one of the most exciting places in the world to do business for the growth hunter. But while north and south are traditionally regarded as "poles apart", there are notable similarities developing.
North America: demand holds up
Despite the fact that some of the shine has come off its public finances, demand in overall tissue consumption in North America continues to grow at around 3% per year – the sort of growth which would be loudly celebrated were it to apply to the economy as a whole.
Last year, the economy picked up a little, which helps, but there is also product innovation, such as the wider application of towel products, to consider when looking for explanations for growth in apparently mature tissue markets. Tissue makers are simply providing more reasons to buy tissue. The result is that the tissue industry in the US stands out in that it remains profitable, particularly bearing in mind some recent successful price rises.
Based on US per capita consumption, 3% is a lot of product. In response to higher demand, the process of replacing some old assets has begun, although in many cases older tissue machines are being kept running in order to keep pace. It is likely that the next five years will see a lot of new investment to replace old assets, kick started by government initiatives such as the first-year write off of capital assets for tax purposes.
Growth is not the only driver of investment in north America: quality comes into it, too. Whether it is brands or private label, consumers are demanding greater softness, bulk and variety, but they don't want to pay for it. So producers, keen to protect their margin, need to focus on the cost per case of tissue.
The building of new tissue machines creates efficiencies but also pressures. New capacity has revealed bottlenecks in production in North America. If installation of a new machine coincides with ambitions to widen the product range, then converting and packaging can really hold things up if they remain unchanged. Regular analysis of the downtime caused by changeovers is essential information when determining the efficiency of an operation and planning investments.
Production flexibility is the key
Flexibility is the key to the future success of all tissue makers, but particularly in North America. The huge variety of product sold there means many producers have a product mix which is wide compared with their overall output. Even for the biggest suppliers, this can still be the case on a regional or individual mill basis. And of course there are still plenty of producers outside the region's biggest brands which have to supply an increasingly broad product mix to meet the demands of their customers.
"Latin America is clearly leading the charge in a global market for tissue that already offers solid growth prospects"
A typical converter might be supplying several private label customers with similar but differentiated products. In this scenario, it is critical to achieve minimal disruption to the production process associated with changes from one product to another, so downtime minimisation should be the focus. The footprint of the equipment required to do the job also needs to be minimised and if the need for a second accumulator is avoided, where both consumer and professional products are converted on the same line, so much the better.
Latin America
Moving south of the US border, there is a very mixed picture in terms of tissue consumption and potential for growth. Despite slower growth than expected in certain markets this year, notably in Venzuela and Mexico, the Latin American tissue market as a whole is expected to grow at a rate of 4.5- 5% annually, which equates to approximately 1.8m tonnes of extra tissue in the next 10 years. That represents numerous new lines. The world average tissue growth is expected to be around 3.5-4% over the same period, so Latin America is clearly leading the charge in a global market for tissue that already offers solid growth prospects.
To better understand how the current Latin American market behaves we can divide it in four major segments: Mexico, where the market consumers around 990,000 tpy, Brazil 930,000 tonnes, the rest of South America (non-Brazil) 1m tonnes, and Central America 350,000 tpy.
Mexico is where the influence and similarities with North America are seen most clearly, in terms of consumption and product choice. Mexico favours high quality tissue – 60% of consumption is premium products. There is also a good demand for kitchen towel and AFH products.
It's true that the rest of Latin America's markets are more value-driven. Brazil is typical for the region, with almost 75% of production being toilet tissue, and 80% of overall tissue sales for consumer use as opposed to AFH. Most of the toilet rolls in Brazil are lower quality, single-ply products. Good quality, two-ply product represents only 20-25% of the total.
"The main driver of this growth is a widespread rise in disposable income"
But the signs are that this is changing, with a gradual shift in favour of multiple plies and better quality. This trend is gathering momentum. Certain habits might be hard to budge, however. In Brazil for example, the use of domestic help is not restricted to the very wealthy, and this discourages the use of disposable cleaning solutions such as kitchen towel. But the overall trend towards greater consumption and quality is clear.
While there are plenty of entrepreneurial local producers in countries such as Mexico, Brazil and Argentina, many tissue makers in the region are multinationals and this is another source of north to south influence. Average per capita consumption across Latin America at 6-7 kg/year is less than a third of that in north America, but as the region's tastes graduate to higher quality product, consumption and, above all, the potential to add value, will bring the south ever closer to the north.
The main driver of this growth is a widespread rise in disposable income. The newcomers to the so called "middle class" have the opportunity to buy more and better products. There is also potential for AFH growth.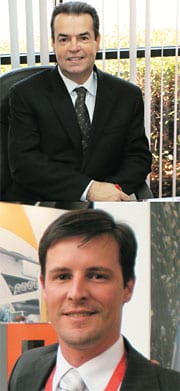 Pivotal Brazil
Bearing in mind Brazil's pivotal position not only in the Latin America's economy, but in the world's, this country deserves special attention. The steady growth which the Brazilian economy currently enjoys makes it a beacon of success in a gloomy economic world. While Argentineans enjoy a similar, and Chileans a slightly higher, income per capita, Brazil's population of nearly 200m makes it the region's economic powerhouse.
Being of a similar physical size to the USA, and with a gradual shift to the sort of quality and variety expected in the States, Brazil will offer the best opportunities to tissue makers and converters which focus on reducing downtime and waste, while maximising operational expertise, production flexibility and process efficiency.
As more and more multinational companies open offices in Brazil to catch the wave, investment in the country's tissue industry has increased to meet the demands of sophisticated new clientele.
Lands of opportunity, north and south, they certainly are. Lands of equal opportunity? Well, that might be pushing it. However, bestpractice examples in both regions are starting to look ever more similar, as products and productivity in South America move "north".