By Giulio Bignami, Microline chairman, for TWM
Microline's Giulio Bignami talks about the company's latest technology developments plus a new line installation at Dubai-based Metropolic Paper Industries. A TWM report.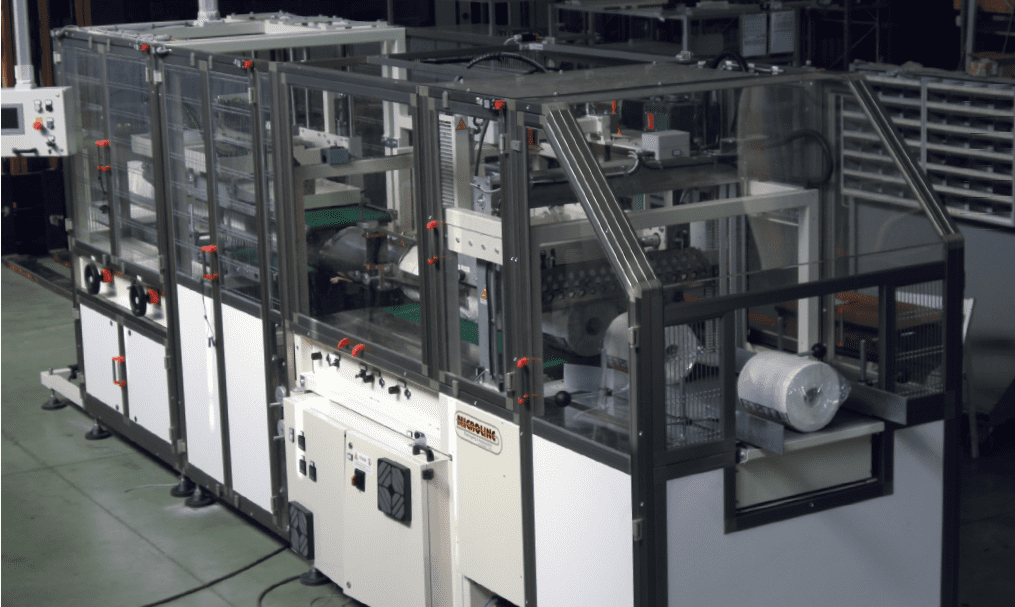 For many years, Microline has been responding to customer demands and focussing on different aspects for packaging tissue products, building automatic machinery for end-of-line packaging.
Its AfH roll baggers and packaging machines, vertical and horizontal case packers for rolls, tissues, holders, napkins and interfolded tissue, connection, sorting and orientation systems and palletisers mean the company addresses a wide variety of situations in producing tissue products.
THE NEW MICROLINE BRANDED LINE
In May, Microline delivered its most significant end-of-line packaging line in the Middle East, to one of the region's biggest groups in the tissue sector at international and Middle Eastern level.
The following automatic machines are:
AL80
After the success of the Flow Wrap 1000, "the multi-pack wrapper that moved the goal-posts", Microline launched the AL80, a third-generation wrapper. The AL80 represents innovation reliability and is the only wrapper able to handle rolls in single, double, or triple collations. Roll packs can be customised with (glueless) label insertion or printed film. With high productivity combined with increased flexibility and reduced consumption, this wrapper was launched specifically in response to market demand. The AL80 output rate is up to 210 rolls per minute for the 1×3 format. Film consumption is 30% lower compared with other wrappers available.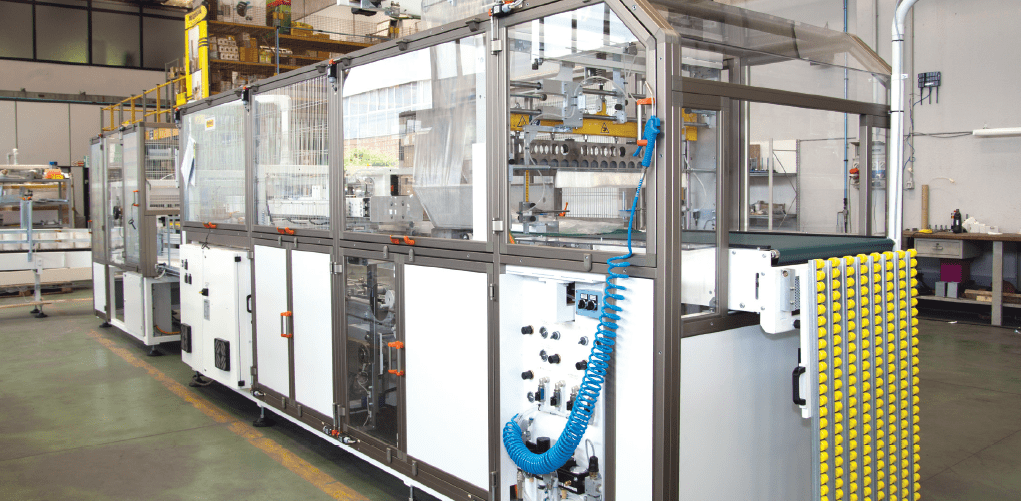 FLOW WRAP 1000
The first machine completely controlled by a servo-motor system in this market segment. Any operator can easily use the touch-screen panel for both size change-overs and all the general machine functions. FLOW WRAP 1000 is a bagger that can pack up to 20 bags per minute, without a shrinking tunnel, in all and every product arrangement of the AFH market. By introducing new concepts, packaging has benefited in terms of both consumption of materials and energy saving.
SMART PRODUCT SORTING SYSTEMS
Increasingly high performance levels and new market trends in up-stream machinery have given life to the development of new devices that can handle, channel and delicately convey rolls on demand to the machinery downstream. The smart handling of the devices ensures that as well as balancing the channels, with relevant exchange signals, the device can communicate with the process machinery upstream.
CONNECTION CONVEYOR
By handling the conveyors in ad hoc recipes for individual formats, there are benefits on various fronts: special roll detection systems automatically restart the conveyors, energy consumptions are rationalised and, at the same time, wear on components is reduced to a minimum.
DIRECTING AND PRODUCT STACKING DEVICES
Systems created specifically to unite performance and delicate handling of tissue products: size changeover solutions where downtime is reduced to a minimum, without the aid of tools or having to replace mechanical parts. Therefore, rather than components and particular secondary and tertiary packing stages, Microline's specialism is integrating the most diverse customer needs in one automatic customisable solution.
1. Sensitive products to be handled according to their features, weight and the dimensions of the primary packaging;
2. Market trend towards a preference for compact secondary packaging, with optimised dimensions, that facilitates palletising operations, allocation to shelves, display and disposal at the end of the secondary packaging's lifetime;
3. Need for flexible automatic systems in the size change-over and unit composition ratio for variable delivery and transport and at the same time iso-modular.
Based on the packaging requirements, Microline can propose the most suitable machine or line, customisable, flexible and versatile, optimising the available spaces, consumption and naturally
production.
All the machines are simple for the operator to use and require minimal maintenance. Collaboration with other manufacturers in the sector also creates synergy allowing the lines to be integrated and completed and offering customers a meticulous and satisfactory service.
The final aim of all Microline projects is to avoid wasting energy and materials. Film baggers and wrappers are designed to completely use the strips of packaging material hence providing benefits in terms of management costs and protecting the environment.
The challenge for Microline is binding: the advantages for customers are a reduction in packaging materials, with benefits in terms of the environment and material costs, but also savings on product cycles (constantly faster) and simplification of palletising stages (the palletiser could even possible be removed). Company mission: to make flexible automatic machines suitable for all "seasons" and requirements.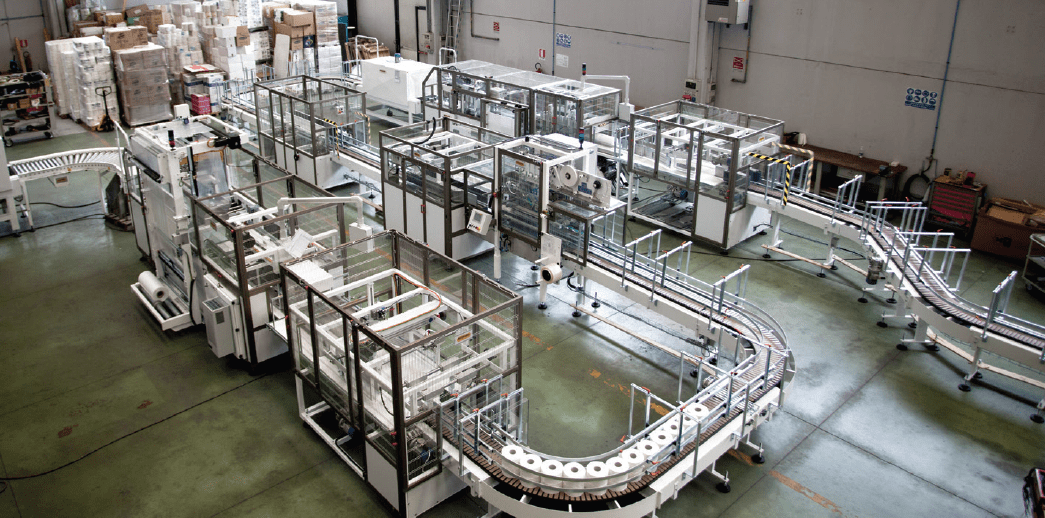 CASE STUDY: Metropolic Paper Industries talks to TWM about its latest investment
In November, Dubai-based Metropolic Paper Industries will start up its new packaging line for AfH rolls. The company has been in the paper industry since 1995 and has recently needed to expand its packaging capabilities due to an increase in customer demand.
General manager Amer Omarzay told TWM that the company is proud to be one of the country's leading tissue converting companies. Products include facial tissue, bathroom tissue, kitchen towel, napkins, M-Tork, C – Fold and hand towel in all sizes. Sectors include personal and daily use in homes to professional use in workplaces, restaurants to hospitals.
It processes 100% virgin raw material to produce more durable, absorbent and cost effective products. Its clients include all the top chains of supermarkets, leading exporters, wholesalers, retailers, hotels, hospitals, clinics, catering and cleaning companies. It is also a supplier of tissue papers tailored for its customers' own brands. Omarzay added: "Through our knowledge of international markets, trends and local consumer requirements, we can respond rapidly and flexibly to offer our customers individual product
concepts, consultancy, manufacturing and services."
The company's investment was essential for it to remain a key player in the market. Metropolic also has plans to cater to the Gulf Cooperation Council market, which was impossible to cater for with the current capacity. The company said it was fully aware the market is there; however, it needed the right machinery with fully automated technology to expand and reduce its work force but increase its production.