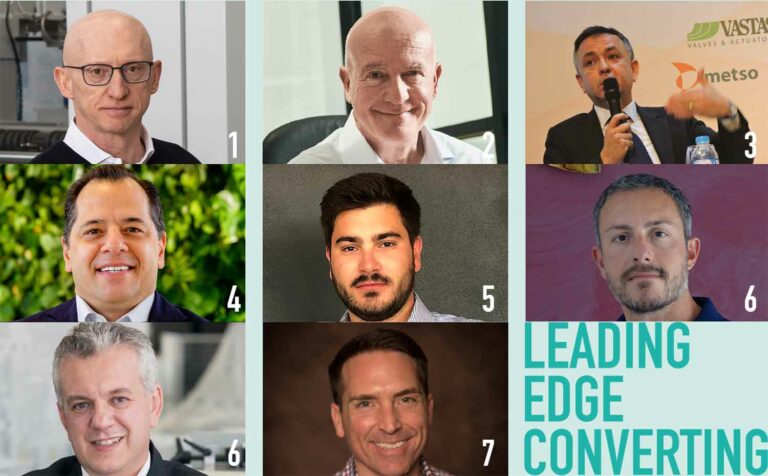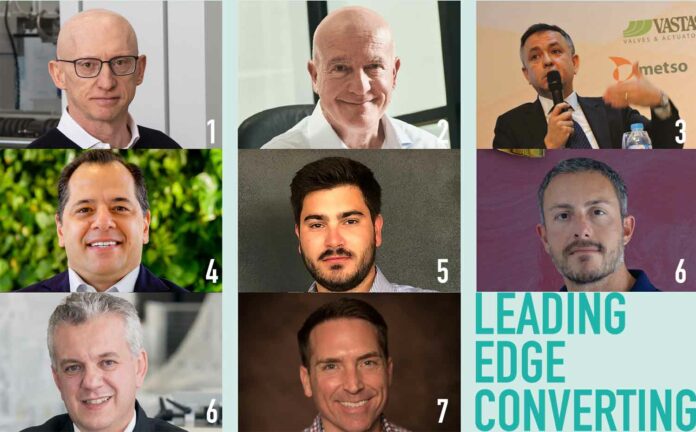 Leading companies outline advances in technology targeting integration, automation, bioplastics, energy, swing line flexibility, rewinding, embossing, folding, engraving, turn-key solutions, heated rolls and digital services
---
TWM/1: What new technical developments and machinery launches have you made in the past year, and what does 2022 hold?
Christian Zagnoni, Chief Technical Officer of Futura and Plusline: "For Futura, the acquisition of Plusline towards the end of 2020 represents the continuation of our strategic plan dedicated to the progressive improvement of what we offer. This is not only about the integration of companies but heralds a new era of the integration of packaging within converting.
"Further technical developments include: Camallo – the first automatic system for loading and exchanging coreboard reels; the JOI embosser, which has been taken to a new level of automation and performance in its latest incarnation; automatic adjustment of the Sferica rewinder is yet another step to optimise output without manual intervention; and automatic blade-changing on the log saw including bevel measurement brings new levels of safety and efficiency."
Carlo Berti, Sales & Marketing Director, Gambini: "I clearly remember our pledge last year not to use empty words like 'innovation' or 'flexibility' in this kind of interview. This time, we commit to not talking about what we do, but why we do it. Indeed, the most significant launch we made in 2020 is not a technical development or a machinery – it is the company's new vision and mission. That's the most important thing we can supply to our customers: not just the best converting lines – of course we do it, as well! – but the reason why we get up in the morning.
"As we consider ourselves a part of the well-being industry – not just the tissue or paper one – our purpose is to empower people to feel safe, healthy and free. We make it by spreading the culture of hygiene, a target we strive to achieve through the products our customers can make with our technology: unique and, let me tell you, extremely powerful, if you want to go beyond tissue!"
Çınar Ulusoy, General Manager, Innovative Converting Machinery (ICM): "In 2020, we launched our new 2,800mm wide VENUS V-Fold production line, which also includes PE packaging and facial tissue box filling machines. In 2021, we are introducing cardboard parcel filling and PE Bundling machines as secondary packing machines for the previously mentioned production line and existing ZENITH Z-Fold production lines.
"In 2022, we are preparing to launch our new toilet tissue and kitchen towel rewinder with 700mpm rewinding speed. This new rewinder is going to include many new features that were never before seen in the industry."
Mauro Luna, Chief Sales and Marketing Officer, Körber: "Körber is the only truly integrated and global provider of advanced solutions for the tissue sector. We offer the industry's most comprehensive portfolio of tissue technology to support you across the entire value chain – from roll to fold, from converting to packaging. This includes advanced digital services and engraving technologies as well as unique supply chain concepts.
"This is why our technical developments and machinery launches have different development areas for each specific area. For example, Solid +, the only roll with no core or central hole, has been a patented technology on the market for over 20 years, but last year we launched it very successfully in China.
"A few weeks ago we launched a real breakthrough innovation at a global level: Warm-up Contactless, the first hot embossing system that uses induction.
"Conventional hot embossing systems have some disadvantages such as safety, energy expenditure and long heating times. With Warm-up Contactless, which can be used without modifying the rollers, it is possible to increase the volume of the product up to 20%. It is an eco-sustainable process that reduces heating times by a third, saving over 60% of energy. It also makes the system safer because it eliminates the passage of liquids at high temperatures and pressure peaks on the line. The system is designed not to interfere with the operator's work such as web thread up and rolls changeover.
"Among the other decisive launches for the Roll Area is Proxima S6, which is ideal for the AfH sector. The setting of the machine is completely automatic and makes it possible to change the product in less than 10 minutes, including changing the core diameter, guaranteeing maximum safety for the operator who can control the operations via the HMI panel.
"For the Pack area we have developed a "green" solution that can easily adapt to current systems and existing plants, ensuring concrete benefits from an economic point of view as well.
"Bioplastics and biodegradable plastics are only partial solutions, but the global scarcity of materials and high costs prevent their full implementation. Extensive research and development has led Körber and partner companies to use recycled and virgin paper which is 100% biodegradable and FSC-certified.
"The TIP (Technical Improvement Programme) Bio Pack kit allows the perfect transition from polymer to paper, through a simple command on the operator panel that ensures efficiency, quality, and constant performance.
"Compatible with all current machine formats and configurations, with any type of paper including reels combined with bioplastics, Bio Pack is the perfect solution to optimise tissue product packaging operations.
"For the Fold area, MTC MyFold lines complete the portfolio of single and multipanel interfolders with extremely competitive solutions for the market that provide high performance in the category and high product quality standards."
Alberto Carlini, Area Sales Manager, Maflex: "2020's key phrase was "turn-key solution". In a year so deeply marked by the difficulty of travelling around and being able to meet, we are proud of the fact that many customers were confident in giving Maflex the full responsibility of their projects, from rewinder through downstream packaging. Thanks to strategic partnerships with packaging OEMs, we were able to deliver two complete projects (converting + packaging), allowing our customers to focus on more productive aspects of their business. Another major turn-key project will be delivered in the first quarter of 2022.
"Continuing the focus on turnkey solutions, Maflex launched a complete line for the production of wet wipes. This includes all the necessary downstream packaging, stuffing, filling, etc. Other significant accomplishments of the past year were start-ups of the HERACLE QUICK CHANGE and the HYBRID SOLID rewinder."
Enrico Ruglioni, European Sales Director, Maxima: "Maxima has been active in various aspects to support customers in meeting market developments. These include:
• Coreless Rolls for Consumer and AfH products have been requested by various tissue producers both in North America and in Europe; at Maxima we have developed complete lines, which can quickly switch from Cored to Coreless products so that end user can follow the trend and anticipate some applications;
• New rewinder UNITECH to improve quality of finished goods both for mid-range performance (PRIME line, which will be shown during next open house in October) and for high level speed up to 700mpm and higher. This new concept is called BULKTECH and the results are almost perfect winding without damaging the embossing pattern from the beginning to the end of the winding. BULKTECH has also proven to be very successful for TAD products and end users have appreciated how the simplified mechanical and electrical applications allow all operators to reach very fast maximum productivity. Combined with BULKTECH, Maxima has also developed a new system capable of self-adjusting the winded products by measuring the thickness of the paper, so that passing from hard to very soft roll is fully controlled and automatic;
• We have seen greater interest for printed products; after various two colour printers installed at customer's sites, Maxima is going to deliver a four colour printer to be integrated in a third party converting line. Once again, the well proven solutions developed by our technical team for making printing process so easy and automatic have been appreciated by the end user beating competition of all other machine suppliers."
Marco Calcagni, Sales and Marketing Director, OMET: "In the past year we have launched the MF Line, a new revolutionary multi-folding machine that can produce all types of napkins made of different materials and types of fold and embossing. It's a multi-fold machine and is a combination of our technology for folding but dedicated to napkins. In particular, it's dedicated to personalised napkins because it can be combined with our digital solution for printing and also combined with traditional flexo solutions. This digital printing configuration allows maximum flexibility in producing customised products with no set-up waste.
"The MF Line is available in single or double lane configuration and offers napkins production with different types of fold with quick job changes that come directly from the operator control panel due to its new vacuum/mechanical folding head technology. It can also fold napkins in a variety of ways.
"It is a really important development for us because it's fully electronic and motorised and can change the napkins with a different type of fold without any mechanical intervention, everything is done by the control panel. We also have the opportunity to connect with Smart solutions – Industry 4.0 can be connected across all of our machines and we have also developed intelligent software to give to the customer.
"Other developments have included producing a folded product that has a special material, for example disposable masks, or a particular folded product for house cleaning such as dust removal. We have also developed the solution for IBT (Improved Bonding Technology) and that can now be used in our machines, offering a solution to avoid embossing. This means the cost for our customer is significantly reduced and that the bonding of the two or three ply comes together without using embossing, thus reducing the cost for our customer.
"We have also developed a product that we will launch in the next couple of months. It is a new variable folding napkin solution where the system to interfold the napkins one to the other is now possible with different sized napkins. This means it's not dedicated to just one size.
"We also have a machine called the XV Line for extra volume for napkins, and this is for the jumbo roll market. It has the capability to produce 25,000 napkins per minute and is a very big innovation that we will deliver next year. It really is a revolution in the napkin market because it's a fully mechanical machine with the highest capability in the market today.
"We have also developed for the interfolding product for facial tissue and hand towel. For kitchen towel, we have our new interfolding machine ASV Line, which can now produce at a speed of 300 metres per minute, with very high capability."
Andrew Green, Vice President of Tissue and Nonwovens, PCMC: "Our challenge was to optimise our tissue converting and packaging machine portfolio, continuing to produce innovation in all areas. While we have perfected our AMICA UNICA lines with consumer and AfH geometry and broadened our FORTE offerings, we are extremely excited about customer response to PARAGON, our new flagship rewinder for consumer tissue and towel. PARAGON has exceeded our expectations for ease of use, productivity, and product quality.
"Equally exciting is SmartTouchTM, our game-changing human-machine interface (HMI) that provides intuitive navigation and situational awareness for the user. In packaging, our new DIVERSA (branded STAX Technologies) is a high-speed bundler and completely distinctive case packer in one machine, with a simple adjustment to turn the case packer into a bundler, and vice versa. With these changes, we are positioned in tissue converting and packaging to provide solutions to all customer needs.
"For 2022, we are developing new technologies in the areas of safety, ease of operation and maintenance, sustainably produced products, direct-to-consumer shipping, and transforming data into insights and actions to improve OEE. We also continue to invest in understanding tissue making, converting, and packaging as a single system with a common goal of producing saleable, profitable products."
TWM/2: What features are you incorporating to minimise downtime between changes in print design, embossing design or roll format?
Zagnoni: "On our JOI embosser there has been a complete revision of the transmission system. Embossing roll changes are of course handled by the Andromeda crane, along with rubber rolls, cliché and anilox. Combined with a new storage area for embossing rolls which is fully accessible in complete safety while the line is running, this takes JOI to a new level of automation – even to the oil circulation system detachment which is managed from the control panel."
Berti: "This is a converting technical issue, I understand if you want me to get there! You all know we are the ones who invented TouchMax, don't you? Known in every corner of the world as the easiest solution to manufacture different products on just one line: no downtime, no weird settings, flat-out the best (by far)! Now, our next focus is going to be the unwinding phase: I'm only allowed to say that we are re-thinking the whole process from scratch, bringing efficiency and safety to the highest level in the industry."
Ulusoy: "Printing units that we are launching in 2022 are going to incorporate smart self-print-registrating technologies that are going to reduce print setup time to seconds without needing operator assistance. In addition, we are aiming to reduce the embossing roller change time to minutes in our upcoming embossing units. "Furthermore, in our new rewinders we are going to be able to recall previously saved parameters like core diameter, log diameter, log length, log density for each product eliminating the setup in between product changes.
"Our main purpose is getting rid of manual settings in every machine, thus creating user friendly machines and getting rid of setup time losses."
Luna: "Proxima S6 allows extremely fast format change via HMI panel, making it the ideal machine for AfH.
"Körber also has the widest range of embossers with the widest roll change in the world. The embossing process can present production inefficiencies and operator safety risk primarily due to the manual embossing roll changeouts. Switching the cumbersome steel rolls can take upwards of an hour, and requires an expert operator/mechanic to complete.
"The Catalyst Embosser is the only embosser on the market with automatic steel roll changes for top and bottom positions. Embossing patterns are changed as easily as pushing a button on the HMI, improving safety, efficiency, and flexibility on the line."
Carlini: "MAFLEX is known for providing flexible machinery for the tissue, towel, and wiper markets. Our products have always been known for their quick and reliable push button and tool free changeovers. Our Universal Clamp system on our log saws, automatic roll change HERACLE embosser, and HERMES continuous winder capable of producing cored, coreless, and solid rolls demonstrate our machinery's capability to produce a wide range of formats on a single machine.
"The new Integrated Supervision System will be launched in 2022 and will allow the line user to fully plan production, maintenance and procurement of raw materials and consumables in order to optimise operations by minimising downtime, consequently increasing efficiency and simplifying production planning."
Ruglioni: "One of the main drivers of all Maxima developments is flexibility and high efficiency. More specifically for the printer these are the main benefits that we provide to our customers (PRINTECH 2 and 4):
• Changing colours (removing all ink, cleaning the chamber and inserting new ink): this is all done automatic without operator intervention reducing waste and start up issue;
• Cleaning the cliché while the machine is running also for four colour products improving efficiency significantly;
• Changing the sleeve: Cantilever in automatic, no tool needed, all operations managed by the PLC, the operator has to simply remove the sleeve (already released by high pressure, in all safety): 2 minutes per sleeve;
• Automatic timing of the sleeves: the system recognises the lot of sleeves with their design and it automatically times them: this allows reduced waste of start-up and quality control in continuous mode;
• All rolls are controlled by motors, thus eliminating all gears and long maintenance;
• Doctor blade lifetime is very long as the blade is under continuous pressure against the anilox and no adjustments from operator are required.
For the embosser MULTIFUNCION EMBOSSER 700, apart from very high-speed, Maxima has developed unique solutions that provide total flexibility to end users in terms of changing embossing pattern and adjusting the pressure to optimise products even according to line speed;
• A dedicated in-line built crane, managed by a robotic intelligence, allows to change engraved steel rolls in a matter of five minutes and positions them in the dedicated storage. To change from toilet paper (micro/deco) to Kitchen Towel (nested) takes about 10 minutes. Up to seven different patterns can be installed in the line, making Maxima solution the most flexible in the market;
• The timing of the nested rolls is managed automatically, without any tools, so that restarting the line can be done in few minutes;
• Embossing pressure is controlled by encoder installed on electromechanical cylinders: it can be managed from HMI and it self-adjusts according to line speed;
• Do you also need P/P? Multifunction Embosser also provides the characteristics of switching from DESL/deco to P/P and vice versa in less than 30 minutes and with a high level of automation;
• Do you have various paper width as you are buying paper in the market? Maxima embosser also provides the possibility of changing cliché automatically in a matter of few minutes."
Calcagni: "All of our recent launches and machinery developments have downtime in mind. We have continued to develop the printing with the system of Chameleon by OMET, this is digital and there's no downtime to change on the machine, it's zero.
"Also in our machine with the Tronic concept, all of the printing unit is fully automated. Furthermore, the cleaning of the plate can be done automatically without any need for the operator to do this, thanks to the Raccoon system. This means that even in the big machine it can have a very short run."
Green: "There are a few fundamentals to minimising downtime between product changes. One is robust machines with repeatable settings. Another is a thoroughly planned threadup system with as few manual handoffs as possible. A third is an intuitive recipe management system. We continually make advancements in these areas.
"For very frequent embossing pattern changes within a line, our ARCO automatic roll change system provides for embossing rolls stored inside the line's guards, but away from sources of contamination like glue and dust. The RollShuttle provides a means to remove a roll from the line, or add a roll to it. For less frequent embossing pattern changes or where embossing rolls are shared among several lines, our Omnia embosser-laminator automatic dismount system takes care of all the steps to
present the roll in position for an easy vertical pick-up.
"When creating a product for the first time on a PCMC PARAGON or FORTE rewinder, the software uses calculated theoretical wind profile cams to suggest a starting point for settings which can then be dialled in for that product's characteristics. These settings are then stored in a recipe which can be retrieved the next time that product is run.
"PCMC packaging has introduced closed-loop motorised adjustments to provide quick and repeatable change from format to format. Closed loop positioning ensures that operators can quickly restore machine settings to proven recipe values. Changeovers are choreographed via operator interface screens that provide step-by-step instruction with operator verification."
TWM/3: What advances have you made in AI / Industry 4.0 / digitalisation / automation, and how can the tissue industry further take advantage of developments?
Zagnoni: "In addition to our developments with JOI, another example is a logsaw innovation: automatic blade change on the logsaw is another game changer enhancing the safety of the operators. Thanks to a camera monitoring system to analyse the blade's condition while it is running, automatic blade grinding is adjusted as needed. This system keeps the blade in optimum cutting condition without disrupting production and without unnecessary grinding.
"As for our Camallo development, this first-ever automatic system for loading and exchanging coreboard reels can handle up to 16 reels. The totally-safe handling of the new reel is guaranteed thanks to the mechanical locking of the lifting system based on the Zero Energy Concept and using an additional redundant fall arrest system which brings the safety level up to category three. There are three different mechanisms to ensure that the coreboard reels are perfectly aligned."
Berti: "I've got news for you, TWM! In late September we'll go on the market with a brand-new digitisation system: as of today, its project name is G-Box. What I can tell you is that it's a real OEE booster. Look, everybody talks about how precious data can be, how you should collect them and then process and analyse that incredible amount of stuff… But the real issue here is: can you at least read them? Do you know what to do, then? You don't need terabytes of numbers and a dashboard full of charts and gauges. You only need an asset management partner (and tool). Here we are: meet Gambini's G-Box!"
Ulusoy: "ICM is preparing itself for mainly Industry 4.0 and other competitive edges of the future in the industry like AI and digitalisation. In this area, we are firstly working to create systems that don't need operator assistance and can calibrate themselves. Then we are planning to use these systems to be prevalent in our range of products. We are also adding preventative maintenance options to our products.
"In addition, we are harvesting digital data from our products. All of these efforts have the main goal of satisfying our customers who are looking for Industry 4.0, AI and digitalisation advancements in the near future."
Luna: "As for Industry 4.0, Körber continues its path of innovation through the connectivity of production lines and Industrial Internet of Things (IIoT) solutions with the aim of increasing the overall efficiency of the lines (OEE), while optimising the cost of total production assets.
"The Tissue Performance Centre is an integrated solution that brings together the skills of expert technicians, IIoT platforms, and data analysis to provide information on the efficiency of the machines and suggest corrective actions to be implemented.
"It is a proactive service thanks to a direct connection with customer's machines. The online display of operating parameters offers a constant evaluation of their state of health and highlights anomalies.
"The machines connected to the Tissue Performance Centre, which currently numbers over 1,500 for a total of over 160 complete lines, keeps production data, motor temperature values, energy consumption and parameter settings under constant control. These values, also compared with historical production data, allow technicians at Körber not only to remotely implement corrections to recover the efficiency of the production line, but also to detect any causes of malfunction and to establish, in advance, the actions to resolve them.
"In recent weeks, Körber presented Sam Operational Solution, the line virtual supervisor that guarantees constant performance and quality over time, regardless of the operator's level of skills.
"Sam is a line solution designed to continuously and independently adapt the entire manufacturing process, avoiding deviations and slowdowns caused for example by wear or different operating conditions. It foresees a set of systems applicable to the focal points of the line, such as the quality of the perforation, the characteristics of the log and the quality of the package.
"Like a real supervisor, once you have established the standard you want to achieve for you final product, Sam identifies in real time any deviations and takes appropriate decisions within the previously established limits, regardless of the operator's level of skills.
"Digitisation is also a key factor at Group level. FactoryPal's mission is to revolutionise manufacturing and to drastically improve shop floor performance by combining operator excellence with artificial intelligence. The solution helps manufacturers increase their overall equipment effectiveness (OEE) and thus significantly improve performance, outcome, and the bottom line. As a Software-as-a-Service (SaaS) solution, FactoryPal offers factories around the world a sophisticated machine learning algorithm delivered as a "plug-and-play" solution with on-site shop floor consulting."
Carlini: "The 4.0 theme for MAFLEX has been the basis of every new project. We coordinate with our suppliers and customers to ensure that the machines meet Industry 4.0 specifications. All of our lines are Industry 4.0 ready. We are also able to assist our customers in obtaining potential contributions or tax incentives by providing all the necessary documentation. Maflex lines can be easily integrated into company management networks, and planning and control will be enormously simplified through the Integrated Supervision System that will be launched in 2022.
"Another tool that completes the digitisation of our lines is the Smart Camera System, which allows remote viewing/control of the machines via digital devices positioned in strategic points. Multiple cameras help operators control and set up the line with the capability of recording critical events."
Ruglioni: "Each company is looking at the future in these terms. In Maxima we have chosen to tackle the idea of monitoring consumption both of compressed air and electrical energy, so that users can identify anomalies in the line and take actions to remedy them.
"On the other side, we believe customer may take advantage of receiving data block from the equipment and integrate them into their SCADA utilising an OPC server. Data like speed, line status, number of cycles per min, motor temperature and all other data that may be required; in practice a BIG DATA with analysis of all the information to optimize products and production process.
"We will also see a wider usage of cameras in various points of the production line (checking web breaks, verifying quality of winding and cut of the log saw and so on) combined with higher controls on temperature of rolls bearing and their vibrations to push preventive maintenance to a higher level."
Calcagni: "We now have our digital platform which is connected to all of our machines. We can integrate existing machines of the customer from another supplier, such as a wrapping machine. It can all be integrated into the same platform so the customer can check directly the full integration of the machine's production and they can monitor electrical consumption and the previous maintenance of a machine to predict what can happen, avoiding unnecessary shut down of a machine.
"We have also created an app where the customer can connect directly from his mobile phone to our team, using augmented reality across all of the process."
Green: "Many of our advances in automation have been directed toward keeping people safe. One example is our CS unwind, which has all operator access at floor level, does not require the use of a crane, and does not have core plugs to manipulate. The automatic blade guard on our XCut logsaw is another example, which also saves time that the operator would normally spend putting on specialised personal protective equipment before entering the saw.
"PCMC's Accelerate team and suite of connected services embodies our Industry 4.0 solutions. Accelerate Live provides audio/video assistance to our customers using a simple tablet with relative 3D space capabilities through subscription service packages. Accelerate Monitoring provides easy-to-understand dashboards with customised analysis from our knowledgeable team of experts. We provide action-oriented recommendations that drive improvements in OEE and production. "Accelerate Edge provides local-only dashboards, where data from the machine stays resident at the customer site, and we work with customer teams to review the data with on-site visits or teleconferences.
"One small but significant way we use data to help the people operating our lines is a visual display of upcoming tasks and events like parent roll changes and preventive maintenance. With SmartTouchTM they can look at the display for the entire line from any HMI on the line.
"Regarding how the tissue industry can further take advantage of developments, it is fundamental that everyone in the supply chain views tissue making, converting, and packaging as a single system with a common goal. Every step in the process can affect others, sometimes in surprising ways."
TWM/4: What technologies are you implementing to improve your
customer's energy efficiencies? What are your projections for trends and needs here in 2022?
Zagnoni: "There are several contributions we can highlight which improve efficiency and therefore reduce energy consumption. With Plusline we developed Together, providing a single, compact solution from log to shelf-ready pack. Thanks to the high-level automation, reduction in components and the simplification of the production line, Together also makes management and maintenance of the line easier, reduces energy consumption and the number of operators required.
"Innovations in JOI embossing, Sferica rewinding, Camallo for coreboard reel handling and logsaw automatic blade change are further examples of how a dedication to automation and safety ensure maximum production efficiency which equates to energy efficiency.
"We should also be willing and open to learn from other sectors: towards the end of last year Futura presented a revolutionary calendar for the nonwoven industry. As such, the world of nonwovens has benefited from the Andromeda fully automated roll management system and we, in turn, are open to learn from the way in which related but distinct sectors tackle similar challenges to the ones we face."
Berti: "The tissue converting industry is not an energy-intensive one: many of the features you see advertised as energy-saving are not that impactful. And guess what? Gambini's AirMill is the only available converting technology which can have a sort of backwards effect: savings will be made in the paper mill (energy, fibres, chemicals, time), because – after that – AirMill is going to convert the paper in a way that makes you get the same characteristics anyhow."
Ulusoy: "First of all we are trying to use high energy efficiency equipment by collaborating with Rockwell Automation. If I had to give an example, we are able to use the energy of a slowing down motor in ones that are starting off or continuing their motion using regenerative DC bus supply. If there is no need then we are directing it back to system to be used by other equipment. We are intensively using many other innovative technologies in our products.
"Additionally, our main design principle is maximising operating performance which results in increasing energy efficiency. We believe that this is one of the expectations of our customers."
Luna: "See previous answer and answer for question five for projections for trends and needs: digitalisation and sustainability."
Carlini: "For many years, Maflex has installed the MERS system (Maflex Energy Regenerative System) on its lines, which will be joined next year by the Integrated Supervision System to prevent energy waste.
"Maflex believes that in addition to devices which improve energy efficiency, significant results will be obtained by coordinating with planned production, managed independently by the line. By limiting downtime – thereby increasing efficiency – energy consumption is also lower, and with this in mind, Maflex R&D is developing the lines for the future."
Ruglioni: "In terms of energy efficiency, we have been implementing regenerative motors as a standard feature on all our lines. More and more we will use high efficiency energy motors in our applications.
"Inverters will also be used for auxiliary motors with continuous movements so that energy will be reduced.
"Cooling systems for electrical cabinet will also be redesigned, as inverter connected with the line will become standard. This will allow monitoring them so that their status will be displayed online preventing also overheating."
Calcagni: "Our converting machines don't usually use a lot of energy but in particular, we are focused on developing a system to dry the ink not only by electricity but also by gas burner. The gas is much cheaper than the electrical. We have also developed the concept to have the dryer integrated."
Green: "In addition to being safer and improving operator utilisation, our CS unwind consumes 45% less energy than a comparable belt-driven unwind, due to the elimination of friction losses in the surface belt drive train. We offer complete converting lines without the use of hydraulics, which in addition to reducing fire risk and making equipment easier to maintain also removes a major source of energy loss. We have implemented energy efficient permanent magnet motors in numerous applications.
"Since saving energy drives to the bottom line in addition to being environmentally friendly, we see the energy efficiency trend continuing into 2022 and beyond, and may contribute to an accelerated replacement of older assets.
TWM/5: What events/trends from the past year will shape the future of tissue and converting in 2022 and beyond?
Zagnoni: "The past year has highlighted the need for flexibility in converting processes – to adapt to fast-changing market conditions and customer needs. Automation and integration hold the key to success in this market, always combined with maximum safety. Circumstances have also underlined the importance of providing remote assistance when physical presence is not possible, and to ensure we minimise external threats to our industrial assets through design, cyber security and training."
Berti: "I really appreciate not having to answer any pandemic-related questions… This could be the one to bring it up, but definitely I won't. If you want to know what has the potential to shape the future in our field, I'd rather talk about this whole heated roll frenzy, which has spurred so much hype during the last months. But let me put it very clearly: we have an already patented solution, and that's the only one you can find. We're not waiting for any pending approval. Because AirMill is not just the undiscussed benchmark: it is the solution. Simple as that, period."
Ulusoy: "In the tissue converting side, as in the past bulkiness and softness will become more important each and every day in the future. In the packaging side, we believe that there will be a trend of exchanging PE based materials for paper and craft because of environmental concerns. This conversion is going to bring about the need for new machinery investment."
Luna: "The tissue industry is dealing with unprecedented pressure. Pulp price volatility, fierce competition across global markets, and the need for stronger differentiation is just the beginning.
"If we combine all this with the increasing move towards sustainability, the difficulty in recruiting skilled operators and the goal of increasing overall operational efficiency (OEE), it's easy to see that it has become tougher than ever for you to run your operations in a profitable and sustainable way.
"The global pandemic has also caused enormous change in the tissue industry. For much of 2020, tissue paper manufacturers have been doing their utmost to meet the demand for pandemic-related products and virtually all categories of the tissue industry have seen significant growth.
"The Covid-19 lockdowns have shifted the purchasing preferences of consumers towards e-commerce, where smaller brands have been at an advantage and acquired competitive margins. Consumers have found that private label products, such as toilet paper or facial wipes, are viable solutions for convenience, quality and value. The fiscal year that ended 4 October 2020 saw a growth of 22.3% in the turnover of private label toilet paper, compared to 14.4% for national brands.
"For tissue paper producers, this information is of great value. Shifting the focus on affordability and sustainability will strengthen year-over-year growth in the toilet tissue and face wipes sectors, which are currently not expected to return to pre-pandemic levels before 2022. There will also be opportunities to offer excellent products at affordable prices to better compete on the market.
"Much of tissue paper innovation will be driven by sustainability initiatives, as consumers will inevitably continue to associate sustainability with personal well-being."
Carlini: "2020 will be remembered as the year of Covid-19 and the significant impact it had on the economic and social aspects of life. While the consumer market successfully withstood the crisis, AfH was greatly affected by the lockdowns and the closures of hotels, restaurants, and schools. This put facilities with machinery only capable of making AfH products at a great disadvantage.
"The flexibility provided in our equipment allowed converters with MAFLEX machinery to quickly adapt to the needs of their customers. Along with being able to provide retail rolls, wet wipes were also produced on existing MAFLEX machinery.
"Culturally, the increased awareness of hand hygiene will be a driving factor in the towel market. There is a global awareness of the effectiveness of disposable tissue and towel products over pre-existing methodologies. Consumers are also paying attention to the environment through the choice of recycled and eco-sustainable products."
Ruglioni: "The past year has shown us how quickly consumption of certain products has been affected globally by external factors. How many of the tissue producers that had lines dedicated to AfH products only had to stop them or limit their production. Consequently, the need of a real swing line, capable of converting toilet paper, kitchen towel and AfH products may be one of the topics over the coming years.
"We at Maxima have already delivered "all in one" lines to the market and the trend may increase, maybe for smaller to medium producers but also for big volume ones. Moreover, the design team of the equipment suppliers will be more involved in sustainability, choosing different materials, reducing weights of the machines (look at how smaller and with same performance are embossing rolls versus 10 years old converting lines, for instance) and utilising smarter drives/motors that will become available in the next periods."
Calcagni: "That's a big question! If we are looking generally, tissue is still healthy and growing and there are many opportunities. But there's also a lot of changes following the outbreak of Covid-19.
"I see a lot of opportunity for folded products, especially inter-folded because now the final consumer is looking to save space in the home, reduce costs and make it easier to use tissue. Folding in particular is helpful here, for example a folding towel for the kitchen which is easier for the end user to use. The cost on transportation is also much cheaper here. So there are a lot of big opportunities to save energy, save cost, and to also make it easier to use for the end user and make health and safety and hygiene a priority.
"In theory, tissue could still develop much further. But it also remains a question mark as there's still some parts of the industry – such as the hotel and restaurant sector – which has had a big influence on the consumption of tissue. After Covid, populations are still not 100% properly out and about yet, so we need to see what will happen in the next couple of months.
"One very important thing is that OMET – in this difficult time – is still growing and developing, and for this reason we will make some big announcements in the next few months. We have moved our printing division to a new 20,000sq metre plant and also moved our tissue division to a much larger plant.
"We believe that we are growing again in both sectors. We are already in production in the new plant and once fully up and running we will increase our production capacity by four to five times our current output."
Green: "First and foremost, safeguarding the environment. Limiting waste, 100% tissue from first to last sheet, recyclable packaging, energy saving, reduction in CO2 emissions, transport optimisation: these are just some of the advantages and benefits for an increasingly sustainable world.
"The PCMC-branded coreless winding INVISIBLE-O technology allows rewinding of both high – and low-firmness rolls for the consumer and away-from-home markets. Ecological and sustainable solutions represent one of the biggest challenges for the packaging industry as well. As a result, PCMC and STAX equipment is already capable of doing both foil and paper wrapping or banding in some cases.
"Another trend we see continuing from recent years is the introduction of new structured and textured tissue grades. We're excited to apply our knowledge in web handling and tension control.
"It is hard to talk about the past year without mentioning the Covid-19 pandemic, which among its many impacts heightened an existing trend in direct-to-consumer shipping.
"We see these trends combining to change how the products our customers produce on our machines are designed, and we are prepared and excited to meet our customers' needs when they do."