With a new business and substantial investments underway, TW meets integrated Indonesia manufacturer Sopanusa Tissue
It takes one and half hour drive from Juanda International Airport in Surabaya to reach PT.Sopanusa Tissue. We travel along a road crammed with what seems like thousands of motorcycles, cars, lorries and bikes, colourful road-side stalls and houses, mosques and statues, and the sheer volume of trucks carrying goods confirming just how much this is a country on the rise.
On 20 hectares of land, the mill is run with some 400 staff, and the beautiful Penanggungan mountain towering 2,400 metres above the facility gives a hint of the grander ambitions which lie within. Sopanusa is rapidly expanding this site, its market strategy is progressive, and its ambitions for consistent growth are measured on a global scale. TW meets the mill's head Endah Tjahjani, regional sales manager Tjahjadi Hari Surjono, marketing general manager Merlyna, and director Danny Kristono. Touring the mill's facilities, the dedication of the young but dynamic staff is evident throughout the whole premises.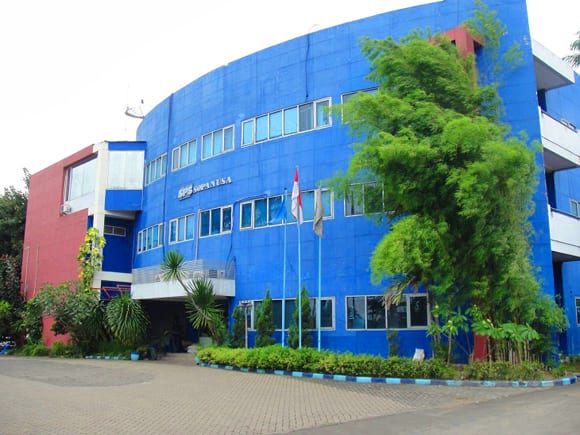 TW first met Sopanusa in 2007 when it was a very young company having been established in May 1995, and in those few years since the privately owned business has substantially ramped up its growth strategy. Its potential more than ever now lies almost solely abroad in the tissue jumbo reel export market. It exports 85% of its jumbo roll capacity to 60 countries (in 2007, it was just 25), supporting independent producers across the five continents. Some finished products are also exported to Australia. Tjahjadi told TW: "We are looking to export more and more into new areas, which is one of the reasons we needed to expand, so we created a new company, Sun Paper Source, and will have an additional two machines running in the next two years. This will double our capacity to 108,000 tpy."
The company exports to areas such as the Middle East and South Africa, but its main focus is the South East Asia Pacific, as the freight costs there "are still workable". Significantly, the new company and machinery investments will enable it to expand into new and bigger markets where it had previously not been able to get a foothold.
For the local market, Sopanusa still provides house brands to major local and international retailers, supermarkets, food chains and distributors, and it also has its own brand name. In the Away-from-Home market, it produces OEM brand and special packaging designed products including M Fold towel, jumbo toilet roll, kitchen and towel roll, coreless toilet roll, as well as pocket tissue and pop-up tissue. "Tissue consumption per capita in Indonesia is still low compare to surrounding country, around 0.5 kilos per person per year. But we see big potential to grow. And with the fast growing of middle class in Indonesia, and surrounding country, soon tissue paper will become a necessity in every family life," he adds. "The Indonesian tissue market has a very unique behaviour in terms of consumption. Many people in local shops or homes will place a toilet roll on the table and use it as kitchen roll or facial roll. The roll's core makes it very easy to use and it's also the right size. It's very much a cultural thing. Things are changing, we are seeing more "Westernised" habits for tissue use, but it does take time to change. There's lots of softpack tissue for example, that's the top seller. Toilet tissue is the largest category followed by facial and napkin tissue."
The Indonesian tissue market has made significant strides forward in the past few decades. In 2006 it exported 2.8 million tonnes of pulp – nearly half of its total production. According to the Indonesia Pulp & Paper Association (APKI) tissue production then was 228,000 tonnes, of which 141,000 tonnes was for domestic consumption and 88,000 tonnes for export. This low consumption has not stopped companies investing in new capacity.
Today, Indonesia produces 750,000mt/y of towel and tissue paper and is the largest T&T producing nation in the Southeast Asia Geographic Zone and eleventh largest in the world. It has experiencing solid GDP growth of 6.5% over the past three years. During the global recession Indonesia outperformed its regional neighbours joining China and India as the only G20 members posting growth in 2009. It still struggles with poverty, unemployment, inadequate infrastructure and a complex regulatory environment, but for its tissue market, the fast growing GDP has crucially resulted in an increase in minimum wage. This has boosted Indonesian's buying power to purchase products such as tissue, and while consumption is low, tissue is growing at 14% year on year.
Once up and running, Sun Paper Source will produce tissue paper on a PM 1, a crescent former machine supplied by Voith with daily capacity around 100 MT. It's scheduled to be producing by September 2013. PM 2 will follow and is scheduled to run in 2014 with daily capacity around 100 MT/day. It joins a Recard 2.85 Crescent Former machine at sister company Sopanusa which was started up at the end of 2006 with a trim of 2.85m and now makes 85 tonnes per day. Four smaller paper machines have also been added, and the company now produces 54,000tpy.
"We will continue to diversify our product offering in order to be competitive on a global scale, the environment is also an area we are keen to explore further." Sopanusa was the first tissue manufacturer company in Indonesia to become FSC certified, which it did in April 2012.
With the additional tissue mill capacity, the company will also increase its finished goods sales. "At the moment, our range of finished goods consist of facial box, facial soft pack, toilet roll, JRT, pop up bathroom tissue, cocktail napkins, luncheon napkins, dinner napkins, compact fold napkins, tall fold napkin, M Fold Hand Towel and hand roll towel. We are looking into developing this further". Tjahjadi added: "Differentiation is the key to achieving success in today's market and our market strategy is to continue to grow steadily into new markets with a unique product offering to meet a demanding market."