Vertical control of production backed by major investment is driving this former leading newsprint producer towards growth in quality products and geographic reach. TWM interviews Resolute Tissue Group president Patrice Minguez.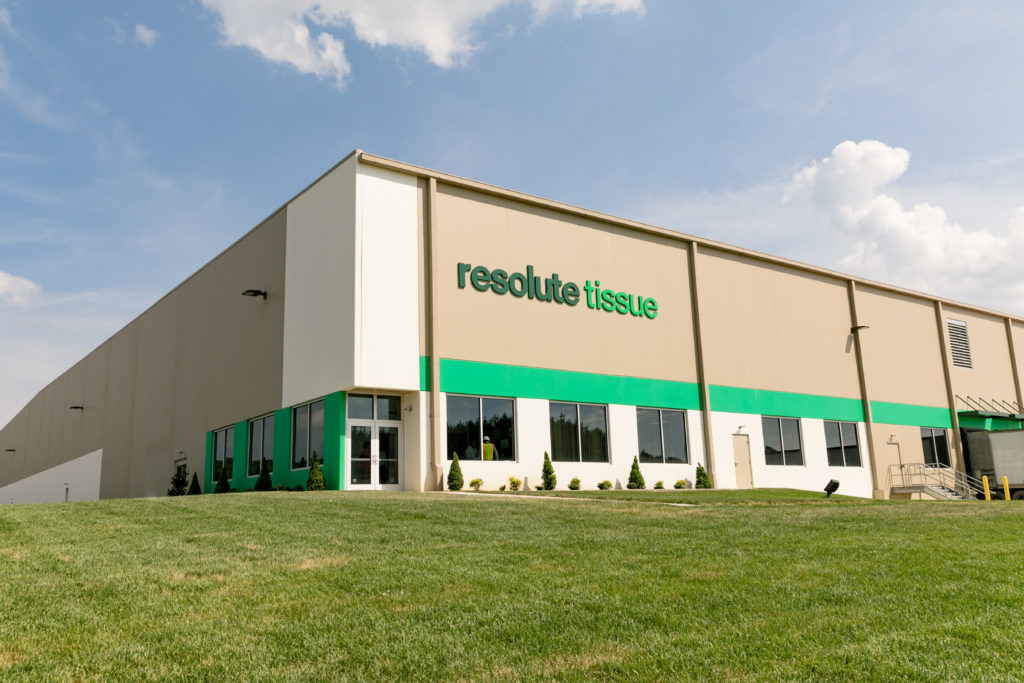 TWM/1: Can you give an overview of the company's current presence in the US?
"Resolute Forest Products is one of the few fully integrated tissue manufacturers in North America. Our facilities give us a well-established presence in retail and AfH tissue product manufacturing and are ideally situated to serve US customers.
"Two of our three tissue manufacturing operations are located in Florida – one in Sanford (Orlando area) and the other in Hialeah (Miami area). The third operation is located within our Calhoun, Tennessee pulp, paper and tissue manufacturing facility.
"These three tissue mills have a combined annual production capacity of 128,000 short tonnes (116,000 metric tonnes) across four tissue machines and 11 converting lines. We produce a range of quality products for the retail and AfH markets. Our Calhoun state-of-the-art facility produces premium private label tissue, while the company's Hialeah and Sanford mills manufacture branded and private label recycled and virgin paper grades.

"Branded grades include Green Heritage and Green Heritage Pro bath tissue and towel, Harmony, Harmony Pro and Harmony Pro Ultra tissue products.
"The company's Florida operations were acquired in 2015, allowing Resolute to enter the tissue market with established operations and customer base. The Sanford mill employs 72 individuals and the Hialeah mill provides jobs to 220 employees.
"The Calhoun, Tennessee mill began operations in 1954 and today is one of the largest pulp, paper and tissue manufacturing facilities in North America. The mill currently employs 537 individuals and produces specialty paper (one machine), market pulp (one pulp dryer) and tissue (one machine, three converting lines)."
TWM/2: What's the production breakdown?

"For tissue production, the Calhoun mill produces 60,000 tonnes per year of premium bath tissue and towel on one tissue machine and three converting lines.
"The Hialeah mill produces 31,000 tonnes of bath tissue, towel for the At-Home and AfH markets, on two tissue machines and seven converting lines. The Sanford mill produces 28,000 tonnes of bath tissue and towel for the At-Home and AfH markets, on one tissue machine and one converting line."

TWM/3: What investments have you made recently?

"Over the past four years, Resolute has made significant investment in the Calhoun mill to improve efficiency, add capacity, and install a new tissue manufacturing and converting operation.
"In 2015, the mill added a large continuous pulp digester, growing its market pulp capacity by 100,000 tonnes and improving efficiencies. That year, the company also announced its direct entry into the growing tissue market with the construction of a state-of-the-art tissue machine and converting operation, manufacturing retail private label bath tissue as well as towel and bath for AfH markets.
"Today the tissue operation at Calhoun produces premium private label tissue for retail markets.
"In addition to the pulp digester, tissue machine and converting operation, the Calhoun facility recently opened a new $20m distribution centre which houses all of the tissue manufactured at the mill. The centre encompasses 310,000 square feet of floor space, allowing the operation – at full capacity – to store over 798,000 cases of tissue products."

TWM/4: What market trends are you currently seeing in the US tissue market?
"Resolute has historically been a leading producer of newsprint. However, the newsprint market has been in decline, and we have shifted our focus on transforming the company into a more sustainable organisation, one that can generate consistent value for shareholders through a competitive portfolio of manufacturing assets and a solid presence in long-term growth markets. We believe that the tissue market provides that opportunity for us.
"According to market sources, the US tissue market is growing at a pace of 1.5-2.0% annually, the equivalent of approximately eight million tonnes. In comparison, the newsprint market is declining at a rate of 16% on a year-over-year basis."

TWM/5: What growth plans do you have for the next three years?
"Growth in tissue markets is strongest in the premium and ultra premium private label segments, and we are developing strategies that will allow us to capitalise on these markets by growing our customer base and extending our geographic footprint. The NTT tissue machine at Calhoun is well-positioned for growth in these markets.
"Resolute is a fully integrated manufacturer of quality products, and our tissue operations benefit from this vertical integration. These products are manufactured from recycled pulp and/or from virgin fibre (less than 3% sourced externally) from the company's internal market pulp network.
"This allows us to control the production process – ensuring precise control and consistent quality – while offering the flexibility..and customisation our customers demand as we continue to develop our customer base.
"Operating at full capacity, this new state-of-the-art tissue machine in Calhoun, its three converting lines and the integration of pulp from the existing Calhoun pulp mill, will make this facility one of the most efficient tissue operations in North America."

TWM/6: What are the key challenges you face?
"As with the start-up of any new complex machinery, the Calhoun mill's new NTT tissue machine presented us with a few challenges. However, our focus on learning how to efficiently calibrate the machine has paid off, and the machine has stabilised at near capacity production levels."

TWM/7: And the key opportunities?
"Building sustainable operations. We're dedicated to meeting the needs of our clients, offering fully customisable, retail solutions. In addition to our custom products, we proudly offer readily available, options, designed to meet the needs of customers who don't wish to use their own labels. Products include Green Heritage and Harmony brands."