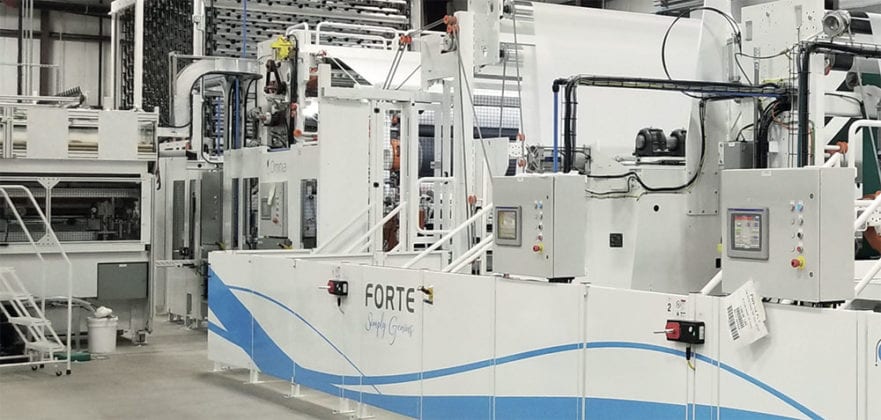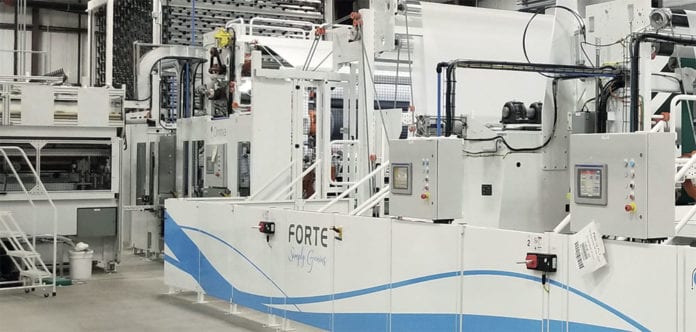 The future is electronic intelligence, robots and Human–Machine Interface. At this Green Bay converter financial support is offered for schooling and several personnel are going to technical school to become electrical or mechanical engineers.
Bedford Paper is located in De Pere, Wisconsin, where it manufactures tissue paper products for the AfH and At-Home markets. Its product offering includes single roll bath products, household towel, jumbo bath, hardwound towel, centerpull towel, Multi-fold and C-fold towelling. TWM interviews company owner Howard Bedford and sales and business development manager Steve Peters.
TWM/1: When did you establish Bedford Papers?
Howard Bedford: "I knew nothing
about toilet paper seven years ago when I invested in this company. I took it over and told the employees: "We can go big, or we can go home". And the employees said: "Let's go big!"
"So at that point we decided to become a state-of-the-art facility. At that stage, I probably had more guts than brains as I knew nothing about this industry, so it's been a steep learning curve. The first new machine we purchased was a multifold supplied by Bretting, followed by a PCMC Forte Industrial Winder.
"When we invested, it was already an ongoing tissue converting and speciality products business that had some very mature assets, they were older and slower. We had a machine here from the 40's. So it was really necessary for us to invest and modernise. We now have 75,000sq ft of manufacturing and 40,000sq ft of warehouse, two sites here in Green Bay, and we convert around 20,000-30,000tpy. "We also have just under 50 staff. In all honesty, I could never have done this without my staff here. They work very ha and are dedicated. That's what makes it so much fun for me and I love what we're doing here."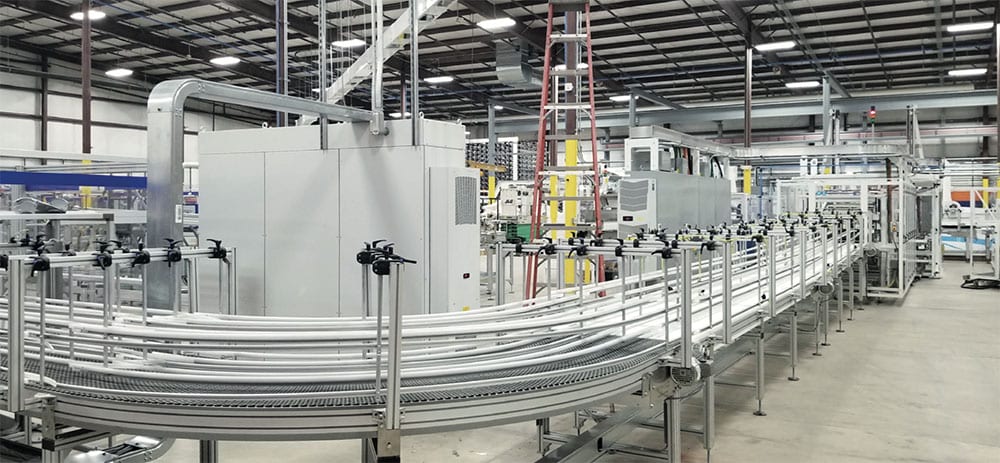 TWM/2: What machinery investments have you made and why?
Steve Peters: "We have the Bretting multifold machine, a PCMC Forte Industrial Winder and have now added a PCMC Forte Ultra high-speed rewinder with a PCMC Omnia Embosser laminator with downstream packaging equipment for the At-Home and AfH market. They were installed in 2017 as we needed to increase our production capacity for retail and AfH tissue products.
"They are all brand new lines, and one of the best things is that when those three lines were added, it was with state-of- the-art equipment on the back of full automated, included robotic palletising. So it really changed the type of company we were and what we could produce."
TWM/3: Have you diversify your product offering?
Bedford: "We started out initially in the AfH market but with the new lines we have moved into retail. Our portfolio is pretty diverse and we have a balanced mix with AfH, limited private label and also limited retail bath and towel. We have brands but we also do private label. We have a balanced portfolio between those three markets."
TWM/4: What tissue products are growing in popularity with American consumers?
Peters: "Our AfH product offering is very comparable with what you will find with any of the other majors or mid-tier converting companies. It is recycled in nature. We are using the same materials as anyone in the market but with our converting assets we are able to provide a superior quality converted product.
"And then on the retail side, we have the capability to manage any type of substrate. Whether we're converting a TAD material, an NTT material or virgin or recycled – we're seeing increased demand for all of this in America – our retail converting capabilities can accommodate this. Display-ready bundles are also very popular and the packaging can also satisfy anything an AfH or retailer may require."
TWM/5: What trends generally are you seeing in the USA market?
Bedford: "Demand for tissue products has been very steady these last few years. The AfH market is definitely getting more particular towards higher-quality products. And that follows suit with our business strategy. In AfH, it's mid to high-quality that we target. We don't do anything lower end, we're not into the seconds or off-quality paper market and we don't get supplies from China. It's all American mills, so it tends to be mid to higher quality stuff."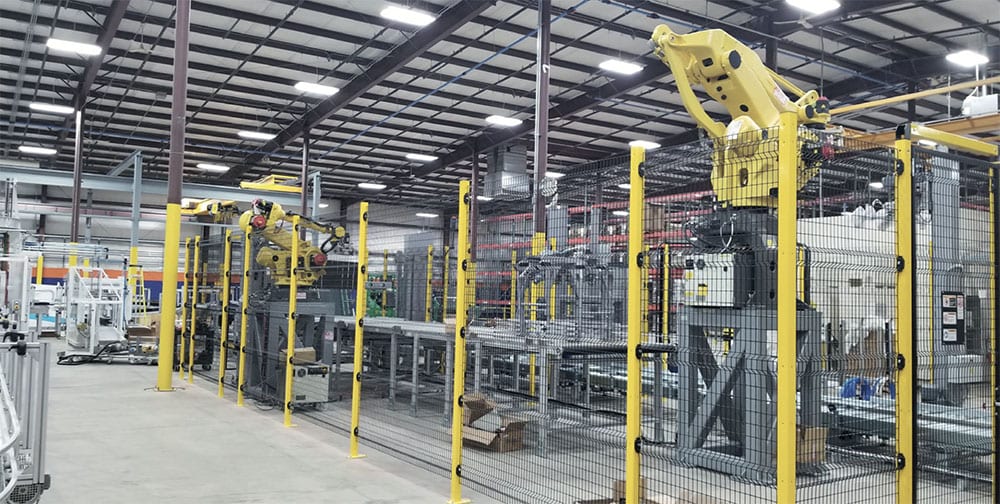 TWM/6: Are you finding that e-commerce is changing how people buy tissue products?
Peters: "Given our business model, we might support the people in e-commerce, but we don't do anything directly of that nature. Most of our deliveries are full truck- loads of one product. With the speed of these new machines, we try to have a truck for each product."
TWM/7: Tissue demand is steady in the US market, but is there growth, and are you looking to grow also?
Bedford: "Relative to our business and the growth of the converting assets that we've put in, our business has naturally grown because we've added capacity. Within the past year we have also added our own Bedford Paper brand and we are seeing very good success in the mid-west with that particular product line.
"We discussed just this morning how big a space we're going to be looking at growing. This building, we're bulging at the seams at 120,000sq ft and we are looking to expand it substantially. Whether we do it here or across town we're not sure yet. But we will maintain our presence in Green Bay.
"For the US tissue market, it's growing around 1-2%, but we are growing in excess of 20% per year. When you add new assets with the quality they have, you can do things more efficiently which means less expenses.
"If you go to robots and automation, you don't have as much personnel operating the equipment any more. Now we have technicians. We also offer financial support for schooling and several of our personnel are going to school at night to become electrical or mechanical engineers, because being able to do those sorts of things, that's where the future is going. It's going into robotics and Artificial Intelligence, and computers and HMIs. So these guys are making themselves more valuable to themselves and also more valuable to Bedford Papers.
"Employment in Green Bay is full employment, so it is tough to find people here. Training in the old machines was one week, these new machines take 12-15 months before you're really good."
Peters: "Because of the converting assets that we have it's more automated with the casepacking and robotic palletising, we don't require the size of staff that other companies may need. We can operate with less people and significantly produce what we might have done at other levels."
TWM/8: Is your aim to continue that 20% year on year growth, and if so, how will you do that?
Bedford: "Yes. We're looking at additional converting lines in the next couple of years and we are also evaluating other sites within the United States. As long as you have converting assets you require more staff. But we are generally seeing growth coming through in increased productivity and improvements in up-time.
TWM/9: With the increasing popularity of Lidl and Aldi retail stores in America, is private label an opportunity for you?
"It's definitely an opportunity for us."
TWM/10: How have pulp prices impacted you and the market here?
Bedford: "Prices have settled, last year was a very difficult time. I've only been in the industry for a few years, but from my understanding it's rare to see more than one pulp price increase in a year, last year we saw four to five from several suppliers. In the last 17 years, my understanding is that there's probably been eight of those years when there was in increase at all. So last year was tough. But pulp prices are slightly coming down, not rapidly. With China and the tariffs, we're not sure what will happen this year.
TWM/11: Have the Chinese tariffs impacted your business, or caused uncertainty?
Bedford: "It's not affecting us so much, it's just affecting the price of the pulp. China isn't taking as much waste as it was doing before, so waste is building up in the USA. But I don't think we're going to see any 10% pulp price decreases here this year, even though waste has come down. I also don't think we'll see as many pulp price increases either this year."
Peters: "The pulp increases will still be there, just not as volatile. But I think there will always be continued pressure there."
TWM/12: What are the key opportunities for you in the next few years?
Bedford: "For us, it's that we've established a very good reputation in the mid-west. The opportunities are then really in our branding. We want to continue to grow our Bedford Paper AfH brand in the mid-west, as well as providing support to select partners where we do private label or retail products.
"In terms of the opportunities for operating the business, it's what do we do in terms of improving productivity within the building and improve our up-time and efficiencies and productivity, given the demands of the workforce."
"With the amount of new machinery we have put in in the past few years, it requires a different technician to run them, and I believe we can be 10-20% more efficient in the next year, just with technicians having been here two to three years. We
have an internal initiative to make sure we stay ahead of the technology in the industry. Being the size we are, we have the capabilities and desire to really grow with the technologies as they grow in the industry.
"We are also starting looking at electronic intelligence on these machines. If a machine goes down, the electronic intelligence looks at why it went down, what are the two or three things you can do to make it better, so there are some big things coming out.
"All over the world with electronic intelligence, we're really excited about a Beta electronic intelligence testing project we're working on. But again, you need experienced technicians for this. We really take care of our employees here because the training really is expansive.
"That has been our biggest challenge: operating new technology with new people. However, that being said, the quality coming off this new technology is pretty nice! The folds are always perfect, the edges are perfect, the saws are better … the new technology is four-10 times as fast. But you have to pay attention to it and embrace it properly."