Recycling pioneer JP CORELEX VIETNAM is poised to reap the benefits … but it has to narrow the gap between polar opposite tissue industries and cultural habits. TWM talked to Masahiko Nagata.
Japanese-owned JP CORELEX VIETNAM (JCV) is one of only a handful of foreign companies operating in Vietnam, and for Masahiko Nagata – the Japanese general director of the Hanoi-based tissue producer – the two country's tissue industries couldn't be more different.
Speaking fluently in impeccable English, he is friendly, laughs easily, an regularly references the habits of the two countries throughout our interview.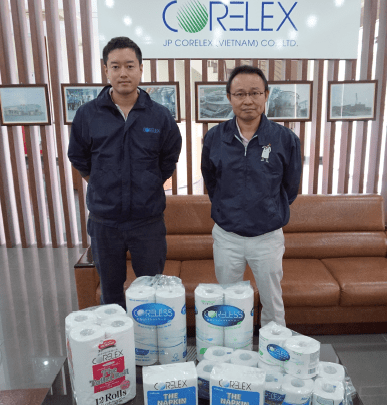 Japan and Vietnam's tissue industry and cultural habits are polar opposites in several ways: one, a stale tissue market seeing a steady tissue demand of high quality products by consumers that place strong emphasis on environmentally-sustainable products, and the other, a developing economy which even until fairly recently had large pockets of its population that didn't use any tissue products.
Even now, he adds, sustainable products are simply not on the Vietnamese consumer's agenda – presenting quite a challenge to a company that makes 100% recycled tissue products.
During the drive to the mill, he talks about how even from the very beginning when JCV started production in Vietnam in 2009, the first hurdle was to change people's mind-set about recycled products: "In Japan, recycling is ingrained as part of our culture," he says.
"Even as children we are taught how to wash a used milk carton, open it, and then wash it again before they recycle it. There are recycling bins at most supermarkets. In Vietnam, even people on higher incomes don't particularly register recycled tissue products because they don't perceive them to have the same quality as the white tissue products that are the norm here. So the challenge even from the very start has been about changing an ingrained mind-set and well-established habits."
The company's 60,000m2 site is based 40km from Hanoi and is a joint venture – 71% is owned by Japan's Corelex San-Ei and the remaining by Japan Pulp and Paper. Its 190 staff manufacture 100% recycled tissue paper used to create toilet paper, facial, towel and napkin products.
Most production is exported overseas as jumbo rolls with about 30% going through converting and making finish goods. Its only raw material is recycled fibre and the company's TM – an A.Celli-supplied machine with a width of 2.85m and a speed of 1.700 – produces 80 tpd. "As you can see, there's plenty of space for one more machine!"
The JP Corelex Group has mills in Hokkaido, Kanagawa and Shizuoka in Japan, where it established technologies for the recycling of difficult-to-regenerate wastepaper around 50 years ago. It now accounts for a large share of the recycled toilet roll market in Japan, helped by products such as coreless toilet roll.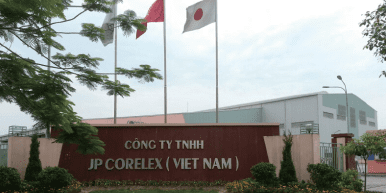 Its Japanese market strategy and philosophies have been applied directly to its production site in Vietnam: "We brought the same system that we do in Japan here, so the quality is the same," he says. While as countries, Japan and Vietnam have a very good working relationship, he adds that there are "lots of additional standards required for a foreign company operating in Vietnam".
Vietnam's potential tissue market is very clear: it has a young and growing population of nearly 90m, a steadily increasing economy buoyed by foreign investments and exports, and rapidly changing demographics that is seeing its rural population becoming increasingly urbanised and moving to cities.
However, in reality the current tissue industry is still very small – per capita consumption is less than one kilo per person. "The challenges facing tissue growth are significant," he says. "Toilet infrastructure is a problem because a lot of the country's sanitation is still not ready for toilet paper.
"It's the same situation as inland China. Sanitation just isn't geared up for toilet paper use in many areas, which means consumption is low. The market size in parts of Asia is very small and it's difficult to count based on population only, it's not as straightforward as that. Other market dynamics and the habits of the local people also need to be taken into account."
Vietnamese people he says tend to see recycled products as not as high quality as virgin products – "they want that white toilet paper look". "The question is, I don't know how long to wait; how long until we start to see that change in consumer behaviour here?
"We're been here for six years and we're not seeing the market tissue grow that much, there is no definite statistic to show growth. We stay because of the potential. Tissue use is starting from a very low percentage of the population and it's spreading and becoming more of a habit. It's just happening very slowly."
The north and the more commercialised south of Vietnam also hold different challenges and have very different tissue trends. Distribution is key: "Here we sometimes have to deliver to each store, and so the cost increases."
Southern Vietnam holds around 50% of the tissue demand, the majority of which is supplied by Saigon Paper and New Toyo, while the north has 25% of the country's tissue demand with the rest scattered across the rural countryside. Because of this dynamic, JCV exports around two thirds of its production all over the world.
"For us, tissue consumption here is lower than expected, and the speed at which demand and investments occur generally throughout the country are increasing slower than we would have liked. What keeps us here is the potential of the country. There is opportunity to develop sales for domestic use and at the same time we also have long-term relationships with companies abroad."
While new tissue capacity in Vietnam is mostly based on virgin pulp, JCV is determined to keep to its philosophy of recycled tissue products: "We try to utilise waste paper because we believe it contributes to society. Our main focus here is to change the image of recycled tissue paper; it comes down to what people choose, and little by little the situation is changing."