After the Great Recession of 2009 and the recovery in 2010, North America's tissue supply and demand have been well balanced, and from time to time, the business has been a seller's rather than a buyer's market. This was the case in the first nine months of 2012. Just before the first wave of new capacity started to come on stream, the US tissue market was very tight and independent converters were having problems procuring parent rolls for their converting plants. As a result, imports from overseas increased. But now the market outlook is that this "bird-nest-safe" situation will radically change in the next two to three years. A crowd of new investments has already been committed in North America, a number of further plans are under closer examination and even more are on the drawing board. With slowing growth in tissue consumption, the situation is worrying.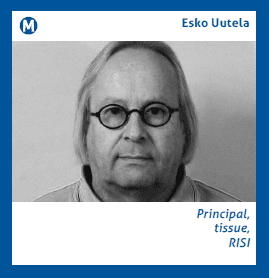 The US tissue market has lost some of its growth momentum and now population growth accounts for two-thirds of the volume increase. New ultra and premium products being introduced in the marketplace are increasingly bulky with declining fibre content and clearly weigh less than conventional tissue grades. This has resulted in a slowdown in weight-based growth rates. Tissue consumption really ought to be measured on an area basis like containerboard converting, although this is currently not statistically possible for roll production at tissue mills. Comparison between growth in parent roll production and converted tissue product shipments, based on monthly statistics collected by RISI, clearly show lower growth in production than in the number of cases shipped, which foreign trade developments in parent rolls cannot explain either.
The difference is the result of lightweighting: each case now weighs less as the same sheet count or roll size can be achieved using less fibre. In 2013, total tissue consumption grew by only 0.9%, clearly below our expectations. And there is no improvement thus far in 2014. The first five months show only a marginal increase in consumption, which is also a reflection of the harsh winter conditions as GDP declines by 2.9% in the first quarter. We have revised our long-term forecast downward based on these recent developments.
'This obvious overcapacity situation does not seem to be discouraging either existing players or new entrepreneurs from planning further investment.'
However, keeping the market in balance lies not so much on the consumption side as on the supply side, as although growing slower, tissue demand has not collapsed. The issue is that too many investments have emerged. The pickup in investment activity has been influenced by several factors, but was likely started by the wish of the largest retailers, led by Wal-Mart, to upgrade part of their retailer offerings to be nearer to the level of the leading brands. Traditional private label tissue suppliers did not have sufficient capacity to fulfil additional demand for ultra-quality volumes for their own brands, and decided to build more capacity with First Quality Tissue, Clearwater Paper and Kruger paving the way. Investments were also seen in the AfH sector, again mainly targeting the high-quality segment.
From the fourth quarter of 2014 to the end of 2016, we now have exactly a dozen new major capacity additions and only one small closure on our capacity change list. The net capacity change will be 650,000 annual tonnes, and based on the expected market growth, it will take more than five years before market growth can absorb all this capacity. In addition, this list only includes currently committed projects. We think that at least one more large-size TAD PM will also be added, as reportedly the final investment decision has already been made but not yet officially announced.
But this obvious overcapacity situation does not seem to be discouraging either existing players or new entrepreneurs from planning further investment. Several graphic paper producers are considering tissue investments, either PM rebuilds or totally new machines, for the survival of their mills that are suffering from the declining demand for graphic papers. Some tissue converters are also planning integration backward to tissue production of their own. Asian tissue producers have also recently announced their interest in tissue production in North America. In addition to Asia Pulp & Paper, whose two new PMs have already been announced, at least two more Chinese companies are planning major investments in the USA. One packaging producer (rumoured to be one of the largest Chinese companies) has been studying the feasibility of building eight (!) new tissue PMs in North America. And even a larger plan with a straw pulp mill integrated with tissue production was recently released by Shandong Tranlin Paper, an investment totalling US$2 billion over a five-year period, the details for which are, however, still missing.
Based on the current outlook, capacity utilisation will fall below 93% in 2015 and then further to 91% in 2016 and 2017 (Figure 1). Additional projects would further deteriorate the supply/demand situation. However, additional closures, which we consider likely, could help, albeit only marginally. There are some idle PMs in the industry which will likely never be restarted and will be removed from the capacity base after three years of continuous downtime. The largest players are expected to continue rationalisation measures and close some older capacity, particularly if they build new PMs as rumoured.
Slowing market growth and the vast number of new projects will push the traditionally balanced North American tissue market into an overcapacity situation from late this year through the next two to three years at least. Tissue buyers are expected to benefit from the increasing supply and producer margins are likely to suffer. The only hope is that something will happen to change the current outlook, including improving demand growth, removal of old capacity and/or project delays or even cancellations. Otherwise, the situation will soon resemble the chronically oversupplied Western European market that we saw from the mid-1990s until recent years.
Esko Uutela, principal, tissue, is the author of RISI's Outlook for World Tissue Business, the World Tissue Business Monitor, the US Tissue Monthly Data and the new Exploding Chinese Tissue Business – Opportunities and Challenges special report, which will become available in the third quarter of 2014.