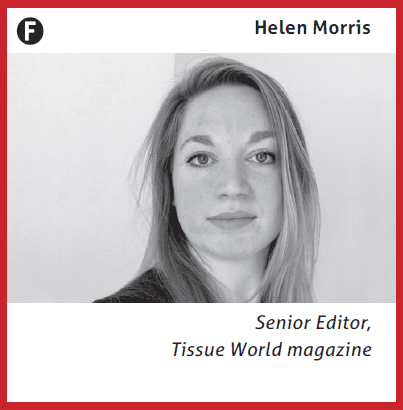 The chart on the wall of Turkey's economic performance in the last 15 years has an impressive upward curve.
To select just a few of the headlines: outstanding growth with GDP tripled and a per capita rise from 3,660 to 10,714 US$; incomes up and a dynamism in its young, open-minded and increasing population;
rapid urbanisation, crucially linked to a widespread expansion of modern grocery retail outlets enabling per capita sales up from 2.7kg to 4.5kg in ten years; foreign investors increased fivefold; one of the
world's fasting growing economies, PricewaterhouseCoopers predict the 11th biggest by 2030; machinery in relatively good shape … risk assessment of size,technical age and competitive capital requirements puts it at moderate, but lower than most of Europe; and Turkey's incomparable geographic location … a gateway to potential east and west.
Tissue sales, while doing well, trail national prosperity rates, hence some overcapacity. So the international reach of Turkish tissue, already impressive, continues a pace. Our Country Report talks to the top firms.
Hayat Kimya's development since TWM last reported from Istanbul has been little short of phenomenal. Lütfi Aydin, global tissue production director, charts the long list of countries in which it is, and has strategies to be, a major player. He also points to one key development, a co-generation plant at Mersin, southern Turkey: "Our production costs are very high at the moment. This is without doubt the biggest problem for the world's tissue mills … this is key for our long-term competitiveness … our energy production capacity is now much higher than our needs."
At Turkish tissue pioneer Eczacıbaşı Consumer Products marketing director Asli Bicer gives as comprehensive an analysis of a dynamic and progressive business strategy any outsider is likely to find in our interview – 'The company behind generic 'Superbrand' Selpak sees no limit to its expansion plans;' Fat-ih Çapar, general manager of ParteksPaper Industry which exports across the world says "Turkey is becoming the tissue capital of the Middle East and Europe."
He also tells us of a Turkish proverb: "There is no rose without a thorn."
Some analysts predict a slowdown in Turkey's economy. The wave of easy credit which partly fired the growth means a current-account deficit risen from $33.7bn at the end of 2016 to $41.9bn; foreign direct investment roughly half what it was a decade ago; political upheavals at home, and military and political turmoil in countries to Turkey's east have seriously hit trade; prices surged by 13% in the year to
November, the highest rate in 14 years, and more than double the central bank's target; the lira losing about a tenth of its value against the dollar since the start of 2017 and nearly 40% since early 2015.
Turkey needs to draw back from debt, and to invest in sustainable growth. Its companies have a high tolerance for flux. They are still growing, but margins are going down, and management skills are getting
more and more important. Inside, tissue  bosses demonstrate how on target they are.
Welcome to TW Istanbul – the only dedicated tissue event connecting East and West
As the tissue industry in Eastern Europe, Russia, CIS, the Middle East, central Asia and Africa continues to show impressive growth, we look forward to welcoming all those attending the second edition of
Tissue World Istanbul held between 4-6 September.