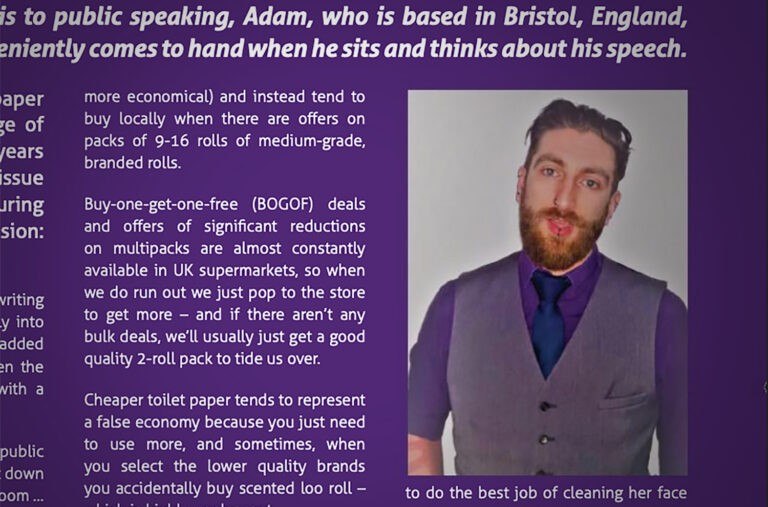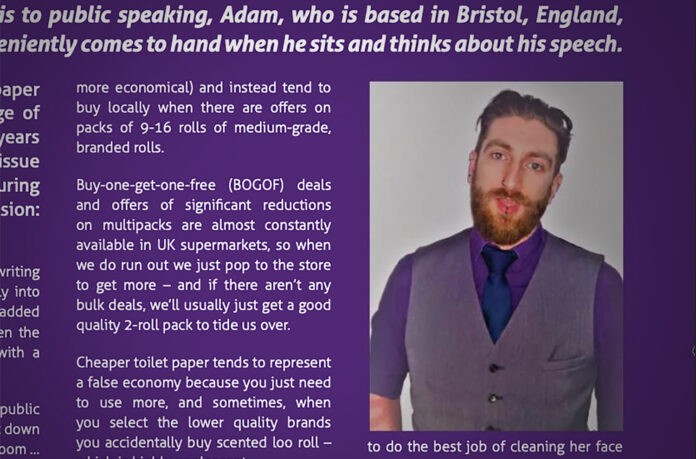 Unaccustomed as he is to public speaking, Adam, who is based in Bristol, England, finds inspiration conveniently comes to hand when he sits and thinks about his speech.
High quality tissue paper products serve a range of purposes. But over the years I've found that 3-ply tissue serves very efficiently during one very important occasion: Best Man speeches.
They're very useful as parchment writing and can also fit very conveniently into one's tuxedo. It also has the added benefit of allowing one to lighten the mood by opening the speech with a very "wedding-y" joke:
"Unaccustomed as I am to public speaking, I made a big effort to sit down and really think hard about the groom … so I scribbled down a short speech on whatever paper that was to hand."
Apart from that, I had never thought previously about what tissue products we consume as a household, but now realise that they are possibly underrepresented compared with their ubiquity in other homes.
Buying them is often more of an afterthought than a premeditated purchase. Nevertheless, upon reflection, I was still surprised by the range of products we do use.
The obvious example is toilet tissue. Because we live in a relatively small city and don't have kids, we gave up our car some time ago and these days we rely on supermarket deliveries for fortnightly shops, with frequent top-ups from our local big-name minimarket.
Ironically, we almost never order toilet rolls online (which would probably be more economical) and instead tend to buy locally when there are offers on packs of 9-16 rolls of medium-grade, branded rolls.
Buy-one-get-one-free (BOGOF) deals and offers of significant reductions on multipacks are almost constantly available in UK supermarkets, so when we do run out we just pop to the store to get more – and if there aren't any bulk deals, we'll usually just get a good quality 2-roll pack to tide us over.
Cheaper toilet paper tends to represent a false economy because you just need to use more, and sometimes, when you select the lower quality brands you accidentally buy scented loo roll – which is highly unpleasant.
It's important to us that the paper is sustainably sourced and not chemically treated with unknown perfumes.
Kitchen rolls sporadically appear on top of our fridge although neither my wife nor I remember buying any! Nonetheless, it does get occasional use and is great for spills or for drying food when cooking; my friends with children reliably inform me that it is indispensable in their day-to-day lives.
More typically, we have packs of surface-cleaning wet wipes in our kitchen, although I prefer re-usable dish cloths if environmentally-friendly packs aren't available – we feel strongly about sustainability but also biodegradability.
Wet wipes have also made their way into our toiletry supplies – my wife is a makeup artist and a performer so often wears stage makeup and finds these to do the best job of cleaning her face without using harsh solvents.
We opt for baby wipes as they are manufactured for sensitive skin and are unperfumed and I especially look for "flushable" products. Unlike the situation in many modern cities emerging around the world, many of the sewer systems in UK cities continue to be narrow Victorian waterways that were installed over a century ago… so endeavouring to avoid causing blockages is something of a civic responsibility!
I run a small office and we use handtowels in the bathrooms – although they can be perceived as more wasteful than electric hand-dryers, they feel more hygienic and we ensure that the used towels are processed as recycling. In the office itself, we keep a ready supply of "blue roll" to hand for spills and cleaning; as someone who worked in bars and restaurants for years, the perennial blue roll is a reliable, hardy solution for commercial settings.