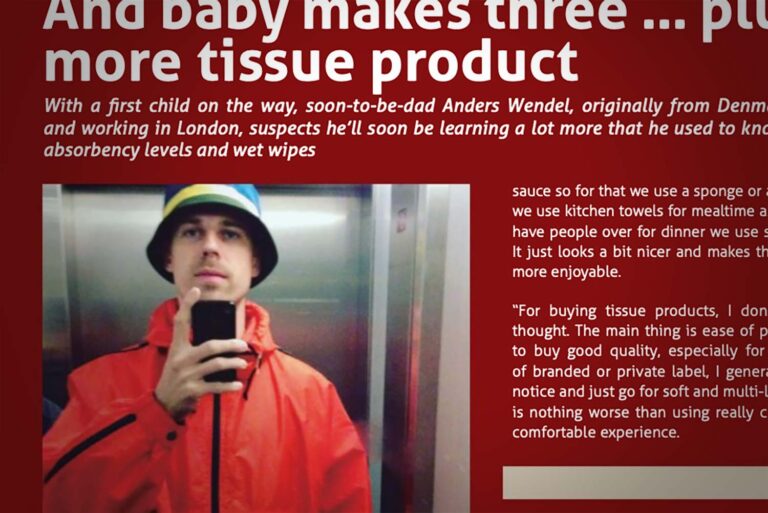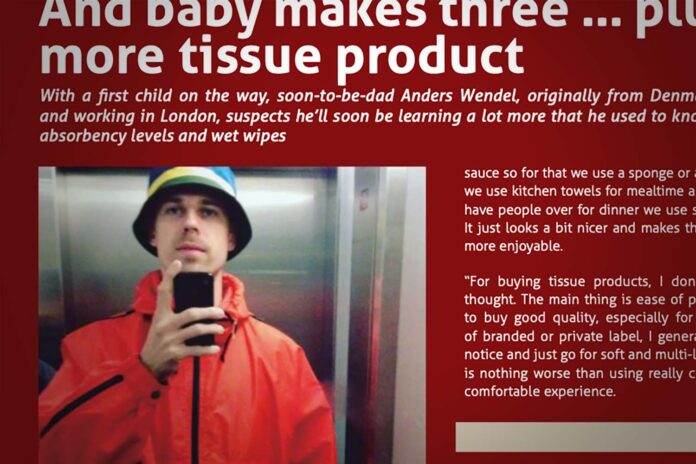 With a first child on the way, soon-to-be-dad Anders Wendel, originally from Denmark but now living and working in London, suspects he'll soon be learning a lot more that he used to know about triple ply, absorbency levels and wet wipes.
"I live with my fiancé in East London and I think our household is fairly normal in our use of tissue products. We use toilet paper, kitchen roll, Kleenex products and serviettes. But that is all going to change in the near future as we are expecting our first child, so I suspect more tissue products that I never knew I needed will sneak their way onto our household shopping list, which I'm not too happy about.
"Kitchen towel is a really versatile product and we use it mainly as a napkin than in the kitchen for wiping up stuff. It seems a waste to use paper just because you've spilt a bit of tomato sauce so for that we use a sponge or a cloth. On normal days we use kitchen towels for mealtime as napkins and when we have people over for dinner we use store-bought serviettes. It just looks a bit nicer and makes the experience of eating more enjoyable.
"For buying tissue products, I don't really give it much thought. The main thing is ease of purchase and I also like to buy good quality, especially for toilet paper. In terms of branded or private label, I generally don't give it much notice and just go for soft and multi-layered products. There is nothing worse than using really cheap paper; it is not a comfortable experience.
"We always go and buy in bulk from the local supermarket. We either go to our local discount store Lidl, which usually has a number of deals for bulk buying high-quality tissue products, or the supermarket Sainsbury's, which also has a lot of good deals on but is slightly more expensive. Usually we buy toilet paper in a pack of nine. I don't like the idea of running out and resorting to newspaper.
"Only after meeting my fiancé have I really started to give the environment and sustainability more thought. Before that, it was never a priority. She cares a great deal about the environment, which I admire a lot. So now I think about it a lot more when buying and using products such as tissue. Generally, we don't use too many paper products if we can avoid it.
"Coming from Denmark and now living in England, I've not seen a great deal of difference between what is available in the two country's supermarkets in terms of tissue products. Both are very developed countries and have easy access to all these types of products, either in supermarkets and also when I travel around the countries. When I visit other countries such as Uruguay and Mexico however, I really notice that the paper is much harder and a different colour, and often more difficult to get hold of."