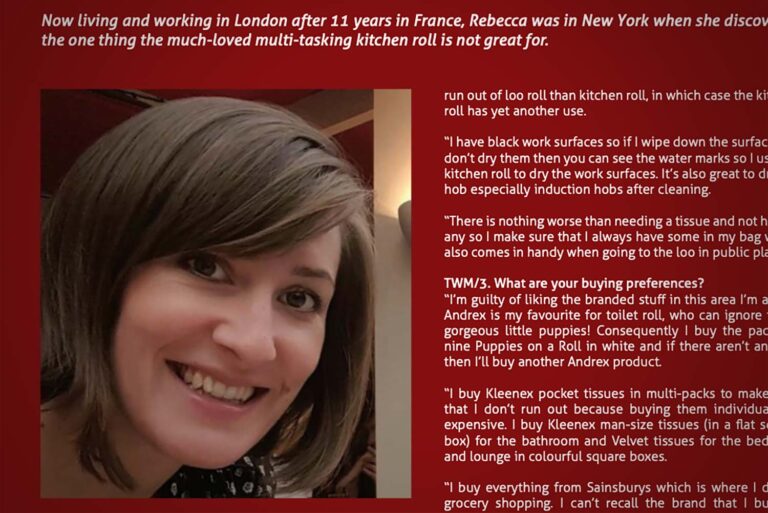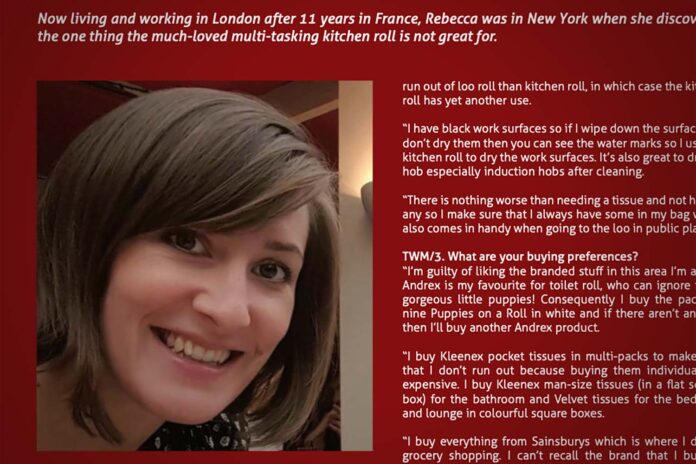 Now living and working in London after 11 years in France, Rebecca was in New York when she discovered the one thing the much-loved multi-tasking kitchen roll is not great for.
TWM/1. What tissue products do you use?
"I use toilet paper, kitchen towels (I swear by them), boxed tissues for around the house and pocket tissues for my handbag. I occasionally buy cleaning wipes but this is very rare as I prefer to clean with cleaning cloths and sponges."
TWM/2. Why do you use these products in particular?
"It's much nicer to have boxed tissues around the house than toilet rolls lying around! As I need to blow my nose fairly regularly it's more convenient to just reach and get a tissue than go to the bathroom. Kitchen roll is not an essential but it is so practical and can be used for different purposes that I make sure that I never run out of it, in fact I'm more likely to run out of loo roll than kitchen roll, in which case the kitchen roll has yet another use.
"I have black work surfaces so if I wipe down the surface and don't dry them then you can see the water marks so I use the kitchen roll to dry the work surfaces. It's also great to dry the hob especially induction hobs after cleaning.
"There is nothing worse than needing a tissue and not having any so I make sure that I always have some in my bag which also comes in handy when going to the loo in public places!"
TWM/3. What are your buying preferences?
"I'm guilty of liking the branded stuff in this area I'm afraid! Andrex is my favourite for toilet roll, who can ignore those gorgeous little puppies! Consequently I buy the packs of nine Puppies on a Roll in white and if there aren't any left then I'll buy another Andrex product.
"I buy Kleenex pocket tissues in multi-packs to make sure
that I don't run out because buying them individually is expensive. I buy Kleenex man-size tissues (in a flat square box) for the bathroom and Velvet tissues for the bedroom and lounge in colourful square boxes.
"I buy everything from Sainsburys which is where I do my grocery shopping. I can't recall the brand that I buy for kitchen towels but I do like the ones where you can choose the size, they're perforated but I don't find them much in Sainsburys. I like to go for the absorbent ones but also like the ones with a pattern."
TWM/4. Is it important for you to buy environmentally friendly tissue products?
"I'm embarrassed to admit that I have no idea whether the products I buy are environmentally-friendly. I don't go for cheap and cheerful as I buy the brand stuff but I never check the environmental aspect which is probably not good! I must admit though that the recycled products often look a bit greyish and not as comfortable looking as my puppies on a roll. Let me reassure you that I do dispose of the packages in an environmentally friendly way."
TWM/5. What differences have you seen when you've travelled out of your home country?
"I lived in France for about 11 years and the first thing that I noticed was how tiny their loo rolls are! They're about half the size as the ones in the UK and they sell a lot of pink ones. I was in New York recently renting an Airbnb apartment; the guy left us one loo roll, one dishwasher tablet, no tea towels and about 10 kitchen rolls with which we had to dry the dishes.
"Now I love kitchen roll but one thing it's not good for is drying the dishes!"
*'Bless you' in French