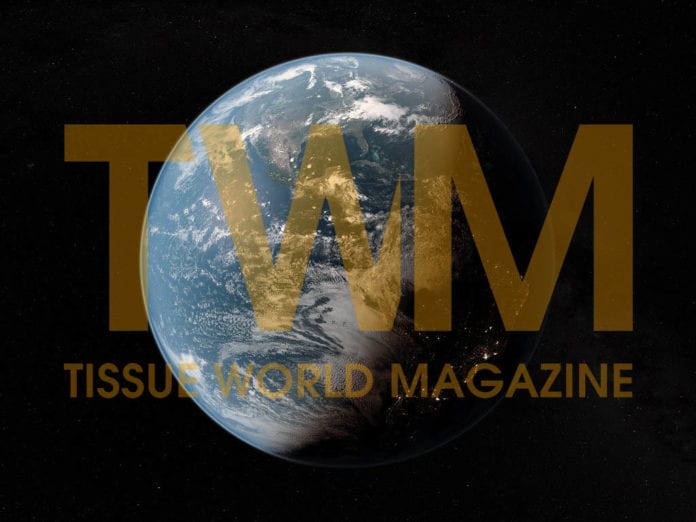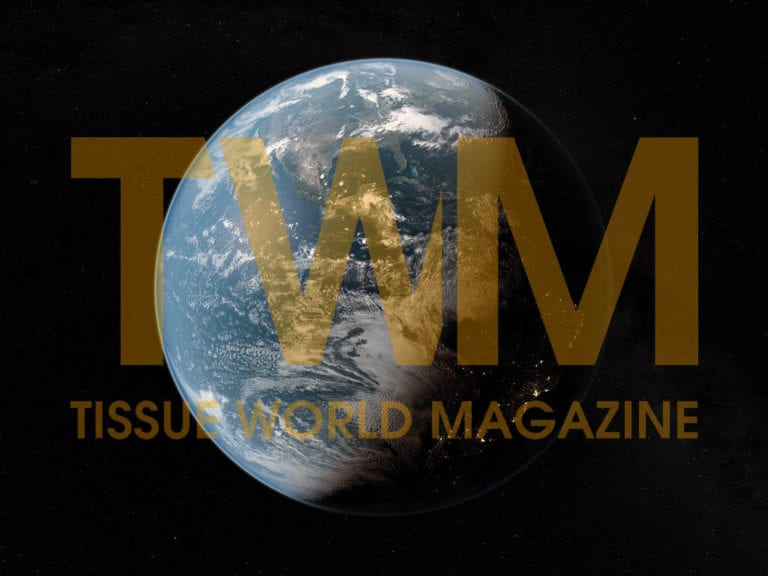 By Fisher International's Bill Burns
Romania had enjoyed a diverse and solid paper industry for many years. In the last decade, however, the shrinking global market for printing and writing and newsprint paper is being felt in Romania. Today's paper market is dominated by packaging, Towel and Tissue (T&T) (figure 1) with small specialty segments. Printing, writing and newsprint have all but disappeared as has market pulp. T&T has been a bright spot with a steady increase in production while the other grades have fallen off (figure 2). A shrinking global market may not be the only factor contributing to some of Romania's struggles. The available market is being shared (fought over) by many producers with small shares in the market. Only Rossmann has a leadership-level share at 30% (figure 3). T&T is not dissimilar in this regard with six companies having modest to small-size mills all contending for the local market (figure 4).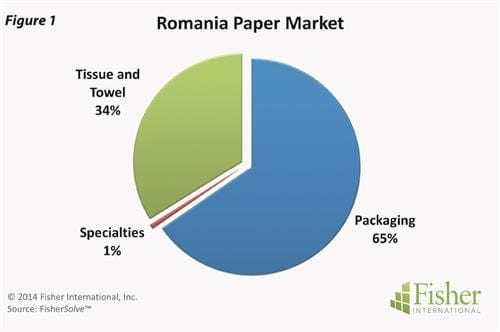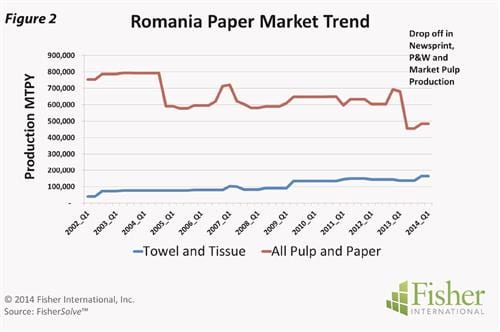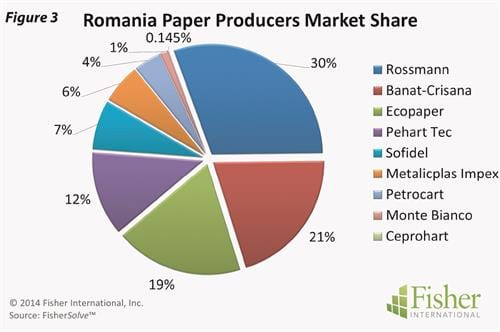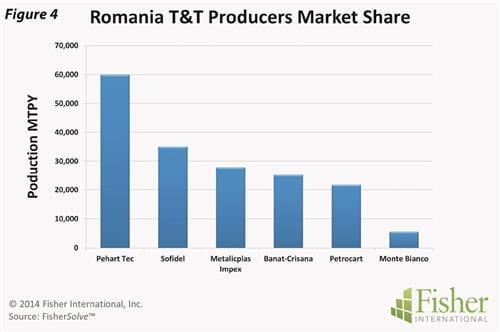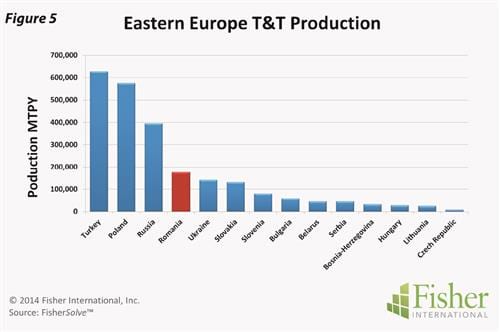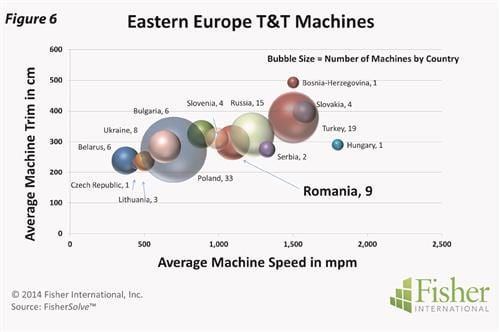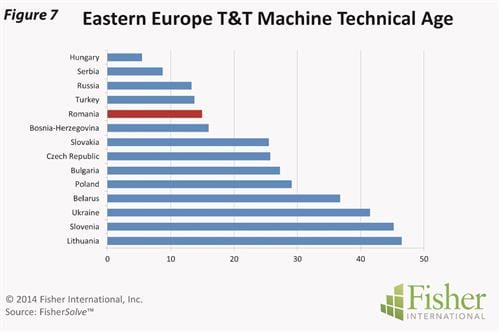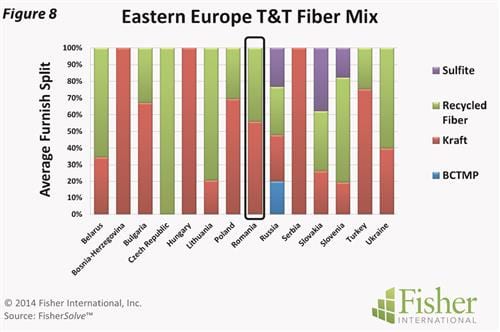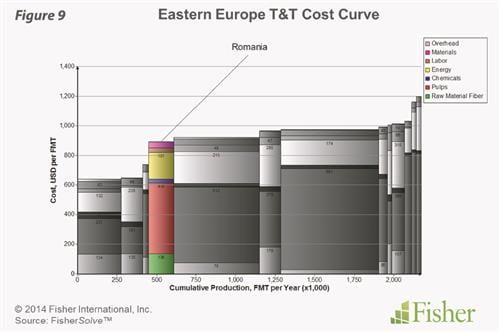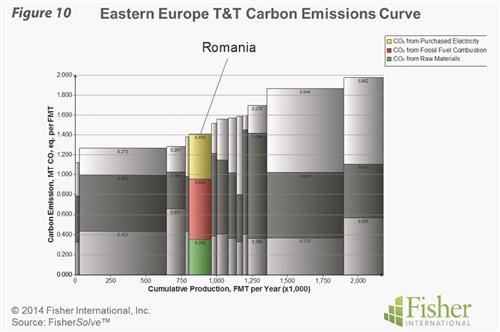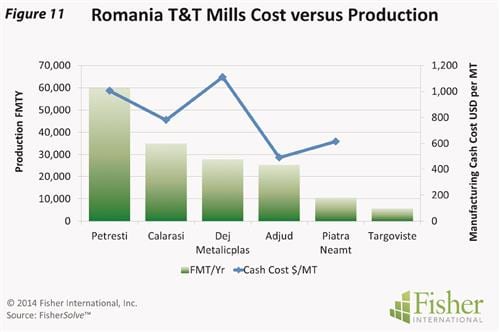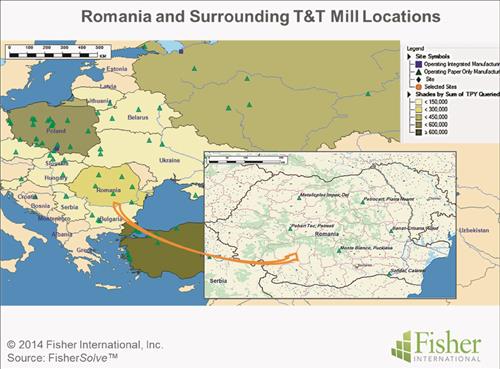 Romania's T&T production position in the region is competitive against the bordering countries. In greater Eastern Europe, there are three large producing countries (Turkey, Poland and Russia) that far outpace Romania but the other producing countries, including the boarder countries, are less developed (see map). Romania ranks highest in production among the eleven smaller countries (figure 5). A trim versus speed diagnostic of the machines in Eastern Europe shows that Romania is in the middle of the set (figure 6) indicating neither advantage nor disadvantage in size and speed. A technical age assessment reveals a competitive position in line with upkeep and investment (figure 7).
The biggest contributor to cost is fibre. Comparing Romania to other Eastern European countries there is a mixed bag of fibre strategies in play. There are countries that are based fully on recycled fibre while others are all virgin. Romania is in the middle with about a 50/50 mix on the average (figure 8).
Country to country competitiveness is often driven by cost position. Romania is in a first quartile cost position, which is good, but it should be noted that the quartiles are compressed with the two largest producing countries dominating the second quartile (figure 9). Carbon emissions have the potential of impacting cost positions and disrupting this balance in the future. In this regard, Romania appears to be well positioned when modelling Eastern European carbon emissions (figure 10).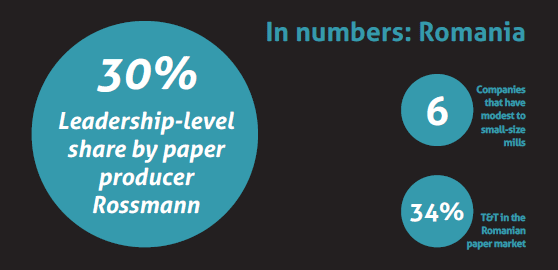 In the end, competitiveness in T&T tends to be mostly local. Typically, the company or mill with the best cost position and adequate capacity in their geographic proximity can have a marked impact on the market. Assuming all competitors make comparable quality products that meet end users' needs, the low- cost position should command the market. In Romania this appears not to be the case. The low-cost producers are capacity short while large scale producers have the highest costs. The largest producer has nearly two times the production of the next closest and two to six times the production of the low-cost producers (figure 11). Thus, mills in an advantageous cost position appear unable to expand in the market. With the largest and highest cost producers setting market pricing, the smaller low-cost producers should be enjoying good margins. There may be an opportunity in this market for a high capacity low-cost producer to achieve a very strong market position.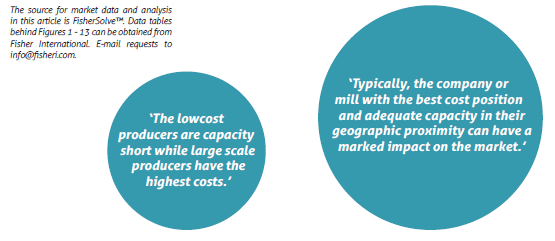 [box]
About Fisher International, Inc.
Fisher International has supported the pulp and paper industry for over 25 years with business intelligence and management consulting. Fisher International's powerful proprietary databases, analysis tools, and expert consultants are indispensable resources to the industry's producers, suppliers, investors, and buyers worldwide.FisherSolve™ is the pulp and paper industry's premier database and analysis tool. Complete and accurate, FisherSolve is unique in describing the assets and operations of every mill in the world (making 50 TPD or more), modeling the mass-energy balance of each, analyzing their production costs, predicting their economic viability, and providing a wealth of information necessary for strategic planning and implementation. FisherSolve is a product of Fisher International, Inc. For more information visit: www.fisheri.com or email [email protected] USA: +1-203-854-5390.
[/box]