Only a rapid and flexible response to the increasing safety concerns of legislators and consumers will succeed. Here, Simon Boyd, global product manager colourants, Paper Solutions Business, Archroma, offers one company's priority in setting up essential best practice.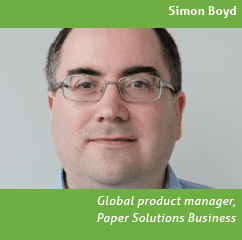 In future tissue colourants will need to meet ever-higher compliance standards as more stringent legislation and increasing consumer awareness are becoming key drivers in the industry for safer and more sustainable solutions. Global colour and specialty chemicals producer Archroma recently launched its latest food contact approved colourants specifically designed for deep dyed napkins. The move shows the direction in which the company believes the tissue and paper industries are increasingly heading: in the long term, only those able to adapt quickly to customer requirements and changes in legislation will be successful.
Sustainability is a popular topic these days. While tissue makers are primarily looking for energy, water and carbon dioxide savings to make their production more efficient, consumers on the other hand are primarily concerned about the safety of the end products – napkins, tissue or towelling. For tissue producers, this is where eco-labels, food contact approval and REACH (Registration, Evaluation and Authorization of Chemicals) readiness play a very important role.
Increasing importance of eco-labels
As consumers are becoming more conscious about safety and sustainability, eco-labels are a great tool to demonstrate product compliance against certain safety standards and communicate it to the customers. While the benefits of using an eco-label on products is obvious for the retailer, obtaining it as a producer can be complicated as all ingredients need to be checked and confirmed.
Archroma regularly checks the conformity of each of its products with the requirements of the three major eco-labels. Additionally, considerable research and development effort over recent years has further enhanced products. Based on the most recent product portfolio assessment, 175 colourants, optical brightening agents and paper chemicals now fulfil the requirements of the EU Ecolabel with up to three certificates per product due to different requirements, e.g. for copy and printing papers or tissue paper. Some 128 Archroma colourants, optical brightening agents and paper chemicals fulfil the requirements of Nordic Swan (up to 12 certificates per product due to different requirements, e.g. for copy and printing papers or tissue paper, sanitary paper, recycled cardboard) and 75 Archroma products are approved for Nordic Swan, with another 90 products awaiting review.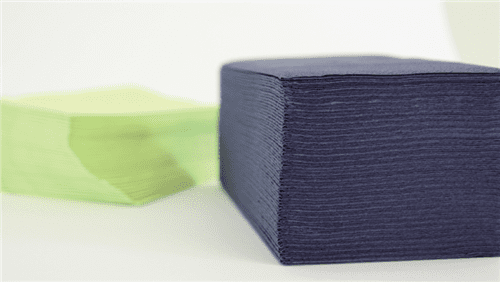 Changing legislation in Europe for food contact applications
Food contact approval is another main element in highlighting the safety of a product – an element that is actually vital in many end-use applications such as tissue and packaging. Paper colourant suppliers mandate independent safety test laboratories to assess products with regard to their compliance with well-known food contact standards (like Food & Drug Administration FDA or the German Federal Institute for Risk Assessment BfR). As tissue consumers are becoming more sceptical about chemical ingredients and new – safer – products are coming onto the market, the bar of safety requirements continues to rise.
Changing legislation is a challenge for the whole value chain, starting from the colourant supplier to the paper mill and to the retailer. One example of such a change is the new European regulation on extremely low limitations for Diethanolamine (DEA) and Triethanolamine (TEA and also called TAN) contents in paper and board intended for food contact applications.
DEA and TEA have been used in the past to help maintain storage stability of liquid dyes and to prevent deposits forming over time. However, these amines are under scrutiny as they are potentially mutagenic. Likely these dyes could be no longer considered suitable for food contact applications such as deep dyed napkins.
Following an intensive research programme, Archroma has developed new food compliant grades in order to comply with this European regulation* which has recently come into force. In June 2015, we introduced a new palette of safer grades that will help tissue makers create the exciting colours that the consumers are longing for. An additional benefit to the customer resulting from these dye reformulations is that the C.O.D. (Chemical Oxygen Demand) and nitrogen content is also reduced, helping reduce effluent treatment costs and improving the ecological performance. In March 2016, this range was extended further and will continue to see further additions.
REACH – THE prerequisite for any chemical in the European Union
European chemicals legislation REACH aims to improve the protection of human health and the environment through the better and earlier identification of the intrinsic properties of chemical substances. This legislation entered into force in the year 2007 and by end of May 2018 all substances used in EU markets will need to be REACH-registered – irrespective of whether they are being produced in the European Union or if they are being imported.
The deadline for the registration of substances depends on the volumes brought on the market. Phase 1 and Phase 2 ended in December 2010 and June 2013, and Archroma has completed both phases. We are confident to finish the last two phases well before the deadline in 2018.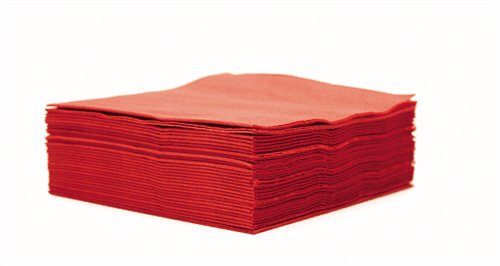 Market outlook and conclusion
For the whole tissue industry, customer requirements and legislation in particular will continue to evolve – and safety standards will become even stricter and more widely applicable. With regard to the sustainability of the industry and of the wellbeing of future generations, this trend is to be welcomed. In this dynamic environment, the successful suppliers to the tissue industry will be able to quickly respond to changes in the market or to even anticipate upcoming changes in legislation within their innovation pipeline.
*See recommendation XXXVI of German Federal Institute for Risk Assessment (BfR) and specific migration limits in application of Directive 2002/61/EC
This article was written by Simon Boyd, global product manager colourants, Paper Solutions Business, Archroma.