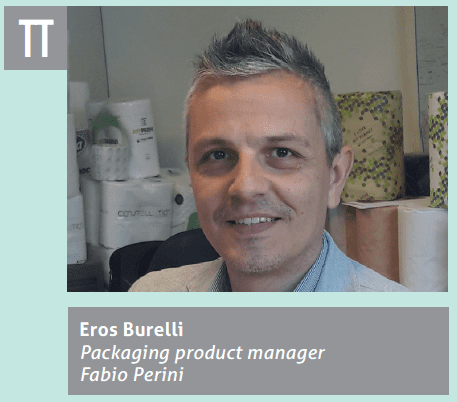 Plastic – hundreds of millions of tonnes of it every year – has been intrinsic to tissue product packaging. So the urgently needed bioplastic
replacement must slot seamlessly into today's production cycles. Fabio
Perini's packaging product manager Eros Burelli outlines the latest
research success.
Current packaging habits in plastic materials play a fundamental role in
protecting, preserving, transporting and promoting products.

For this reason, a material that can replace plastic and have the same economic benefits for use on today's increasingly automated, fast and high-performance production lines is certainly a challenge.

Passing from plastic to another material just as high performing requires a profound change, important investments, new processes, technologies and materials. It is imperative that alternative materials be available in large quantities because the amount of plastic currently used for packaging is in the order of hundreds of millions of tonnes per year. Additionally, any new materials must perforce give rise to economically sustainable recycling chains.

One of the solutions available to radically change the current system is to intervene upstream of packaging and make sure its design is compatible with existing recycling systems and plants throughout the territory. Fabio Perini has embarked on the quest for an alternative to plastic that could, in addition be interchangeable and compatible with current packaging systems.

With the Casmatic brand, it was decided to progressively eliminate plastic from primary and secondary packaging in the production cycle of tissue.

Countless tests have been performed on latest-generation wrappers, such as
the CMW1000 and the newest addition Carbon T, to understand which material is most suitable to completely replace plastic without totally revolutionising the machine, present today in many customers' companies.

Starting from paper (used today in several different ways in our field and
capable of effectively replacing plastic) and coupling it with ecological bioplastics made from starches and plant waste having the same properties as plastic polymers, yields a product that can maintain today's production cycle intact, with the major difference that it is a 100% natural product.

But why not use bioplastics directly without adding paper?

Today, bioplastics of plant or animal origin are still very expensive and are
not yet fully available to be used on an industrial scale. So we looked for a material that could be combined with these products, and paper turned out to be particularly effective.

Different paper grammages – all certified FSC (because paper, too, must come from responsible and sustainable sources) – were tested on Casmatic wrappers. From low-grammage papers (25 gm²) to thicker papers (40 gm²) that could ensure perfect resistance to puncturing and a high level of protection of the product inside it; 100% biodegradable virgin papers and recycled papers to give continuity to the production cycle. All coupled, laminated or extruded to bioplastics with thicknesses from 7 to 9 microns to ensure good pack sealing and an optimal hydroscopic barrier for the product. And all this while keeping a suitable cost on the production cycle.

In January of this year, together with partnering companies, two types of paper were developed that could guarantee total sustainability of the products packaged by our machines: 100% compostable BIO paper with "Vinicotte OK compost" certification, and 100% recyclable and biodegradable paper. These are today available for all our customers who want to contribute to safeguarding the planet, differentiating themselves and becoming increasingly active in the sustainability of our particular field.

Fabio Perini machines with the Casmatic brand have been enhanced with a new device that allows them to go from poly to paper through a simple selection on the operator panel.

These improvements have been implemented on the machines in order to
allow working with any type of paper: virgin papers whose fibres are closely joined together, creating a barrier against heat that must be bypassed in order to melt the bioplastic to ensure proper sealing of the pack; recyclable papers, having wider fibres that allow heat to penetrate more easily, making sealing simpler. Casmatic machines today have the possibility to differentiate the various temperatures with related sealing times easily and automatically, thus guaranteeing workability with all products present on the market today.

These tests have yielded ideas that can be expanded on wrapping machines which, in addition to guaranteeing an optimal interchange between plastic and paper, now afford greater ease also as far as ordinary machine operations are concerned.

For secondary packaging too, Fabio Perini is already working to provide its customers with a simple solution, 100% ecofriendly, capable of reducing the use of plastic on all Casmatic brand machines. A new technology for secondary packaging will be presented before the end of the year.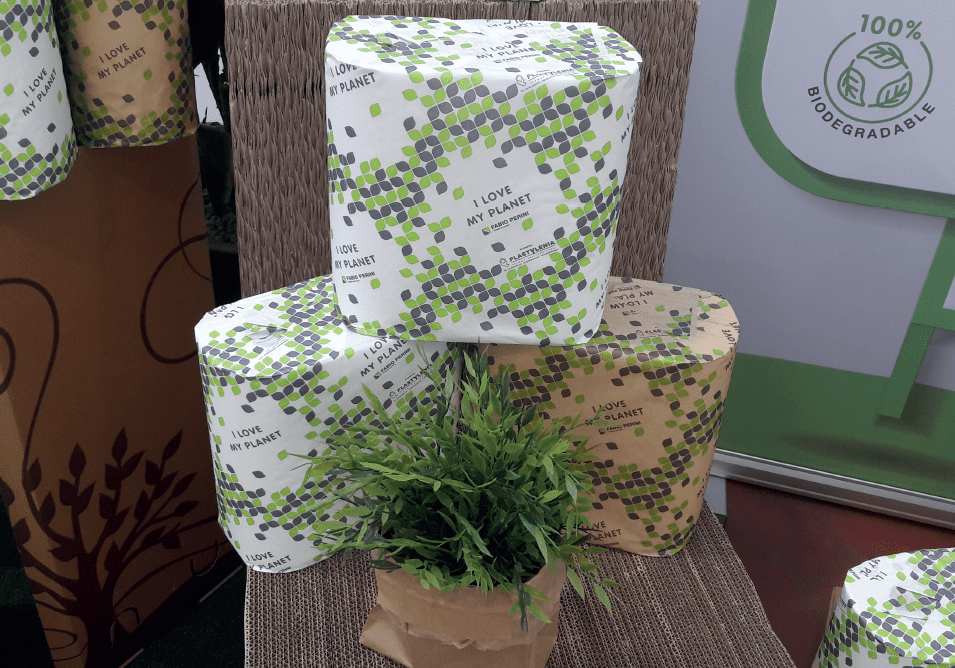 This is the Fabio Perini challenge: preparing its product portfolio and helping customers, with their current Casmatic brand machines, to actively contribute to safeguarding the environment with bio and recyclable products, simply by installing the "bio pack kit" that helps to keep abreast of technologies and productivity, respecting nature, the planet and the future.

This article was written by Eros Burelli, product manager Packaging, Fabio Perini, for TWM.