Ukrainian tissue converter PJSC "VGP" has boosted its product offering after it successfully started up a Gambini-supplied production line.
The Right 550 line is capable of producing premium class products, 3-ply toilet paper and kitchen towels, medium and economy class products, 2-ply toilet paper, 2-ply point-to-point kitchen towels and 2-ply kitchen towels.
PJSC "VGP" said the choice of equipment was defined by price-quality ratio and line flexibility for quick product format change.
It said: "The product diversity, high speed and quick format change will let the company satisfy customer's demand at a favourable price in all the market shares at home and abroad maintaining high quality standards."
The Gambini line is distinguished by its component parts, including the embossing unit TOUCHMAX 40.80 and the point-to-point unit.
It also integrates equipment from other companies, i.e. Pulsar diverter REDS 4/8 TEV STEP5, TMC packing machines ZERO and QUATTRO, TRASCAR palletizer.
Gambini said: "TOUCHMAX is now the embosser which makes a real difference in the production process allowing a three minutes product changeover guaranteeing high level safety for the operators and high quality of the tissue roll products.
"TOUCHMAX, with five steel embossing rolls always on board, is capable of producing up to six different products just by entering the embossing roll configuration via HMI panel without replacing any steel embossing rolls, therefore allowing real-time production."
PJSC "VGP" is one of Ukraine's leading converters and has been in operation since 1998.
Its brand portfolio includes toilet paper, facial tissue, kitchen towels and hankies under trademarks Ruta, Ruta Selecta, 100% paper, Servetta and Polotenechko.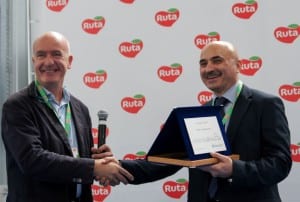 The company also produces private label products for large retail chains.