By Helen Morris, Senior Editor, Tissue World Magazine
Having touched-down in the Green Bay home of the famous NFL stars the Packers, Italian giant Sofidel plans to shoot the gap with a spread offense in a bid to establish itself amongst the big boys. A TWM report (with apologies for any tactical blunders).
Everyone told TWM beforehand that the flight and approach to Sofidel America's Green Bay converting plant can be pretty magnificent. Based around the tributary Fox River, the city is a sub-basin of Lake Michigan, which is one of five interconnected lakes that make up the Great Lakes region. Nicknamed the 'Third Coast', by total area they form the largest group of freshwater lakes on earth.
Among all these claims to fame, the Wisconsin city is also known as one of the tissue capitals of the world, and today is home to mills including Kimberly-Clark, Procter & Gamble and Georgia-Pacific, as well as local independents such as Little Rapids and ST Paper, who along with a variety of the market's suppliers all have plants within throwing distance of each other.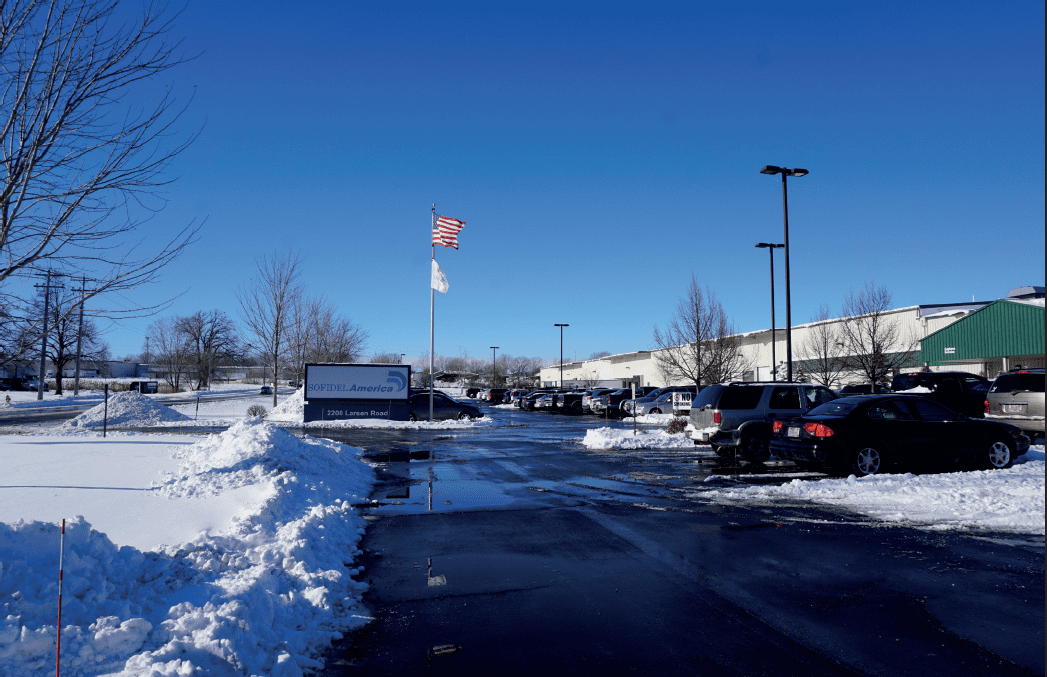 Also hugely resonant of the Green Bay name are the famous and serially successful Green Bay Packers. Uniquely, the 13-time National Champion American football team is still a cooperative, and surges forth from the smallest city in America to host an NFL team.
On touching down at Austin Straubel Airport however, the city is engulfed in a ferocious and freezing snow blizzard which renders any sight of the river, lake, tissue mills or the Packers' Lambeau Field stadium somewhere between unlikely and impossible.
Thankfully, a mere 12 hours later and we're driving in sunshine along well-ploughed roads still banked high with snow to Sofidel America's site. TWM meets operations manager Stefano Giannini, originally from Lucca (and now a converted Packers fan), and Frank Law, SVP marketing and sales, who is originally from Blackpool, UK, and now based at the company's HQ in Philadelphia (a converted Philadelphia Eagles fan, but still, every credit for his loyalty, primarily a fan of the somewhat less successful Blackpool FC of the 3rd tier of English football).
Both are affable and well informed, and equally bemused by the extremity of the weather and admiring of the efficient way the locals get on with it. Having acquired the plant from independent converting company Green Bay Converting (GBC) in November 2015, it was then realigned to focus just on tissue, offering converting facilities and broadening the Sofidel Group's presence across America.
For now, it is the company's largest converting facility globally converting 70,000tpy. The Green Bay site supplies private label retail products, converting bathroom, tissue, and roll configurations to service retail customers, including the addition of printed colours which are used as a selling point for private label, as well as a full range of AfH. For retail, there are 54 warehouses located within 500 miles of the site that the company has partnered with, providing one of its main growth areas.
Speaking in excellent English, Giannini proudly says the site is one of two Sofidel sites across the whole of America to have Fabio Perini's Constellation line at present, which he says means it can produce "strong, good-looking, single rolls. As it's so flexible, it gives us better consistency with the product".
Demand for these products is high: "American customers want nice-looking products at a nice price," he says. "We focus on creating an end-product that looks fuller and more premium, which is key for the market here."
It's been a steep learning curve in terms of adapting their European work strategy and culture to fit America's: "We proudly fly our American flag outside our company building, but  we also wanted to bring our European standard and culture to America so that the products reflect that. We are still establishing ourselves here but we are now able to mix being an Italian, family-owned business, whilst having realigned ourselves to the trends we're seeing in America. We react quickly and we are very Italian in the sense that our philosophy is our strong work ethic, and we are also fastidious about safety, cleanliness and quality. Our people here want to be proud of what they do."
Law adds that buyers want national, brand equivalent products. "At the moment, they just want brands. No-one will try and push the boundaries. For example, there's not an equivalent here of the British supermarket chain Waitrose that will push the envelope a little in terms of product innovation. Products that are typical in Europe such as 3ply tissue aren't yet accepted. Here it's all TAD and 1ply thousand sheet, as well as packaging and boxes, never poly-wrap. Just two customers here, Aldi and Walmart, want poly. It's because of the strength of manufacturers here such as GP and it means that customers are quite conservative when it comes to innovation and breaking away from the norm. It makes it very hard to get innovations across."
Tissue players in America are also increasingly faced with a consumer and AfH market that's growing at less than 1% per year. Alongside modest GDP growth and a low population growth, Law adds that the company's strategy is two-fold: to continue to invest in the latest energy-efficient technologies and to get new innovations into the market.
The most recent launch was Bio Tech, which uses a solution in the paper that contains spores that activate in contact with organic materials and then dissolve. "As we're so new here, lots of people here don't know Sofidel so products like this show people that we can do innovative stuff that no-one else can," he says. "These are the types of things we're trying to develop in the market. Another key innovation was DissolveTech, which we launched here about two years ago."
The Italian-headquartered Sofidel America is still (as yet) the only European-headquartered tissue mill to have a manufacturing presence in America. It was founded in 2012 with the acquisition of Cellynne, a manufacturer of consumer and AfH tissue. It now has sites in Florida, where it has two paper machines and converting lines, Wisconsin, Nevada, Oklahoma, Florida and Mississippi which are all converting sites, and a Greenfield investment in Ohio which will house two paper machines and several converting lines.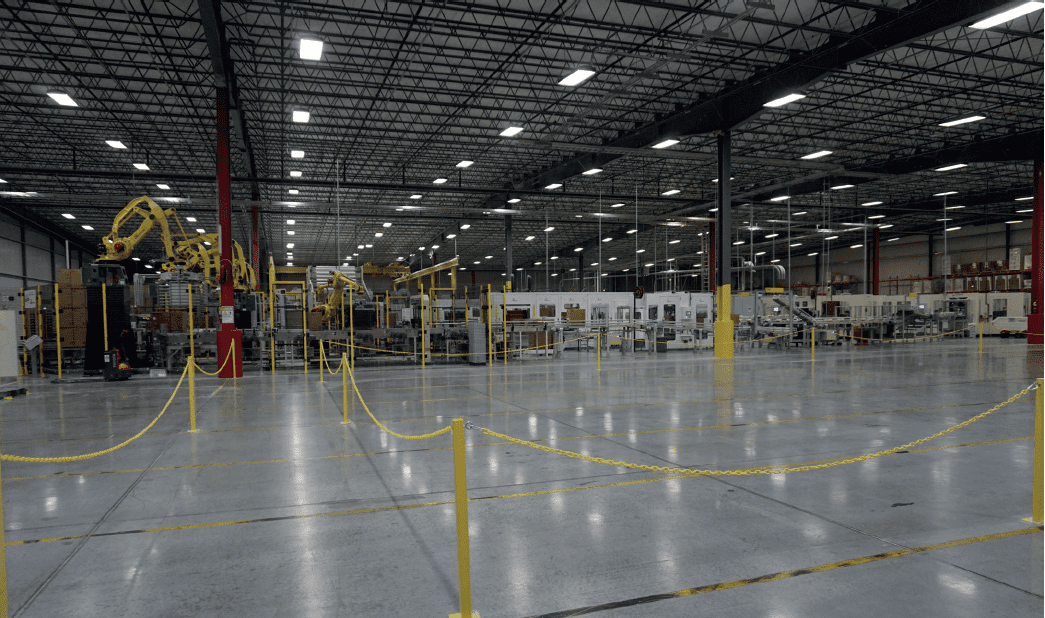 Law says: "We're covering geographical areas that are key for tissue. Every site we've got we can expand on. And at this Green Bay site we have empty space inside to invest further when we've established ourselves more."
The new Ohio site will house two Valmet-supplied NTT lines, each with a production capacity of 70,00tpy and which are expected to start production in the first and third quarter of 2018.
The move is a crucial step to increase the group's presence across America, as well as position itself in terms of technology: "Our aim is to invest and grow with the most modern and energy-efficient technologies," Law says. "We don't want to use energy intensive technologies, and as we have experience with NTT with our plants in Poland and Spain, we believe that NTT is the way forward in the long run. It's a very sustainable and energy-efficient technology. If we continue to invest in these new technologies, even in a stale market we can position ourselves ahead. If we continue to have overcapacity here as well as see energy price increases, it will be a key move for us."
Giannini says the business will continue to invest in technologies so it can be "competitive in the long run. We're doing new stuff here; no-one has a Constellation line in America, so we're already ahead because we have that."
The key challenges are supplying high-end, TAD-ultra quality products that the customers' desire: "Our goal is to be able to supply all our customers with their private label needs. As for AfH, our strategy is to put innovations in the paper, such as DissolveTech and Bio Tech. There's not much growth in this market, but we have to get people going into more high-end products."
Growth opportunities are mainly in private label, which Law says has a lot of open ground in front of it before it reaches the levels of Europe. "This is being driven by the likes of Aldi, Ahold and new entrant Lidl. Aldi are big here and have been here for a while, while Lidl has maybe 20 sites in southern America, in north and south Carolina. Their stores are very well catered towards the consumers here, big isles and much nicer than in Europe, yet their prices are  still low. We do believe that the private label market is very attractive and that there's lots of open ground being driven by discounters such as Aldi. Some 25% of our production here is private label and there are many opportunities."
E-commerce is also rapidly becoming more prevalent. In 2017, Amazon.com acquired organic food retailer Whole Foods Market for $13.7 billion, a move that suggests the e-commerce giant believes a physical presence will enable it to distribute products more locally – and more quickly. What will it mean for tissue?
"They bought Whole Foods because they're a high-end retailer, with very, very good supermarkets, so it gets them into the areas they want to be," Law says. "They will use them as distribution hubs which are already starting to sell Amazon products in their stores. E-commerce is a growing sector that we need to be more aware of, it's not going to grow smaller.
"We're doing a little bit now, not for Amazon, but with an independent company. We're taking baby steps into e-commerce. We're also seeing that the Millennials have some unusual buying habits, they're switching away from napkins, using kitchen towels for everything as it's a very diverse product."
For the group, Law says there will be lots of changes and developments across the sites. "There is so much competition in America: you've got all of the big manufacturers, a lot of who have exited Europe… Procter & Gamble, Georgia-Pacific, Kruger, all of which had a presence and exited. We are the first of the European-based companies to come across, but who else will come? We expect other people to follow."