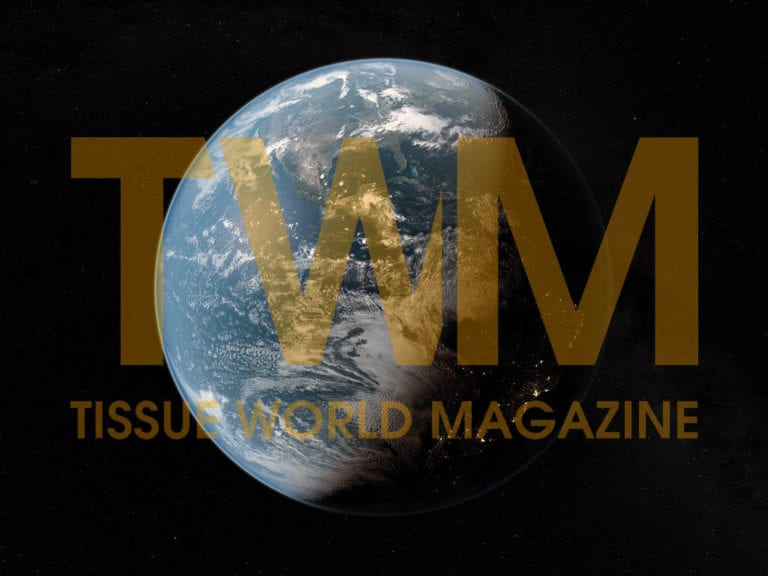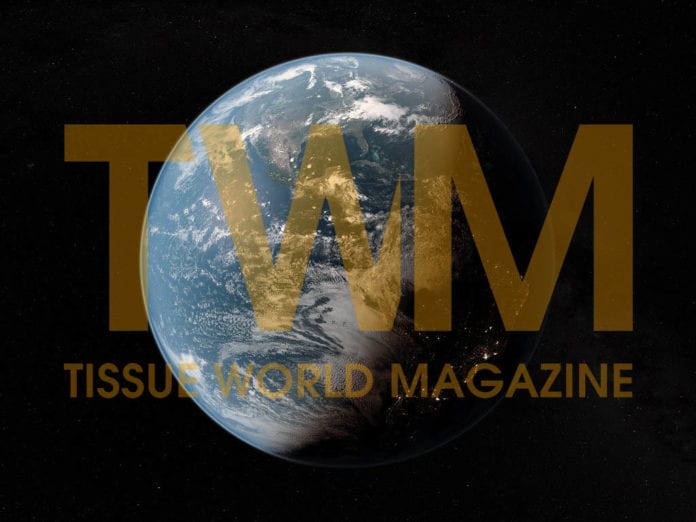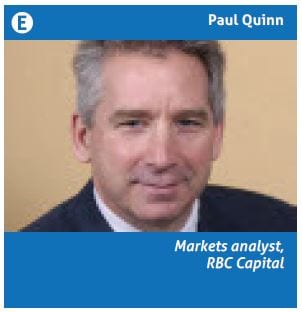 Shipments and operating rates are currently strong but we worry about the supply side
So the demand side of the North American tissue market appears strong, but we continue to worry about the lineup of additions to the supply side. That said, our supply-demand (s-d) model has looked similar over the last three years with our forecast of lower future operating rates and expectation of pricing pressure. This hasn't happened as the start-up timeline of the new tissue machine additions were delayed and we failed to accurately predict closures.
The delay on new machine starts is not unusual as a reasonable order file is required before companies commit the estimated $300MM for a new machine. Predicting boiler explosions (Lincoln Paper and Tissue) and optimising strategies (Clearwater) does not seem to be our core competency! Our updated s-d model on the following page shows a declining operating rate (production-to-capacity) from 93.4% in 2016 to 91.7% in 2019. Declining operating rates are never a great thing as they suggest lower tissue pricing.
We could see a repeat of the recent past, with delayed new capacity additions and machine closures balancing out. We could also see the entry of European discount supermarket chains, like Lidl and Aldi, as disruptive to the current brand focused North American consumer, allowing for the expansion of private label (where the majority of the capacity adds reside). The future is uncertain to us.
Converted product shipments 2.6% higher y/y (+2.0% 10mo YTD)
Total At-Home (consumer) shipments of converted tissue products increased 1.9% y/y and 1.6% 10mo YTD. This strength was attributable to higher volumes in toilet paper (up 1.7% y/y,+1.4% YTD), towel (+2.5% y/y, +2.0% YTD), and facial (+3.0% y/y, +2.2% YTD). Total Away-from-Home (AfH) shipments of converted tissue products also showed strength, rising 4.1% y/y (+2.8% YTD). For AfH, toilet paper volumes grew 4.8% y/y (+2.9% YTD), towels increased 3.7% y/y (+2.9% YTD), and napkin volumes climbed 2.4% y/y (+2.1% YTD).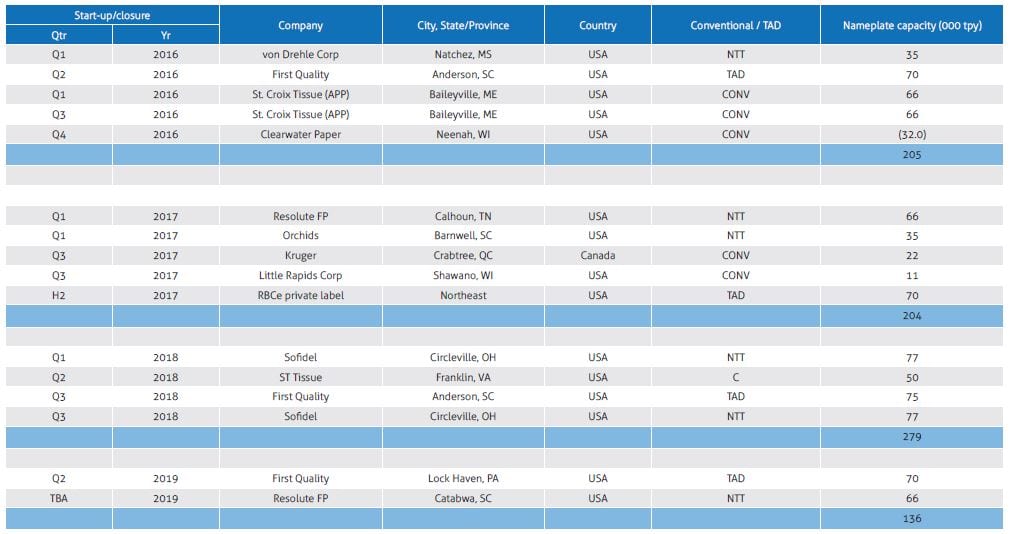 Parent roll production up 5.7% y/y (+2.0% 10mo YTD)
Parent roll production was 745K tonnes in October, up 5.7% y/y (flat m/m). Domestic parent roll consumption was 770K tons, up 6.4% y/y (+3.2% YTD) and flat m/m.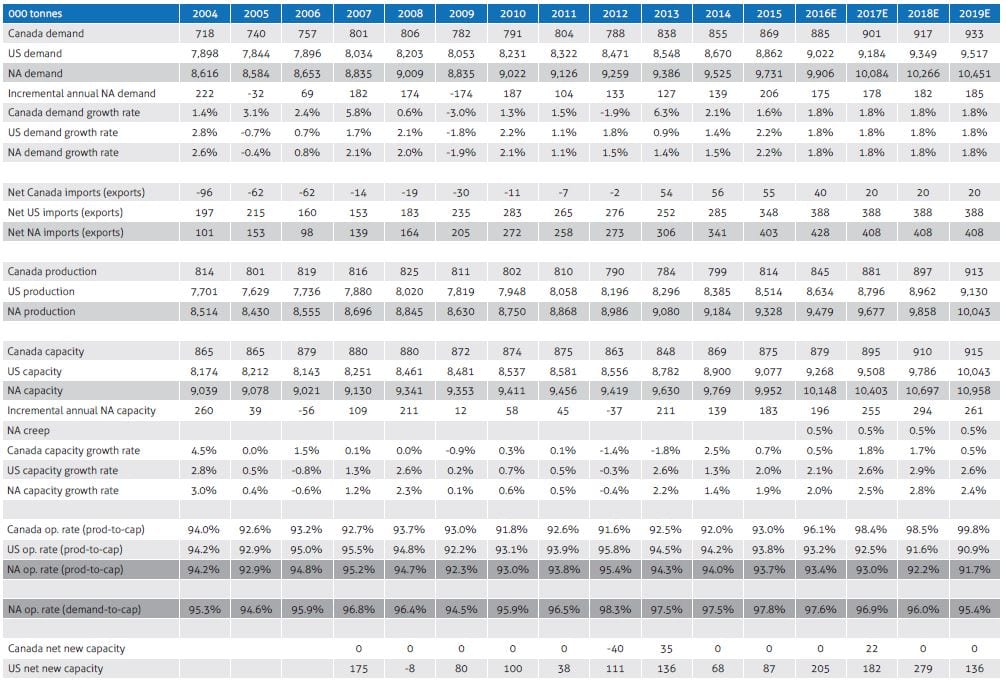 Operating rates in line with the 10-year October average
Operating rates edged lower m/m to 93.5% from 96.6% in September (91.1% last year). This is largely in line with the 10-year October average of 93.3%. Monthly capacity was up 3.0% y/y (+3.4% m/m, 2.8% YTD).
Net US tissue imports jumped 54.8% y/y (though represent only ~5% of consumption)
Net US tissue imports increased 54.8% y/y (+45.3% YTD) in September (latest customs data). US exports of converted tissue products were up 2.6% y/y in September, while Canadian volumes increased 3.3% y/y.
Parent roll prices lower m/m for virgin and recycled grades
High-quality virgin parent rolls showed slight weakness in October at $1,377/ ton, down 0.6% from September (+2.4% y/y). Recycled parent roll prices declined slightly, with the high-quality grade at $1,126/tonne, down 0.8% m/m (+1.0% y/y).
New price increases
In converting tissue products, AfH producers announced new price increases. Increases range from 3% to 8% and will take effect between Nov 1, 2016 and Jan 1, 2017 depending on the company. According to RISI, the ranges include 3% to 5% (Solaris Paper), 8% (K-C), 5% (SCA), and 6% (Cascades).
Three new TAD tissue PMs announced and some year-end closures
Irving Consumer Products announced the purchase of a new TAD tissue-making machine from Valmet with an expected delivery in 2018 (RISI estimates capacity to be about 70K ST/year). First Quality Tissue also announced two new TAD machines as a part of theire xpansion initiatives. One machine will be constructed in Anderson, South Carolina and is expected to begin production in the second half of 2018 while the other will be in Lock Haven, Pennsylvania and is projected to start in the first half of 2019. These two machines will add ~145K tonnes of production capacity.
These announcements were partially offset by Clearwater Paper's announced closure of its Oklahoma City converting facility and two tissue machines in Neenah, Wisconsin, which removes 32K tonnes of production capacity beginning 31 December 2016.