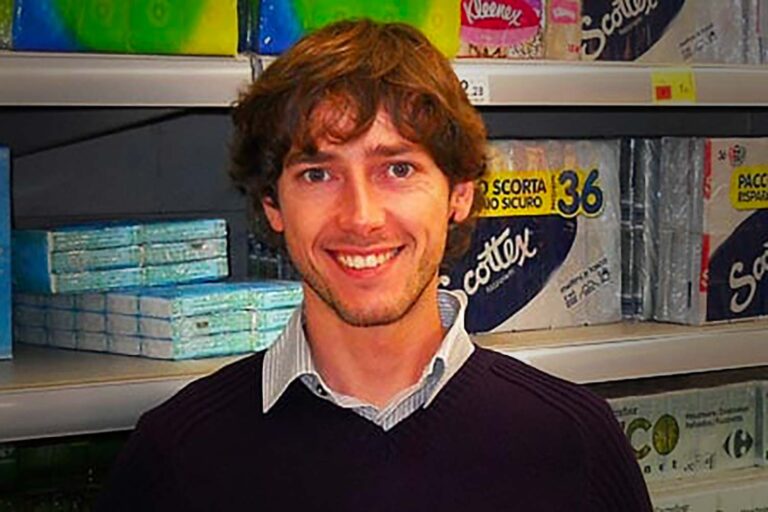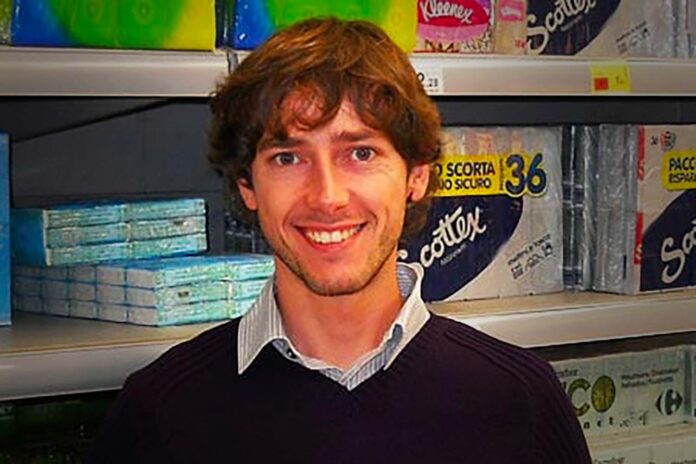 Silvio Fioravanti is an archaeologist and lives near Lucca in Italy. He has a large collection of pocket hankie packs – at the last count, 11,972 different tissue pocket packs from all over the world that are themed, catalogued and includes old and vintage pieces. TW magazine has charted his collection's development over the years, and here he explains how he and his family uses tissue products that are absorbent, soft and usually white, as well as how and why he continues to expand his collection.
I am a big customer for all companies that produce tissue paper! For the collection, I purchase any type of packets of tissues from the most famous brands to private label products. Wherever there's a supermarket or a small store household products or toiletries, I go in search of missing packages to my collection.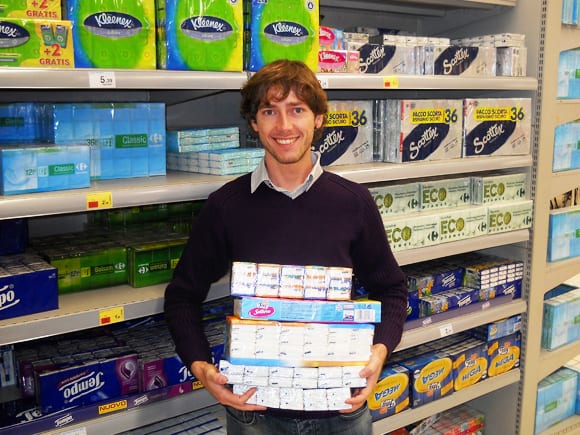 For my personal use for colds and in the kitchen or bathroom, I am more particular about which tissues I chose. My family only uses the better quality products, not a particular brand, but we want softness and maybe a little handkerchief with a light scent also (but not too strong). I don't use tissues in boxes, but prefer to use kitchen rolls that are more absorbent as well as towels and toilet paper, preferably ones that are soft and usually white.
We are lucky because in Italy the quality of paper products is generally very good and in recent times most companies are adapting to environmental requirements. The use of environmental certifications on products such as PEFC or FSC is spreading quickly, but they are still maybe not well known to the average customer.
The research of tissues for the collection continues even when I'm abroad. I find that outside of Italy, the price for good quality tissue products is higher, so it's easier to find products with lower quality when travelling. I have a great passion for collecting tissue pocket pacts and have done so for the last 15 years. I collect tissue packs as well as old postcards and papers from my city. A collection represents the gathering of a selective group of things for higher purposes such as history, aesthetics, costume, technology, or memory preservation. The collection only justifies and legitimates the purchase of otherwise superfluous material things and it also provides them with meaning and value. I like handkerchiefs for their variety and their design, but mostly I like to keep things commonly used that would be thrown leaving no memory for the future.
For the last eight years I have uploaded my finds to my website (www.silviofioravanti.it). The collection now has 11,972 tissue packets from all over the world, making up many different formats including standard, mini-pocket, wallet, flat, sachet, as well as different characteristics such as advertising tissues, tissues with cartoon characters, tissues decorated, or vintage packets. I appreciate old tissue packages or those no longer available because of the difficulty in preserving a disposable product. They have little value if they're not looked after. I have managed to find some rare packages Tempo and Kleenex from 1930 and 1940, and even a packet of 1926 in the USA (pictured), which are some of my favourites.
I like to follow the evolution of the packages of the same brand. In the collection for example, I have over 525 packages of Kleenex and over 549 Tempo tissues to quote the brands most represented. I also like to find some brands that no longer exist and I frequently exchange with other collectors. When friends return from their holidays they also often bring me tissues for the collection.
There is still no record of the largest collection of pocket tissue packs in the Guinness World Record. Because of the variety and number of tissues in my collection, I'm preparing the documentation required for the creation of a new record.