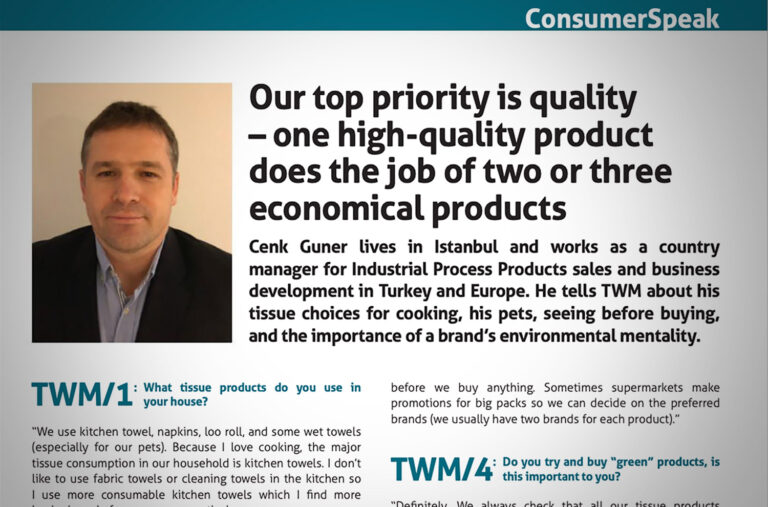 Cenk Guner lives in Istanbul and works as a country manager for Industrial Process Products sales and business development in Turkey and Europe. He tells TWM about his tissue choices for cooking, his pets, seeing before buying, and the importance of a brand's environmental mentality.
TWM/1: What tissue products do you use in your house?
"We use kitchen towel, napkins, loo roll, and some wet towels (especially for our pets). Because I love cooking, the major tissue consumption in our household is kitchen towels. I don't like to use fabric towels or cleaning towels in the kitchen so I use more consumable kitchen towels which I find more hygienic and of course more practical.
"As kitchen towels are so versatile and adaptable, we don't just use them in the kitchen. We also use them in the bathroom for some small cleaning or drying. We consume a big pack per month which includes 24 rolls."
TWM/2: Do you prefer private label or branded tissue products?
"Based on the experience of the brands that we use, we prefer to use specific brands. Based on the quality and design (3 ply, etc), we always prefer branded products for toilet paper towel and napkins. But this also means that we're not just buying all our tissue products from one brand; quality is the most important for us, and we believe that high-quality products are cheaper in the end because one high-quality product can do the job of using two or three economical products."
TWM/3: How do you buy tissue products?
"We buy big packs from our local supermarket in Istanbul. Buying online can be a little cheaper, but we prefer to see before we buy anything. Sometimes supermarkets make promotions for big packs so we can decide on the preferred brands (we usually have two brands for each product)."
TWM/4: Do you try and buy "green" products, is this important to you?
"Definitely. We always check that all our tissue products are recyclable. We not only check or buy products based on their green efforts, the product can be environmental but we also look at the product's manufacturer or brand's general environmental structure or mentality. This also affects our selection. If the brands do not care about environmental issues, but a specific product has an environmental-certification on its label, we will still not purchase it."
TWM/5: How accessible are tissue products in Turkey?
"It changes according to the products. For example, kitchen towels are mostly used in cities. In small towns or villages people prefer to use fabric towels that can be washed and reused. Also, it's based on economical income. Some people
prefer fabric towels to save some money. For toilet paper, whether it's of high-quality or whether it's economical can change, but toilet paper is always used by Turkish people. The same can be said for napkins."
TWM/6: What have you noticed about tissue product availability and quality when you've travelled abroad?
"In general, what I faced is the quality of these products is higher in Turkey than in other countries. Due to my job I travel abroad a lot, and what I see in hotels or restaurants (same level hotels or restaurants) show that the quality is lower abroad. Of course, I also find very high-quality products, even higher than in Turkey, but generally we have very good quality products in Turkey."