Renova is the home of "the sexiest toilet paper on earth" says production director Mario Lopes. TW met the business with the designer products.
"Black toilet paper is an icebreaker," says Mario Lopes, production director at Renova, the Torres Novas, Portugal- based integrated tissue company. "Our strategy is through innovation. We want to increasingly sell unusual tissue products internationally; we are already known as the "black toilet paper company" and this brings a lot of visibility to the brand."
Renova has one of the most unique tissue brands in the world. The company's humorous and open-minded approach is further evident when stepping into the reception and open- plan office area; a large punch bag hangs from the ceiling in the waiting area next to a couple of pairs of boxing gloves; the seat is a long log of wood with chair arms and backs integrated into it; a poster of a man wearing a shirt and tie with a big cross through it is nearby (and sure enough no-one in the office is wearing a tie); Jackson Pollock-styled artwork covers the floor of the brain-storming areas; shopping trollies are dotted around the office full of tissue products … and later on we walk around the mill following a trail of large ants painted on the floors.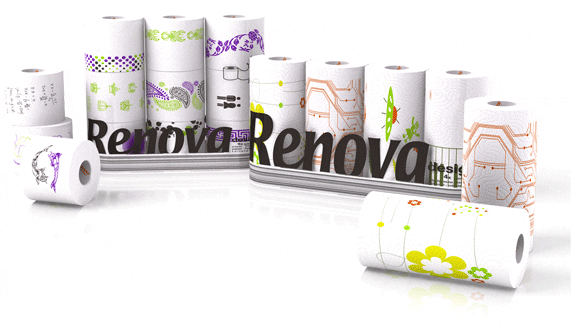 Renova's products take up any spaces left available, and include the infamous black toilet rolls – "the sexiest toilet paper on earth." But black is just the start, there's also red, yellow and green toilet rolls, scented rolls, rolls with patterns, money imprinted toilet paper..
TW is greeted by Lopes, CEO Paulo Pereira da Silva and marketing director Luis Saramago. The privately-owned and independent company's brand is very distinctive throughout the world due to its eagerness to take innovative risks, encourage change, whilst also holding down a lean and green business model.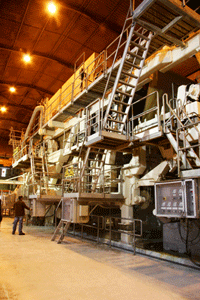 The company brand was established in 1818 when it was used as a watermark for paper, with today's Renova business founded in 1939. It is now a heavyweight multi-national business with two sites in Portugal and commercial units in Spain, France, Belgium and Luxembourg. With two sites and a total staff of 590, Renova produces 100,000tpy of tissue products. In 2011, sales were around €135 million, with more than 50% originated in foreign markets.
"We were the founders of the tissue market in Portugal," Lopes says. "We were a printing and writing paper producer but in the 1960's we saw an opportunity to move into the tissue business. There had been no tissue production here so it was visionary to suddenly move into that market. We are completely focused in our brand, and we are well known around the world for our special luxury products."
In 2005, total sales of the disposable tissue paper category products in Portugal equaled €220m, with Renova taking a 35% share of the disposable tissue category. In 2012, its market share for toilet tissue was 34%, 37.6% for napkins, 29% for kitchen rolls and 29.5% for facial tissue. "Demand for tissue in Portugal has increased a very little bit," Saramago says, "approximately 1.5% or so in the past few years."
The company sells products aimed at both ends of the supply chain, producing more than 700 products with very different characteristics (ply strength, colour, perfumes, lotions,…) In fact, in 1998 it was probably the first manufacturer in the world to introduce toilet paper with balms and lotions.
After Portugal joined the European Union in 1986, the company started to expand internationally, most immediately in Spain, where several multinationals have a strong hold on the market. Renova now has a 6% share there, and leading the napkins segment with a 12% share. "We play with the big boys everywhere," Lopes says. "We are flexible and very quick to respond to new opportunities with new ideas/solutions."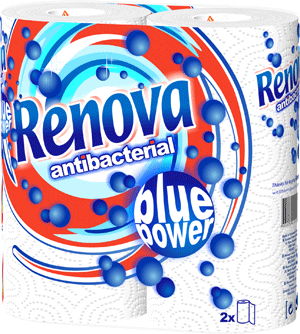 Does the company have big growth plans? "Yes, but more than only in volume. We want to be known as a company that does it differently and produces unconventional products, and of course we want to be known as the sexiest tissue producer.. We distinguish ourselves by having a very strong brand focus and we're targeting abroad more and more whilst still keeping our presence in our existing markets."
AfH is also a growth area, and Renova is looking to increase its presence in that market. "AfH has been growing a lot," Saramago says. "But always with the same strategy, through innovation."
In Portugal as in much of Europe, private label is the fastest growing category, gaining market share due to its price/ quality ratio. It is the key competitor, price wise, for Renova, and many private label brands are outselling regional brands. "Their presence is significantly increasing in the whole of Europe because consumers are focused on price," Saramago adds. "So we need to make something different and integrate value into the products. Innovation is the basis of our strategy. We are very quick to respond to new ideas and we're flexible. People here are very used to change on the machines and we have to be very efficient with this. Our black loo rolls are more than a product, they look like a designer product, a decoration object."
Energy prices have gone up substantially so the plant has had to become increasingly more efficient. "Prices have gone up here more than in some other countries in Europe, so we can only become more efficient. We can't just do nothing, but it means we need to be very competitive when we're selling abroad," he adds. "We have all the stages of production here, including a de-inking plant, cogeneration, printing, design, converting. And we run it all very efficiently. We use very high quality recycled fibre, and can use either recycled or virgin fibre."
With EMAS certification and EcoLabel, sustainability is a big factor of being more efficient. "Everything is integrated into our way of doing things," Lopes says. "And environmental sustainability is the first thing we keep in mind. We will get FSC certification soon as well, but environmental stamps don't tell the whole story. We prefer to integrate Harmony with Nature and Care for all resources in our products and processes and, especially, in our people's mind – our environmental department is based across the whole mill. All these things come together so you end up saving on energy and waste costs also."
"Our aim is not to produce only common products but to specialise, always with added value" Lopes concludes. "We have to be competitive; every plant has to be efficient. It's a jungle out there and we don't innovate just on products but on processes."
And the punch bag? In case you were wondering: "Oh, that's for stress relief".