By Helen Morris, Senior Editor, Tissue World Magazine
With a $64m start-up on American's west coast just part of a major makeover, the Canadian company is now a big player with a small company ethos.
Cascades Tissue Group has been very busy over the past year and a half – a period of time that has seen it evolve and rebrand into a new global tissue player.
While the North American tissue company has always been known for its green and high-quality tissue products, this recent period of development has seen substantial investments, innovation, modernisation, new product launches, and – shortly – a new US$64m tissue converting plant start-up in Oregon, on America's west coast. A complete make-over.
We met at its Candiac site, a 15-minute drive from Montreal. It is TWM's first time in Canada, and Montreal is our first city. Driving out from the busy downtown across the impressive St Lawrence River to the site only begins to hint at the size and scale of the country and its tissue market.
TWM is greeted by president and chief operating officer Jean Jobin, who is now three years into the role, vice president of marketing and innovation Thierry Trudel, and marketing director Andre Daviault. The plant houses the company's Voith-supplied ATMOS tissue machine, an investment made in 2010 and the first ATMOS line in North America.
It helped consolidate Cascades' position in the tissue products sector. The company now has 21 manufacturing and converting plants across North America, and is the number one producer of tissue products in Canada with a 33% capacity share.
In Canada, three companies have the lion's share of the market and all have advanced machine technology, either TAD or ATMOS. Beyond tissue, Cascades offers packaging solutions and fibre recovery services. The corporation also has plants in North America and boxboard mills in France and Italy.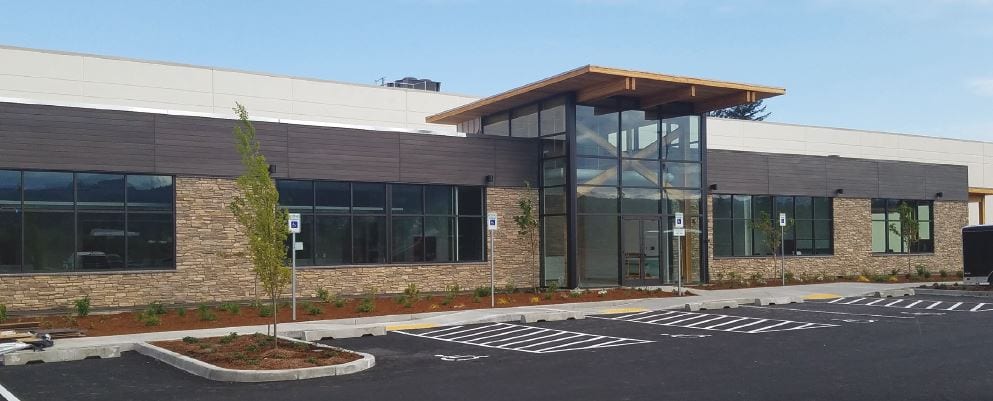 In its recent first quarter 2017 results, following the period of marketing costs and start-up costs with the new Oregon tissue mill investment, Cascades said higher raw material prices, lower jumbo roll sales and the new facility construction investments had impacted the results. Sales were stable at $1,006m (compared to $1,003m in Q1 2016), while operating income of $31m was down (compared to $73 million in Q1 2016). Its tissue activities reported results for the quarter "lower on both a sequential and year-over-year basis". Results in the nea-rterm were expected to improve as Cascades "benefit from recent price increases, declining raw material costs, improving market fundamentals in Europe and stronger seasonal trends characteristic to both our containerboard and tissue activities".
The recent investment in Scappoose, Oregon, will target America's AfH market and manufacture virgin and recycled bathroom tissue products and paper hand towels. Work began in the middle of last year, with the company building from scratch.
Three lines are currently being installed that run at 800 metres per minute. "It's a very, very fast line," Jobin says. "It's state of the art. There's nothing that isn't brand new in that building. If you visit us, you're not allowed to bring an old pencil – only brand new things are allowed," he jokes. "The new Cascades Oregon mill is a brand new asset; high quality and high speed."
Some 5.2m cases will be produced there and he adds that the site's bath tissue line is the fastest in the world.
As TWM went to print, the official opening of the facility was expected in mid-July. The unit will be supplied by the Cascades tissue paper plant located 12 kilometres away in St. Helens. Its production capacity will be close to six million cases per year, or approximately 53,000tpy of finished product, and the target market is America's west coast as well as Canada.
While Canadian tissue capacity has been growing modestly, Jobin says it's still a good market to be in: "Also, the North American economy from our point of view is good. "
The North American population isn't increasing rapidly, but there is stable growth and it has been steadily increasing on an average of 0.8% over the past 10 years.
The demand in the retail market is growing at twice that rate over that period – an increase of 1.6% annually. "AfH is a bit different, there was some reduction because of systems that are more efficient than in the past. Overall it's still a good market to be in," he says.
Trudel adds that the main driver of tissue demand cycles are the recessions: "We saw a big decline in the AfH market in 2008/2009, people were not going out and they kept their money. In the retail side, consumers started to buy more private labels as they were looking for less expensive alternatives. We also saw a reduction in the non-essential products.

"Paper towels, you can live without them, toilet paper is a bit tougher to live without, so that's when you see some categories shrink for that period. The major economic cycles are when you see big changes, other than that, demand is pretty stable following population growth."
When TWM interviewed Jean Jobin a year and a half ago for our Focus Report on the American tissue market, he said brands were suffering in America under private label – that private label was continuing to take shares away from the branded products in US retail, while they were seeing the reverse trend in Canada.
Now he says they're no longer seeing that trend. "In general, most of it has stabilised. If you look at the trends in Canada 10 years ago, private label was 40% and then dropped to 25%, but now it's around 24/25% depending what brands are doing in Canada, in the US it's the other way around. It went from a 17/18% to a 26/27% now. So the two countries came to an equilibrium. That's what we've seen in the past."
The North American retail and AfH tissue markets have seen a lot of consolidation in recent years, as well as a lot of new players coming into America's tissue market. "When a player gets bigger because of consolidation, most of the time they're more inclined to go with their brands," Jobin says.
For Cascades, its PRO division in North America is 50/50 private label and brands while in its retail division, it's 90% private label.
Daviault has no doubt the makeover will pay off. Overcapacity in the North America market means Cascades will be inventive: "You have to get creative to sell toilet paper. There's always something to do with innovation in this sector. The market is still very high volume, low cost driven. But there's more and more demand for high end products and we're responding to that with our investments and market strategy."
The existing AfH operation was completely revamped into "PRO" (it's short for professional) supplying schools, movie theatres, food service restaurants and industrial plants. Daviault, recalls the challenge of re-branding the professional division:
"A year and a half ago we did a complete sweep of all of our brands. Retail had been working on it for two years so was already well on its way. But both divisions launched at the same time. It was a full makeover for both sectors at the same time.
"We want to be different and fun – it was about getting noticed as we're the challenger in the US. So we wanted to have fun with it. We are the feel-good tissue company and our advertising has a cheeky tone to it. Our 'All clean All good' tagline sets a high standard for us to deliver to our customers.''
Cascades has long claimed pioneering green status. Daviault adds: "We were the first to recycle before recycling was trendy. Green for us is part of our DNA. We offer products for the whole market, with our Good, Better and Best offerings. Our greenest is called "Perform," "Select" is 100% recycled and "Signature" is still in development, but FSC certified. This is the line-up for Professional.
Trudel says: "We have to launch new products in the next five years. We heavily invested in an innovation team and they have mandates to hit in terms of new products. Every year we'll be launching new and innovative products. We're nimble enough to do this without having to pass through many levels of hierarchy. Green is always in the back of our mind, even with the new Cascades Fluff and Tuff retail line and it's an edge."
As Cascades develops, Jobin's dream is to retain the intimate, personal touch: "We might have the number four or five position, or first or second… but I don't want to know.
"I want us to stay like a small company that is humble and wants to work with our customers and work together as a team. I want us to stay like that because it's what differentiates us from the other big players. We are simple people, we want our customers to have a good customer experience with us and we have invested a lot in that.
"In the Cascades of the future, my dream is for us to be the best company in tissue, the company that people want to work with. If we can work with them on a channel that they go to us first because of the trust that they have in our people and the quality of our people, that's what I want at the end of the day."