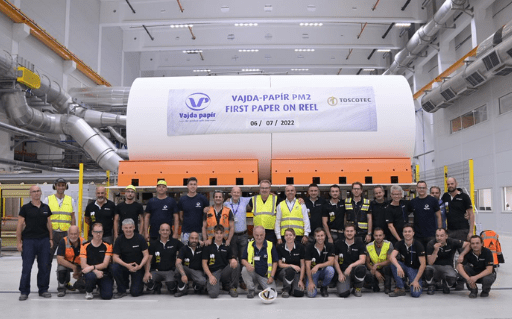 Hungary's Vajda-Papír has started up its Toscotec-supplied double-width AHEAD 2.2L tissue machine at its Dunaföldvár facility.
The AHEAD 2.2L machine features a net sheet width of 5.6m, a maximum operating speed of 2,200m/min, and a production capacity of over 80,000tpy.
The supply of PM2 was a complete turnkey, including the entire tissue production line and all erection operations at the mill.
It included the entire stock preparation system and Toscotec's patented TT SAF (Short Approach Flow) fitted with a double dilution system to maximise energy savings, and comprised the electrification and controls, dust and mist removal systems, boiler plant, bridge cranes, air compressor station, roll handling and wrapping systems, and hall ventilation with conditioning system.
For the mill's PM1, Toscotec also supplied an OPTIMA 2600 slitter rewinder equipped with automatic shaft puller and dust removal system that came online in February 2022.
It is equipped with Toscotec's state-of-the-art technology, including a fully hydraulic TT Headbox-MLT, a shoe press of the upgraded design TT NextPress, a third-generation TT SYD Steel Yankee Dryer, and TT Hood system designed for maximum energy recovery.
Attila Vajda, Managing Director of Vajda-Papír, said: "We have a vision for Vajda-Papír's expansion to be in harmony with the environment, and that is why we chose the most energy efficient technology available on the market.

"The successful start-up of PM2 represents a key achievement and an important step forward for Vajda-Papír's sustainable growth."
Founded in 1999, Vajda-Papír is headquartered in Budapest and operates three sites in Budapest, Székesfehérvár and Hungary's biggest and most modern integrated tissue mill at Dunaföldvár, south of Budapest.
It manufactures 115,000tpy of toilet tissue, handkerchiefs, towels, and napkins and distributes its products to the consumer and AfH markets in Hungary and over 30 countries worldwide.