Canfor Pulp, the world's fifth largest supplier of softwood kraft pulps, planted 78 million trees in 2015 alone in British Colombia, Canada. Here, manager of innovation and optimisation Paul Bicho explains the latest technologies involved in structuring the tissue sheet to generate bulk, softness and absorption. A TWM report.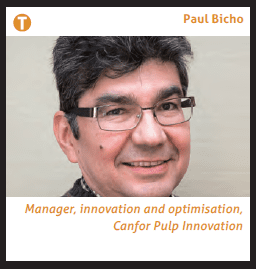 Fibre is a major contributor to the overall cost of tissue manufacturing, typically accounting for 50% of total cost of the finished product. Furthermore, fibre quality is a key contributor to tissue quality, influencing such attributes as softness, bulk and strength. The highest quality tissues incorporate some virgin pulps, usually a combination of long fibre (softwood) and short fibre (hardwood) kraft pulps. The hardwood fibres are primarily eucalyptus pulps that contribute to bulk and softness. The softwood pulps contribute to strength, which is needed during production and converting.
Some tissue products can be made from 100% hardwood pulps and are driven principally by cost. While these tissue products can be soft, strength is compromised with a negative effect on basis weight and lower performance in converting. The latest tissue making technologies involve structuring of the tissue sheet in an effort to generate bulk, softness and absorption. This approach can produce highest quality tissue products that have a high bulk over basis weight combined with a high softness.
At Canfor pulp, we produce over 1,000,000MT of high quality kraft pulp annually through three kraft mills in Prince George, British Colombia, Canada. About 90% of this production is northern bleached softwood kraft pulp (NBSK) and the remaining 10% of the kraft pulp produced is an unbleached grade of equal quality. We also produce 140,000MT of paper annually and recently acquired a BCTMP in Taylor BC with over 220,000MT of annual production. About 25% of the NBSK production is used in the manufacture of premium quality tissue products by major tissue manufacturers in North America and Asia.
Canfor's NBSK pulp fibres are longer and finer than most commercially available softwood kraft pulps and the microfibril angles (the angle of orientation between the cellulose microfibrils in the fibre and the longitudinal axis of the fibre) are lower. These properties give the pulp fibres their strength advantage with minimal refining. The long, slender fibres are also advantageous for the structuring of a tissue sheet, whether in the wet-end of the tissue paper machine, or in the embossing process during converting. They also conform easily to the deformation of the tissue sheet.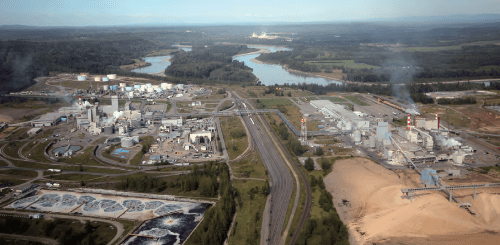 We regularly collaborate with tissue partners, such as Voith (Tissue Innovation Center), Buckman and others, to exploit the quality of Canfor Pulp NBSK pulp. Through these collaborations, Canfor Pulp contributes to creating premium tissues with the lowest possible basis weight, the highest softness, bulk and absorption while using the latest technologies such as ATMOS, Tissue-Lev and NTT. In mill trials, we obtained quality improvements and were able in several cases to reduce the softwood content with no loss in strength while improving softness and bulk.
The quality of Canfor's NBSK pulps starts with our fibre basket. We harvest naturally growing white spruce, lodgepole pine and, to a lesser extent, sub-alpine fir, grown in the central interior of British Columbia. Our trees are well over 100 years of age when harvested. The central core of the tree is rich in short fibred juvenile wood and is used for lumber production. The outer part of the tree is predominantly long fibred mature wood, is directed to our pulp mills. Mature wood also has a lower fibril angle, which is a major determinant of fibre strength.
With less than 120 frost-free days a year, our trees tend to have very few coarser latewood fibres. Fine fibred pulps tend to bond more effectively with each other, thus forming a stronger sheet. These are some of the reasons why our pulps exhibit superior strength over faster grown softwoods.
Replacing the forest that we harvest is routine. In 2015, we planted over 78 million trees that equates to three seedlings planted for every tree harvested, 95% of which will survive to maturity. The harvested forest is replaced with the same tree species and from the same genetic stock that was harvested to help protect the biodiversity of the natural forests. We are not managing a tree plantation, we are replanting a forest. The forest tenure is large enough that the planted trees will be left to grow for well over 100 years. While the kraft mills in Prince George BC are over 50 years old, they have yet to pulp "second growth" fibre.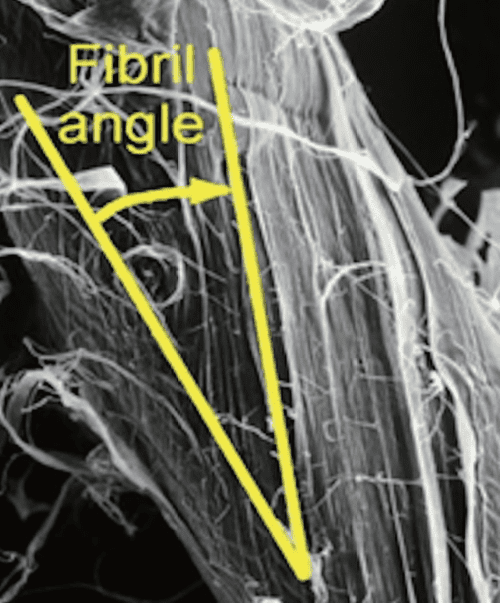 The inherent fibre quality is preserved during pulping. No one process or piece of equipment can be singled out as the item that preserves strength. Rather, it is a philosophy in which pulp quality is valued in all capital investment decisions and process operations. In order to do this, pulp quality is monitored weekly using a 20cm disk refiner (not a laboratory refiner), so that customers have relevant information for the refining of our pulps in their mills. The weekly testing of our four kraft lines ensures that we have timely information on our pulp quality.
The philosophy of quality is epitomised in the Mihari project, which uses state-of-the-art technologies to monitor pulp quality. The Pulp Quality Vision (PQV) system uses an arrangement of higher resolution cameras to monitor each and every bale of NBSK that we produce for dirt and shives. This information is provided in real time so that the mills can identify situations that need attention. Since installation and operation, our "off-spec" volumes due to dirt have dropped significantly. Another platform of the Mihari project is the PulpEye, a Swedish technology that provides real time measurements of freeness, brightness and fibre properties (fibre length, fibre width, fines, kink, curl), fibre wall thickness and microfibril angle. The last two are unique to Canfor and significantly improve the precision of our strength models. These pulp properties, which can be measured within 15 minutes using the PulpEye platform, are used to accurately estimate pulp quality so that we can ensure the highest standard.
This article was written by Paul Bicho, manager, innovation and optimisation, Canfor Pulp Innovation