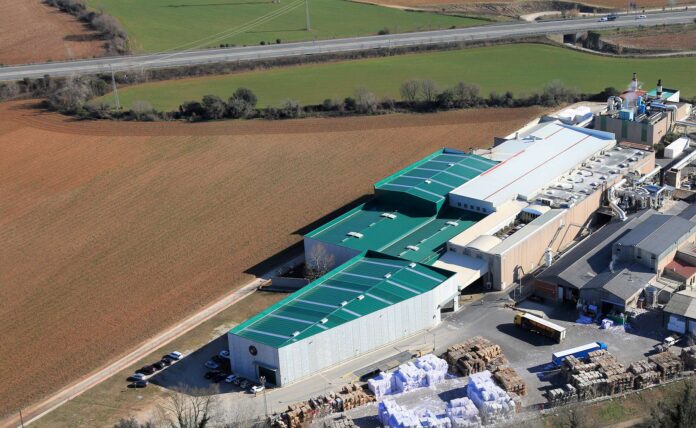 With a new converting production site ready for start-up, Pau Vila, LC Paper's General Manager, explains the new trends guiding consumer choices and the company's innovative responses. A TWM report.
TWM/1: How has your growth strategy in the Iocal market changed during the past 18 months?
"Our company was very exposed to the HoReCa segment both directly through converted products as well as indirectly through selling parent reels to converters which were oriented at the HoReCa segment. For that matter, the Coronavirus crisis produced a very significant demand reduction. At that time, we decided to enter the At-Home market through our own converting (Dalia brand and third-party brands) with a clear bet on e-commerce products. This segment grew exponentially during the Coronavirus pandemic and has now stabilised, while the HoReCa segment is now fully recovered, so most of the growth has come from the incorporation of the e-commerce channel into our products portfolio."
TWM/2: What plans do you have to grow in 2023/the next five years?
"We plan on ramping up the newly launched Fornells production site for converting in the second quarter of 2023. The output of parent reels will remain quite stable, albeit with minor improvements in productivity and technology enhancements. Our focus is mostly in creating added value rather than pure volume growth – for the past decade we have been a very sustainability-oriented company with the ambition of occupying a leading position in the eco-friendly tissue market niche both for both AH and AfH."
TWM/3: What growth are you seeing generally in the Spanish At-Home and AfH markets?
"In the At-Home sector, we have a direct presence in the Spanish retail market under the Dalia brand, which is our sustainability-focused product that uses a fully printed boxed packaging format, similar to cereal boxes.
"We also do the production for third-party retail brands under eco-friendly formats and production for third-party e-commerce brands with boxed formats (subscription-based models)
"We expect a significant growth in the At-Home channel due to both the market having higher sensibility to sustainable formats and our increase in production output for this product family thanks to the launch of our new Fornells production site."
"In the AfH market, we have a direct presence in the Spanish hygiene distributors field under the Dalia brand, with sustainability-focused products in cardboard box packaging. A large amount of product sustainability certifications for public tenders is required here.
"We also do the production for distributor brands in Spain and the rest of Europe, usually complementing the existing portfolio of the distributors with additional eco-friendly alternatives to each product category.
"Again, the market has a higher sensibility to elimination of plastics, sustainability certifications, audited carbon footprint… which pushes a higher demand for such product approach. We expect to double the revenue in the AfH area in the next three years."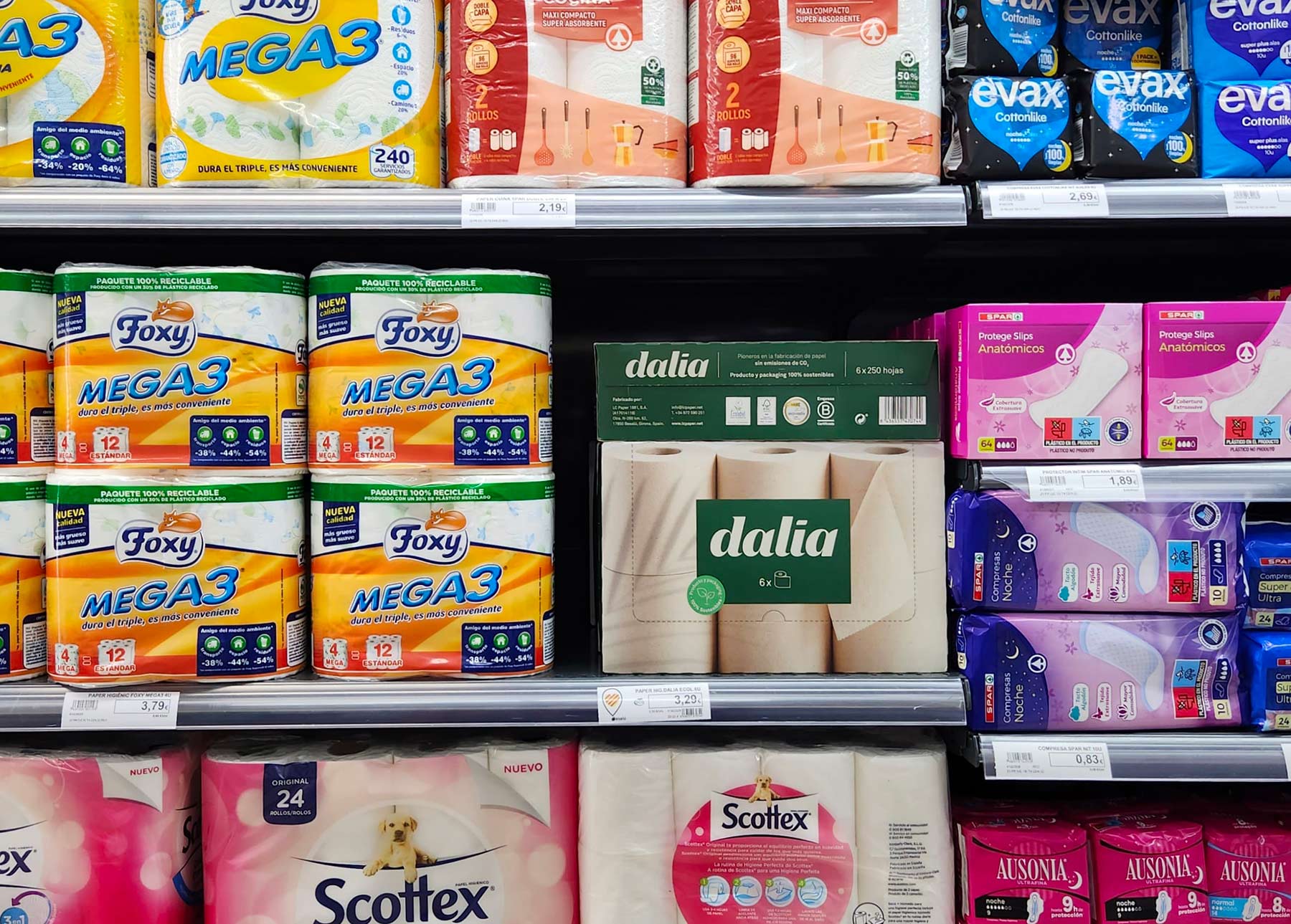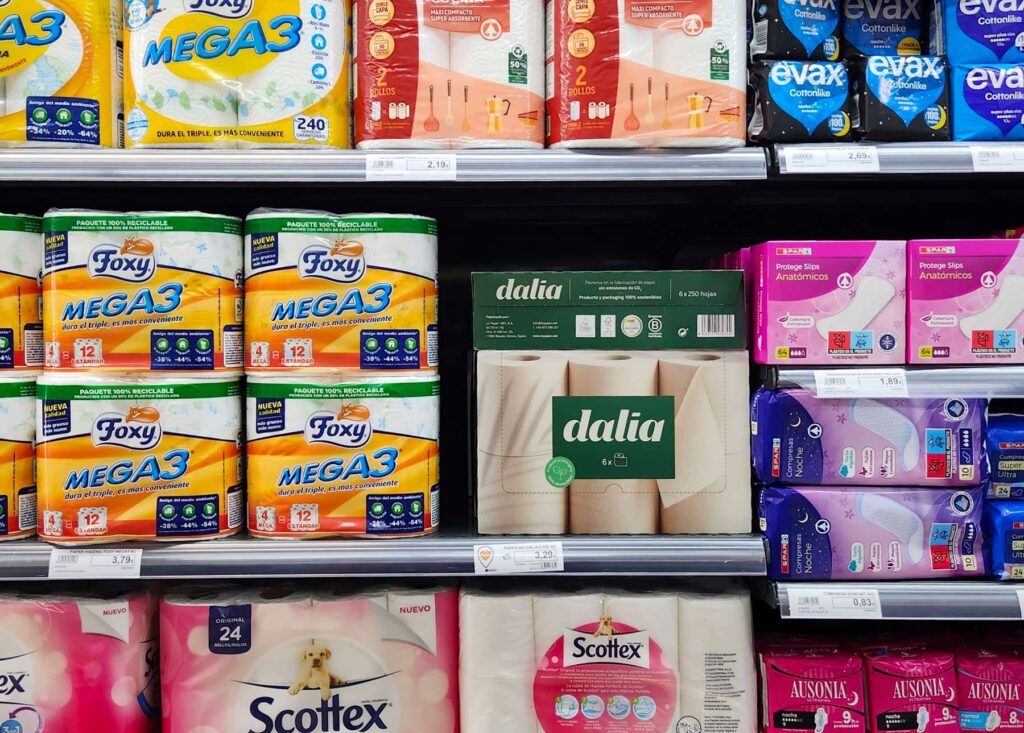 TWM/4: Following the different impact of Covid-19 on the tissue market sectors, what projections do you have? Has the AfH market fully recovered?
"Covid-19 significantly reduced the demand of AfH products in the HoReCa and offices (facility management) fields due to the lack of tourism and work from home. We overcame this challenge through the launch of our e-commerce and retail products initiatives, which filled the left gap. We now see an almost fully recovered AfH market.
"We also see significant impact over the AfH product definitions due to the energy crisis and the inflation: since the costs have increased sharply, we see trends such as replacing two-ply products for one-ply products, products with controlled dispensing (sheet-by-sheet) and the growth of alternative fibres such as unbleached recycled from post-consumer cardboard boxes. Our share of private label over third-party brands and our own Dalia brand has remained stable."
TWM/5: What trends generally are you seeing in the local At-Home market?
"In the At-Home market there is a clear trend towards the reduction of content (lower sheet count, lower roll count), particularly amongst the private label products, due to the sharp increases in costs derived from the energy crisis and pulp cost increases.
"On a longer-term basis, we are seeing increased attention to packaging formats and materials as well as increased attention to alternative fibre products, with some companies adding non-wood pulps and new types of recycled qualities. We believe we have good positioning in those macro trends since we already work with non-plastic packaging for 100% of our product portfolio, and we also have successfully completed several developments of tissue qualities that use non-wood fibres."
TWM/6: What changes as a business have you made in terms of environmental efforts?
"LC Paper started ambitioning to lead the path in decarbonisation amongst European tissue producers. This path started during the Nineties with innovations and patents on energy efficiency such as the integration of the steam from cogeneration directly to the hood of the tissue machines, and continued with the implementation of biomass, biomethane, on-site solar production and third-party agreements with hydroelectric plants. The company works now with 100% renewable energy and has completely eliminated plastic packaging in all the converted products.
"This aggressive vision of sustainability has allowed LC Paper to become the first tissue mill worldwide with the B Corp certification, which authenticates companies with excellent sustainability and social approaches."
TWM/7: Are you seeing an increase in gross sales of tissue and towel products? What is driving that increase?
"The relative increases in 2022 and 2021 are considered by our company in the scope of the Coronavirus recovery. We don't see higher demand than a pre-Covid scenario, but we see further opportunities to grow with value-added products which imply increasing revenues while static production throughput. Being a smaller and independent company, we need to be particularly innovative and fast to jump to the new market trends in order to avoid competing in the mass-volumes market, which would not be feasible due to the worse economies of scale of our company compared to multinational groups that have been formed through decades of mergers and acquisitions in the tissue industry. That is what drives us into concepts like the boxed packaging for AfH and the thinner boxed packaging (cereal boxes-like) for AH products, full decarbonisation, alternative energy sources like biomethane… amongst other innovations."
---
LC Paper: Three production sites, all in the Catalonia region of Spain:  
Besalu site: PM3 (Crescent-Former tissue line for toilet, towel and napkins – 30,000tpy) and PM2 (flat table MG kraft line – 20,000 to 25,000 tpy depending on gsm). Both parent reels machines produce for the internal converting consumption of the company (about 20% of the parent reels production) as well as for third-party converters (the remaining capacity). The Besalu site also has an integrated converting line for AfH toilet and hand towel rolls launched in 2018.
Fornells site: Newly launched in Q2 2023 the site contains a Fabio Perini converting line and STAX automated roll wrapper, case packer and palletisation line dedicated to At-Home toilet and e-commerce toilet. The investment has been around €3m.
Sarrià de Ter site: kraft converting (paper bags): For the company's private label for tissue products is "Dalia" for both the AH and AfH channels and it accounts for a minority of LC Paper's sales – it mostly produces for distributors' private labels and third-party brands. Some 55% of the production is exported to 28 countries in four continents (2022 data). Parent reels as well as converted products are exported.