By Kit Vale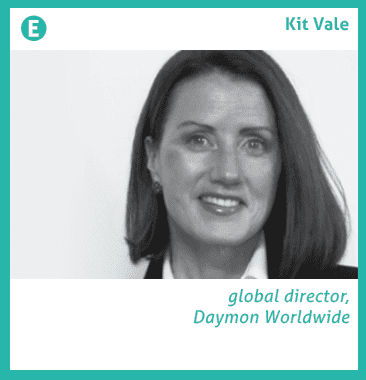 Private Brand sales are increasing globally, with a rise of 24% between 2007 and 2012. In fact, the global Private Brand business is estimated at $352bn. European consumers strongly believe Private Brands are of equal or greater value than National Brands, and, as a result, increased their spending by 15% in the last year alone. In the US, Private Brands have steadily increased their share from 11.5% to 19.5% in the past 24 years. In fact, some specialty grocers have Private Brand penetration of up to 80%.
Private Brands outpace national brands
Private Brands have outperformed National Brands in dollar growth since 2010 with a significant spike in 2011. As a result, National Brands developed defensive strategies to combat the erosion caused by growing Private Brand popularity.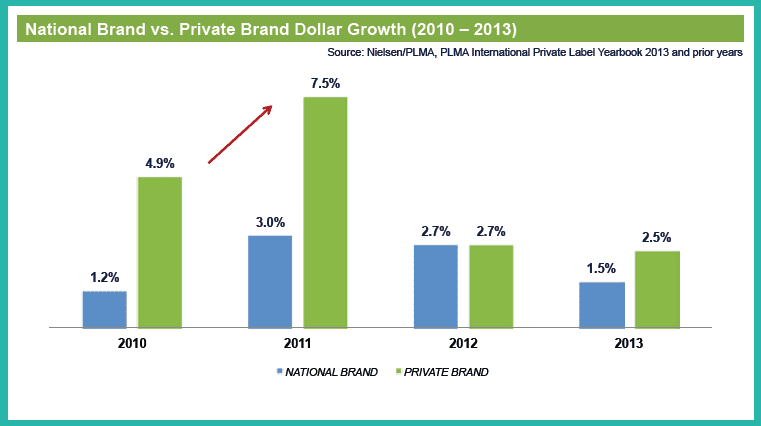 Private Brand evolution
Over the years, US Private Brands have evolved from the discounted, poor quality, black and white packaged products of the early eighties to the "as good as" or "better than" National Brand products available today.
This evolution was only possible because of retailer commitment to taking ownership of their Private Brand programmes, starting in the early nineties, and improving their quality and packaging before offering them under their banner name.
Innovation is at the heart of the matter, as retailers learned to leverage Private Brands as a means to both differentiate from competitors, and most importantly, meaningfully engage with core consumers. Thanks to this retailer investment of both time and resources, Private Brands have evolved into multiple tier offerings with state-of-the-art packaging that are widely available today.
Private Brand products must offer something that speaks to the consumers' particular lifestyles, values and needs. For example, consumers embracing a healthier lifestyle are looking for household paper products to satisfy needs ranging from anti-viral and anti-bacterial properties to sensitive skin issues. Retailers who offer Private Brand paper products with these value-added benefits are adding a new dimension to the category that drives shopper loyalty.
In 2013, Consumer Reports rated Private Brand Bath Tissue Brands in seven out of the top 15 spots. They tested against six measures, including Softness, Strength, Plies, Tearing Ease, Disintegration and Sheets per Roll.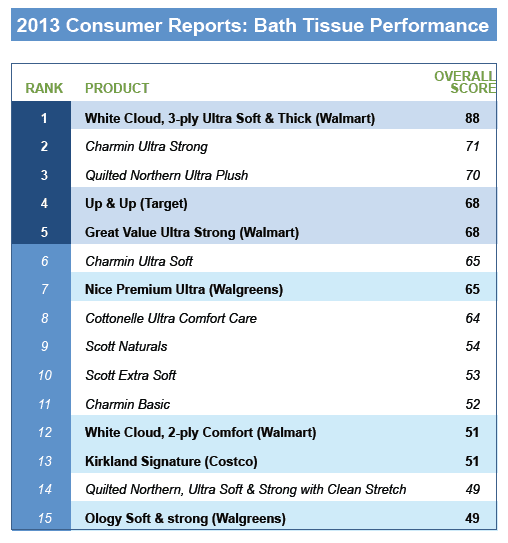 Switching and sticking
As indicated by the steady growth of Private Brand bath tissue, consumers are moving from National to Private Brands. On average, consumers save 22% on their chosen Private Brand solutions than National Brand products. However, we've found that choosing Private Brands has as much to do with preference as saving money.
For instance, 88% of US consumers today find Private Brands to be as good as National Brands. Looking back at the beginning of the 2008 recession, consumers were buying Private Brands to cut costs. By 2013, however, 72% of consumers were buying Private Brands out of preference rather than a necessity.
There are some key factors that consumers consider before switching brands. The first is trust. Consumers must have trust in their preferred retailer and equity in the banner. This is the foundation for selecting Private Brands over National Brands.
The second consideration is familiarity with the category. Is it a category they buy regularly or a product within a specific category they've purchased for a long time? Do they understand and feel confident the attributes of the product?
The next consideration is the benefit versus the risk of switching. Consumers will calculate the value of the product, price and quality against the previous experience with the National Brand. Similarity to National Brand is also a key factor for convincing the consumer that the Private Brand is equivalent. One particularly persuasive tactic is to include a "Compare to 'National Brand name' right on the Private Brand label.
In addition to these key considerations, there is a hierarchy for Private Brand adoption. Some categories are easier for consumers to switch to than others. Basically, the more "near and dear" the particular category, the harder it is for consumers to switch to Private Brands. For example, Personal Care products that touch the body and hair are harder categories for consumers to substitute.
Conversely, due to their utilitarian use, Paper Towels are among the easiest Private Brand subcategories for consumers to adopt. Bath Tissue, however, is one utilitarian product that still tends to have high National Brand loyalty because of the personal nature of its usage. All in all, these key factors are a means to build consumer confidence to not only switch to Private Brands but also stick with them.
'These key factors are a means to build consumer confidence to not only switch to Private Brands but also stick with them.'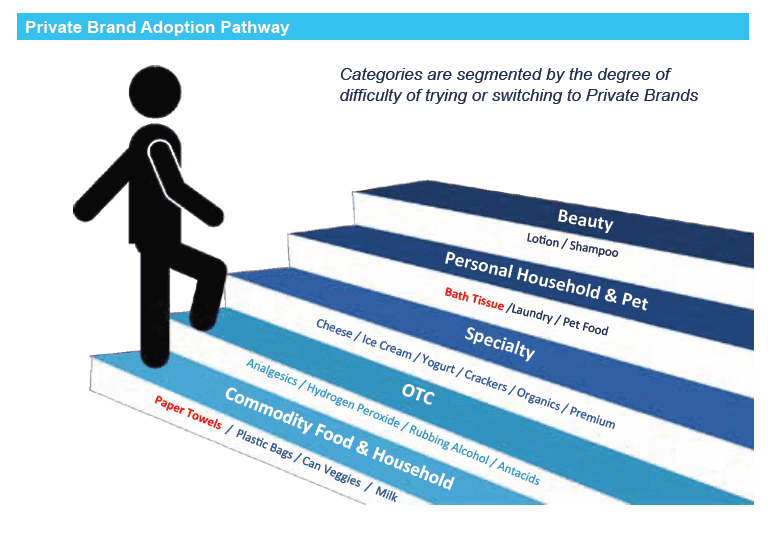 Household Paper Category
Household Paper (bath tissue, paper towels, napkins and facial tissue) as a whole is a significant category for Retailers because the basket grows when it is purchased. The average dollars a US household spends per shopping trip is roughly double when paper products are purchased.
The Paper category in the US is $15.7 Billion and is up 0.3% over last year. National Brand owns three quarters of the category with $12 Billion and Private Brand contributes $3.7 Billion. However, Private Brand has grown 5.2% while National Brand has declined by -1.2%. The unit share is 3.5 Billion with Private Brands up slightly +0.6% and National Brand down by -2.7%.
As we drilled down and look at Household Paper subcategories, Bath Tissue has shown the greatest growth with over 10% and facial tissue is up 4.3%. The relatively new capability and proliferation of TAD largely accounts for the growth in Private Brand Bath Tissue. All of the National Brand subcategories are down with the exception of Paper Towels, which have slightly grown by 0.5%.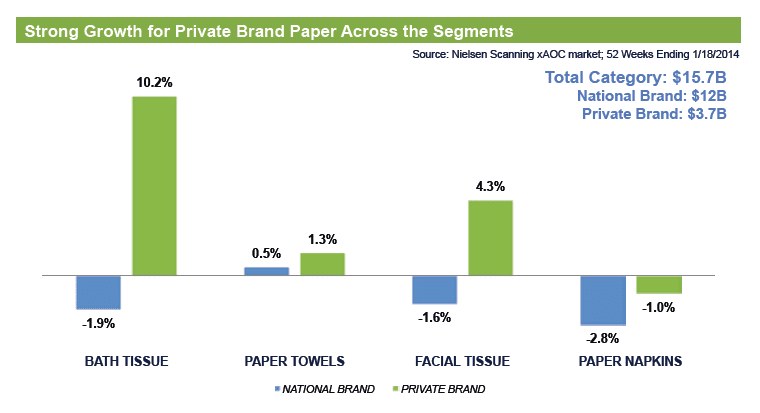 Household Paper Consumer
Private Brand Household Penetration for Paper varies by subcategory. For example, 98% of American households purchase Bath Tissue, 41% of which purchase Private Brand Bath Tissue.
Paper Towel household penetration is 80% with 46% purchasing Private Brand. About 67% of US households purchase Facial Tissues and 31% purchase Private Brand. Napkin household penetration is 45% with 27% purchasing Private Brand.
Consumers have varying degrees of loyalty for National Brands and Private Brands with approximately one-third being dual shoppers of both National and Private Brands. As discussed, due to the personal nature of Bath and Facial Tissues, they both have 55% National Brand exclusive loyalty. In summary, Paper Napkins and Paper Towels have the highest Private Brand exclusivity with 30% and 20% respectively.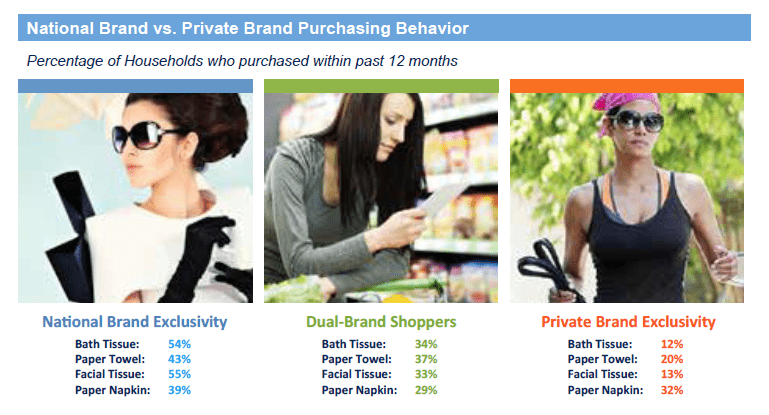 Where are they shopping?
Shoppers are predominantly purchasing household paper in the grocery channel. However, the largest growth (9%) is seen in Mass, Club and Dollar stores. New channels, such as Do-It Yourself stores like Home Depot, Loews and Menards, are emerging to provide for household needs like Private Brand paper products. Direct-to-consumer retailers such as Amazon and Fresh Direct (available regionally in the greater New York and Philadelphia areas) are successfully offering Private Brand paper online.
'Private Brand growth is fuelled by retailers who understand that creating and managing brands is an enormous responsibility.'
Paper Trends in the US
Trends in Household Paper can be bucketed under four macro consumer trends regularly monitored and analysed by Daymon Worldwide colleagues: Health & Wellness, Convenience, Value Equation and Sustainability.
Products with value-added benefits offer a compelling Health & Wellness dimension to the category. For example, Facial Tissues offering cooling, medicated ingredients or Aloe caters to consumer's need for more sensitive, gentle tissue products. This also applies to bath tissue with Aloe and Vitamin D formulated for delicate skin.
Similarly, Cottonelle has launched a strong campaign to extend the bathroom experience to a two-step cleansing process which includes using wet wipes after bath tissue. This effort has propagated the presence of Private Brand wipes. Additionally, germ-fighting properties have been added to facial and paper towels, such as anti-viral or anti-bacterial paper hand towels in a ready-to-grab dispenser for quick, convenient bathroom use.
Convenience is a major consumer trend that reflects the busy lives we all navigate in an increasingly mobile society. Specially designed packaging for napkins and tissues to fit cars, whether it's between the seats, inside cup holders or on hangers for back-of-the neck rests, these products offer much-needed clean-up options for on-the-road spills. Paper towels have also increased their strength for multi-purpose use for busy mums and families that might use them in lieu of napkins, sponges or dish cloths.
The Value Equation has become a big driver in consumer spending with the concept of what Value means being redefined. For example, the Club channel, which attracts consumers with bulk pack options, is growing for Household paper. Consumers view this as a value because they feel the unit price is lower, allows for pantry loading, and lengthens the purchase cycle for these items.
As a result, many grocery chains are developing "Club Pack" sizes and destinations within their stores to combat this leakage. Select-A-Size towels also represent value to the consumer with customized sizing that produces less waste and elongated the usage time per roll. This segment with Paper towels is up 10% versus last year. Additionally, the proliferation of TAD bath and paper towels across many retailers allows a premium product to be available at a lower price.
'Sustainability is a growing concern for retailers and consumers alike.'
Sustainability is a growing concern for retailers and consumers alike. This trend extends to the paper industry through recycled pulp, as well as, alternate sources such as Bamboo, Sugar Cane or Cotton. The sourcing of the raw materials for virgin fibre also traces chain of custody and ecological forestry practices. Green-friendly consumers are looking for the certification on the packages of paper products. Manufacturing is adapting to this trend with the advent of ATMOS (Advanced Tissue Making System) which uses less energy and water to make a premium product.
Private Brand growth is fuelled by retailers who understand that creating and managing brands is an enormous responsibility. Placing one's brand on a product is much more than just filling and printing packages. It is a commitment to their consumers. The more innovative and consistent the commitment, the more it contributes towards the product being perceived as the best or equivalent to the best.
The retailers, hand in hand with the best manufacturers, can create best-in-class products that respond to consumer's expectations and needs. Retailers willing to invest in their Private Brand Programmes with resources, shelf space, commitment to innovation and merchandising support will differentiate themselves in the ever competitive marketplace.