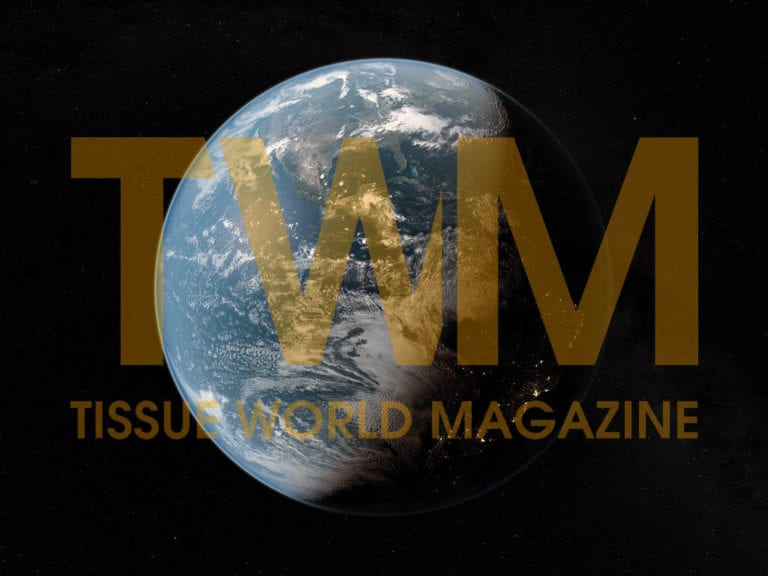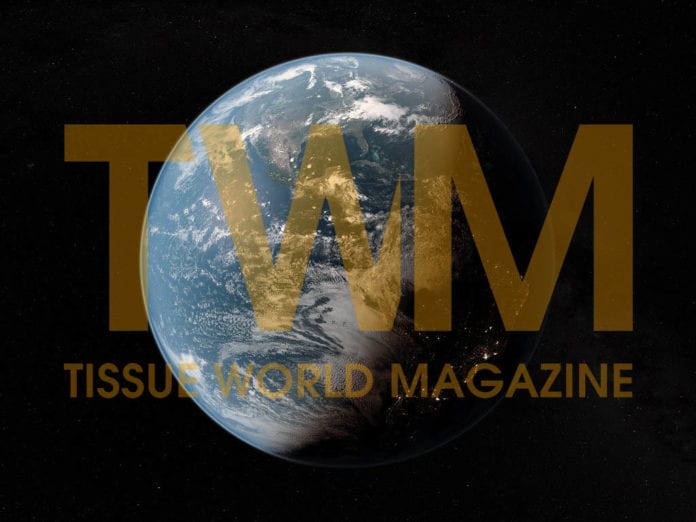 By Ian Bell

Italy's economy stands out in Europe for all the wrong reasons. An on-going recession, high public debt and corruption mean that over the past decade the country has been the slowest growing economy in the Eurozone. All in all, this is not a market in which it is easy for a commodity product such as tissue to thrive.
It is perhaps unsurprising then that retail tissue saw a decline of 0.7% in value terms in 2013, taking the category to €1.56 billion. With an economy in the doldrums and unemployment high and likely to remain so, it is to be expected that consumers will trade down in tissue – and, for the most part, trade down they have done.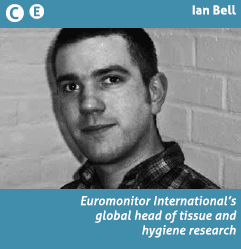 Private label gains at the expense of brands
While a great number of consumers were seeking out value for money, manufacturers were forced to raise prices during 2013 because of higher raw material costs and VAT rising to 22% – all adding to the pressure cooker atmosphere in the category. While brand manufacturers kept price increases as low as possible, the small rise in average unit price coupled with the country's wider economic circumstances created an ideal scenario for private label to thrive.
Private label is steadily gaining ground across all retail tissue products in Italy as the on-going economic crisis has forced more and more consumers to seek out value for money. Private label now accounts for 37% of total value sales in retail tissue, up from 30% in just five years at the expense of many brands, both multinational and local alike. While the economic circumstances in the country have been the catalyst for private label gains, manufacturers have been quick to capitalise on what has been a prolonged period of opportunity, closing the performance gap on brands and developing their offering by quickly launching copycat products at a cheaper price point.
Brands find pockets of opportunity
Brand manufacturers have of course continued to fight for share. Smaller packaging sizes have been evident so as to offer consumers a more affordable unit price. In a similar vein, kitchen towels with more tear perforations, thus making the product last longer, have also arrived on shelves. While innovations with budgeting in mind are sensible given the climate, brand manufacturers have, however, also managed to create small corners of the market in which premium products have thrived.
Toilet paper, the largest category in retail tissue in Italy at €665 million, registered a volume decline of 1.4% in 2013 but an increase of 0.3% in value terms – no mean feat given the economic circumstances. Brand manufacturers managed to drive up unit prices with the launch of premium, luxurious and added-value toilet paper. Kimberly-Clark launched Scottex Karitè, a new version of Scottex with Karitè butter for extra softness, and Scottex Originale, an FSC-certified product made from 100% cellulose pulp and without chemical whitening products. Georgia-Pacific, meanwhile, launched its Tenderly Aqua Tube toilet paper which features a tube that can be flushed, recycled or composted.
Tissue, meanwhile, was the fastest growing category in Italy in 2013 in value terms, growing by 1.6%. Branded players in boxed facial tissues drove this growth, albeit from a low base. Tissues were successfully positioned as something to enhance home décor, with new patterned boxes regularly appearing on shelves and driving repeat purchases. SCA was particularly active in the category, launching a complete line of boxed facial tissues in 2013. Local player Industrie Cartarie Tronchetti, meanwhile, launched three new products under the Foxy brand.
The growth in both toilet paper and tissue, although not much to write home about at first glance, illustrates that even in extremely challenging economic circumstances consumers can be persuaded to pay more for retail tissue products if the offering is right. While brands have not made huge strides in gaining share as a result of these innovations, they have managed to retain share in the face of intense competition and for this they must be applauded. With no real economic recovery on the horizon and private label continuing to pile on the pressure, any significant growth in the category in the near future is unlikely, but even with little reward to be had, it is vital that product upgrades such as these continue if branded products are to retain sales in the face of this growing pressure.
'While a great number of consumers were seeking out value for money, manufacturers were forced to raise prices during 2013 because of higher raw material costs and VAT.'

'The growth in toilet paper and tissue.. illustrates that even in extremely challenging economic circumstances consumers can be persuaded to pay more for retail tissue products if the offering is right.'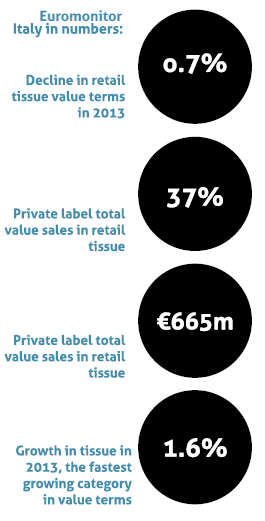 Pockets of opportunity create a polarised market
No doubt to the great relief of brand manufacturers, these pockets of premium opportunity will remain. However, this will create polarisation that is likely to define Italy's retail tissue market for the years to come, growing particularly evident in toilet paper.
On the one hand, higher income consumers will be attracted to luxury or recycled toilet paper and will be willing to pay more for the benefits it offers, while on the other a great number of sales at the economy end of the price spectrum will be driven purely by the intention of saving money. With the right product offering competitors at both ends of the price spectrum will be in a position to survive if not thrive. However, the fate of those in the middle will be increasingly precarious – Italy's comparatively large number of domestic retail tissue producers in particular may find the pressure mounts in the months ahead.
Much of the innovation seen at the premium end of retail tissue in 2013 revolved around enhancing product sustainability – Scottex Originale and Tenderly Aqua Tube have already been mentioned, while Coop quickly followed with its own label eco Vivi Verde range.
While green products remain a small niche in Italian tissue, the proportion of toilet paper sold in Italy that is recycled increased over the review period and the trend is gaining momentum. Certainly, now more than ever, manufacturers are keen to be seen to be doing more than simply making a profit and 2014 could well be the year when green comes to the fore and manufacturers really start to shout about any social responsibility initiatives and eco-friendly products.
While it cannot be disputed that environmentally-friendly products are a hard sell during economic downturns, the environmental fallibility associated with tissue products is only going to gain momentum. In the long run, it is manufacturers with a sound sustainability strategy in place which may well hold the upper hand.