Americas
USA
White Mountain Tissue makes first tissue reel
Tissue producer White Mountain Tissue has had its first tissue reel supplied to the former Gorham Paper and Tissue site in Gorham, USA.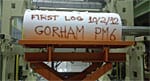 The ABK-supplied machine has a reel width of 2,300mm and a speed of 1,900m/ min.The ABK Group has managed the project on a turnkey basis from headbox to winder.
The business has also worked with fellow ABK Group company ABK Italia, formerly Over Meccanica, which brought its technical knowledge, as well as MDS which helped design and engineer the Yankee hood and dust and mist removal system.
---
NORTH AMERICA
Cascades Tissue Group Launches Antibacterial Towel
Towel and tissue producer Cascades Tissue Group has announced the U.S. launch of the "first of a kind" antibacterial towel.
The green-coloured Cascades Antibacterial Paper Towel "minimises hand contamination by killing 99.99% of harmful bacteria almost instantly, unlike ordinary paper towels". It releases the active ingredient benzalkonium chloride when in contact with wet hands.
Suzanne Blanchet, chief executive of Cascades Tissue Group, said: "It's a first of a kind product that eliminates residual bacteria almost instantly. Now everyone can help control the spread of bacteria."
The Antibacterial Paper Towel contains 100% recycled fibre and is made using five times less water than the North American paper industry average.