In a major analysis of costs and technology trends across world markets, senior manager Alexander Wirth at StepChange Consulting urges a greater embrace of the digitalised mill of the future.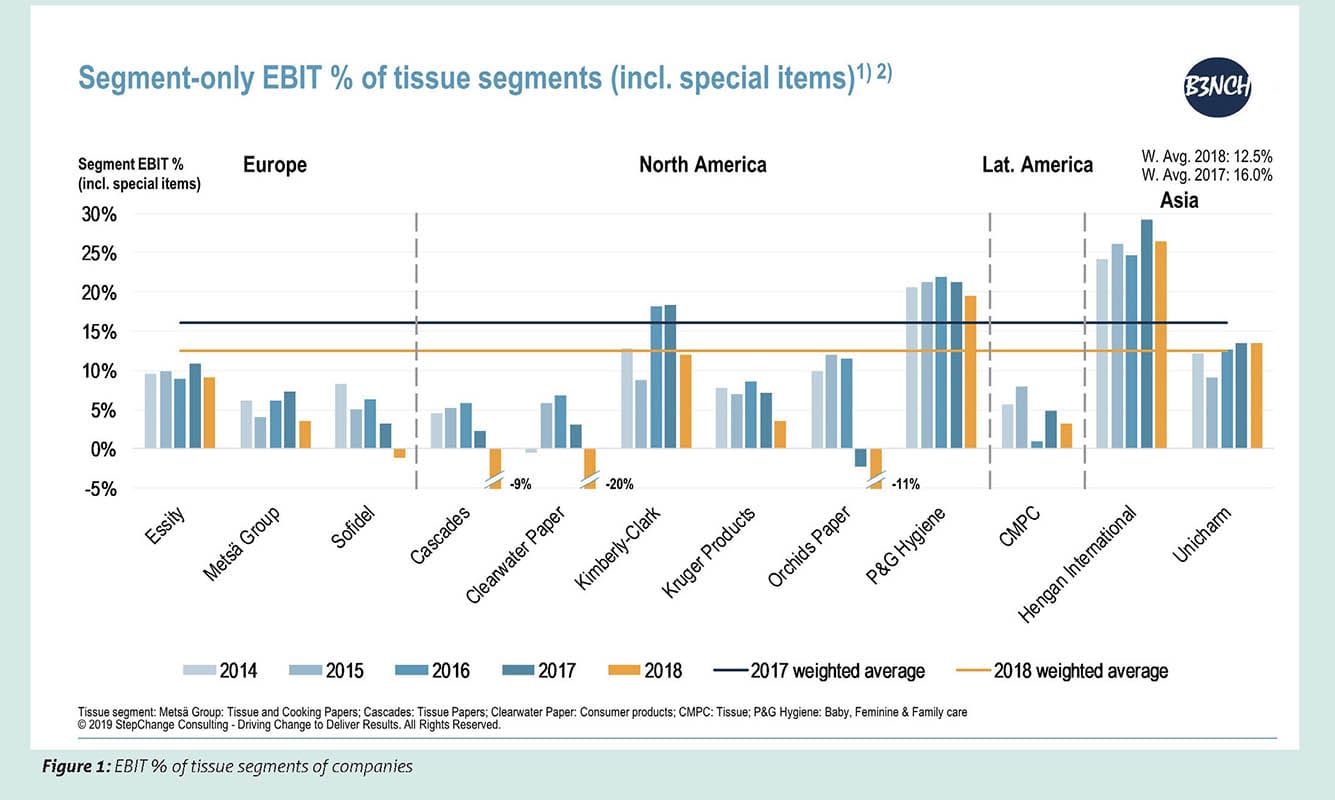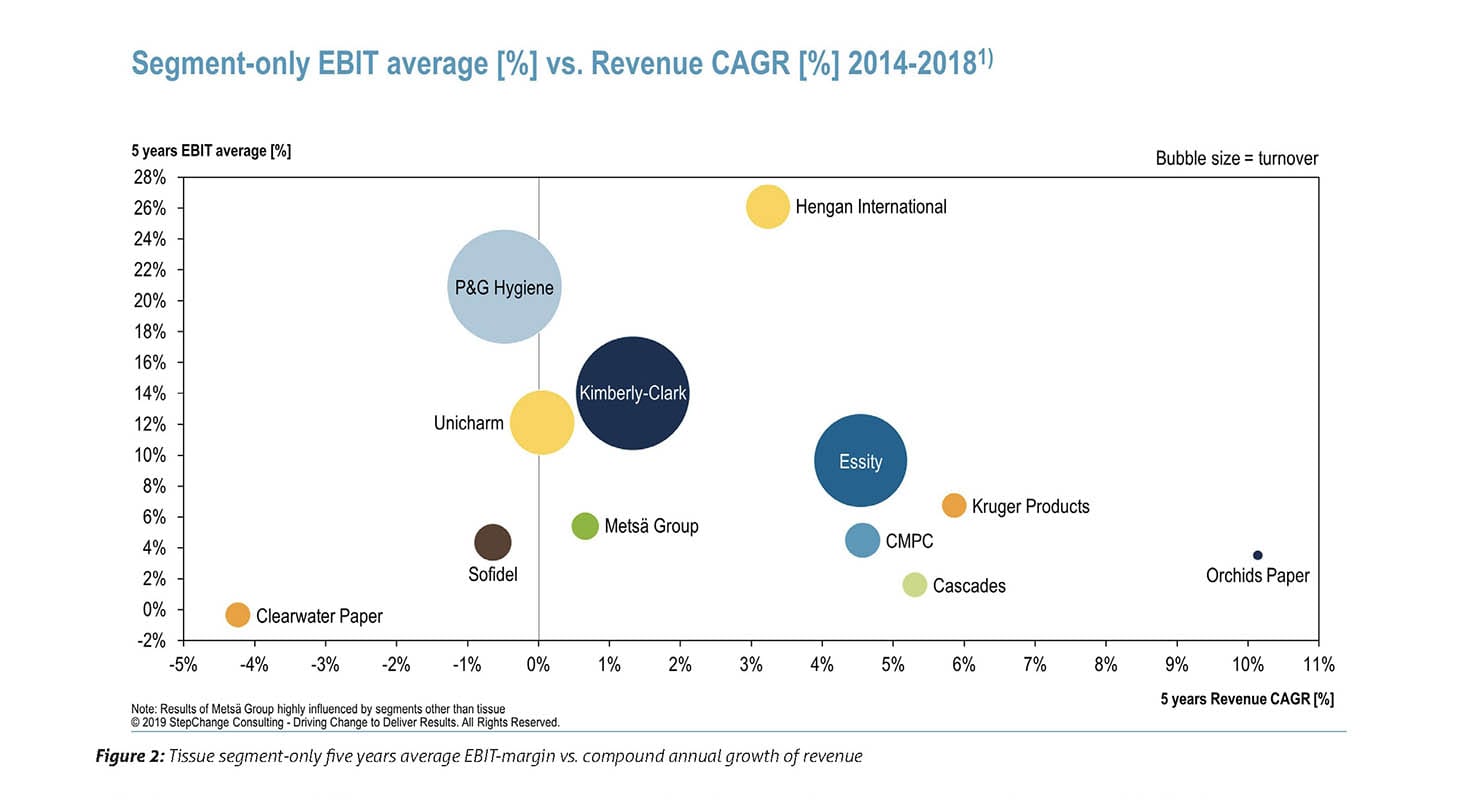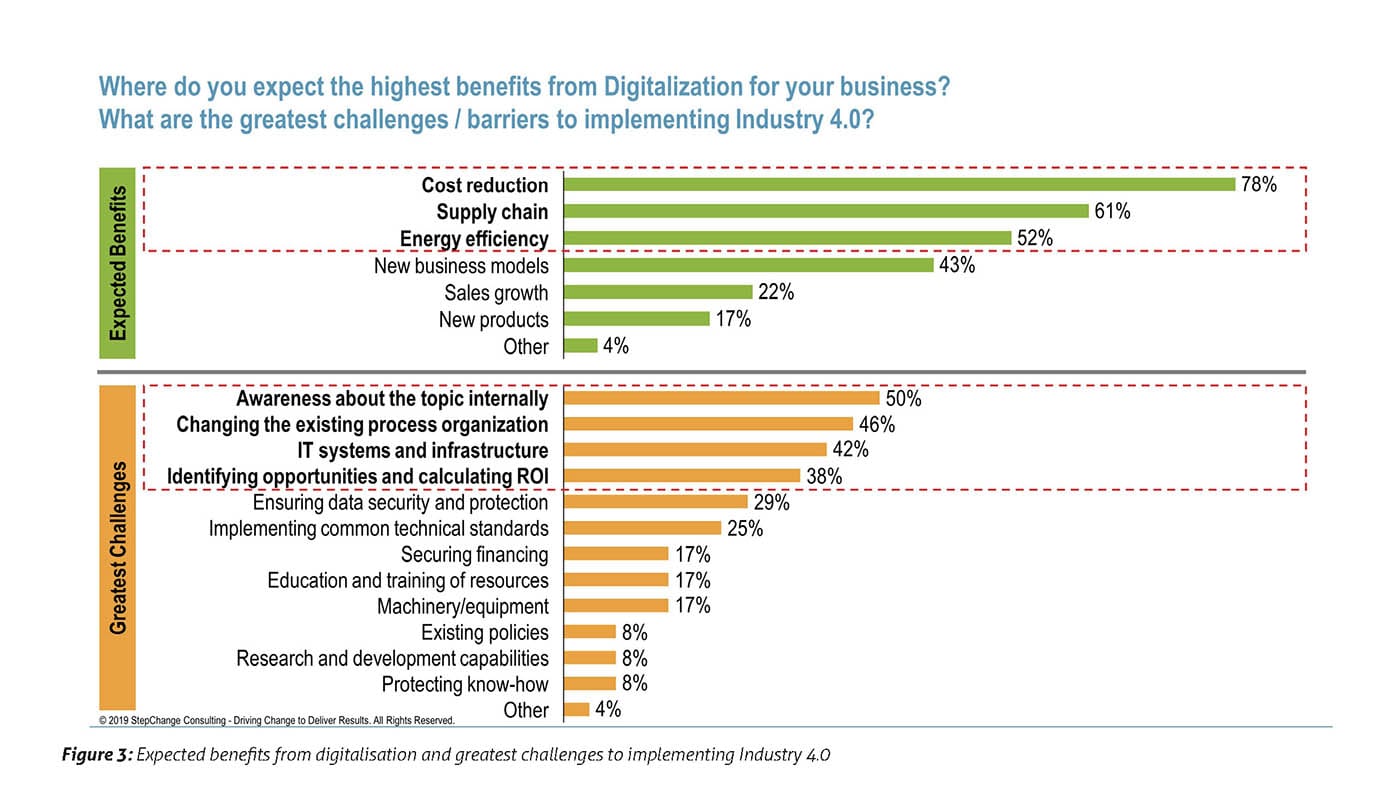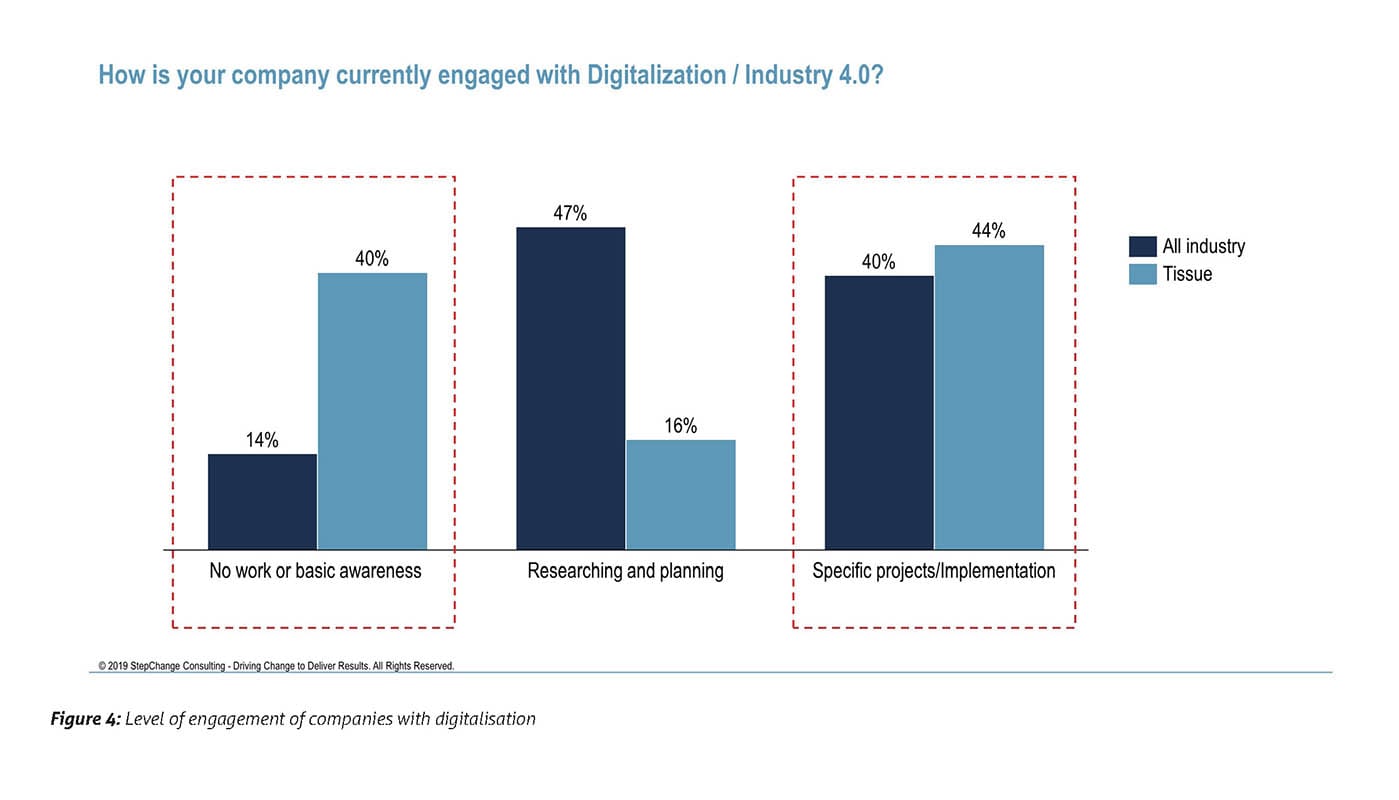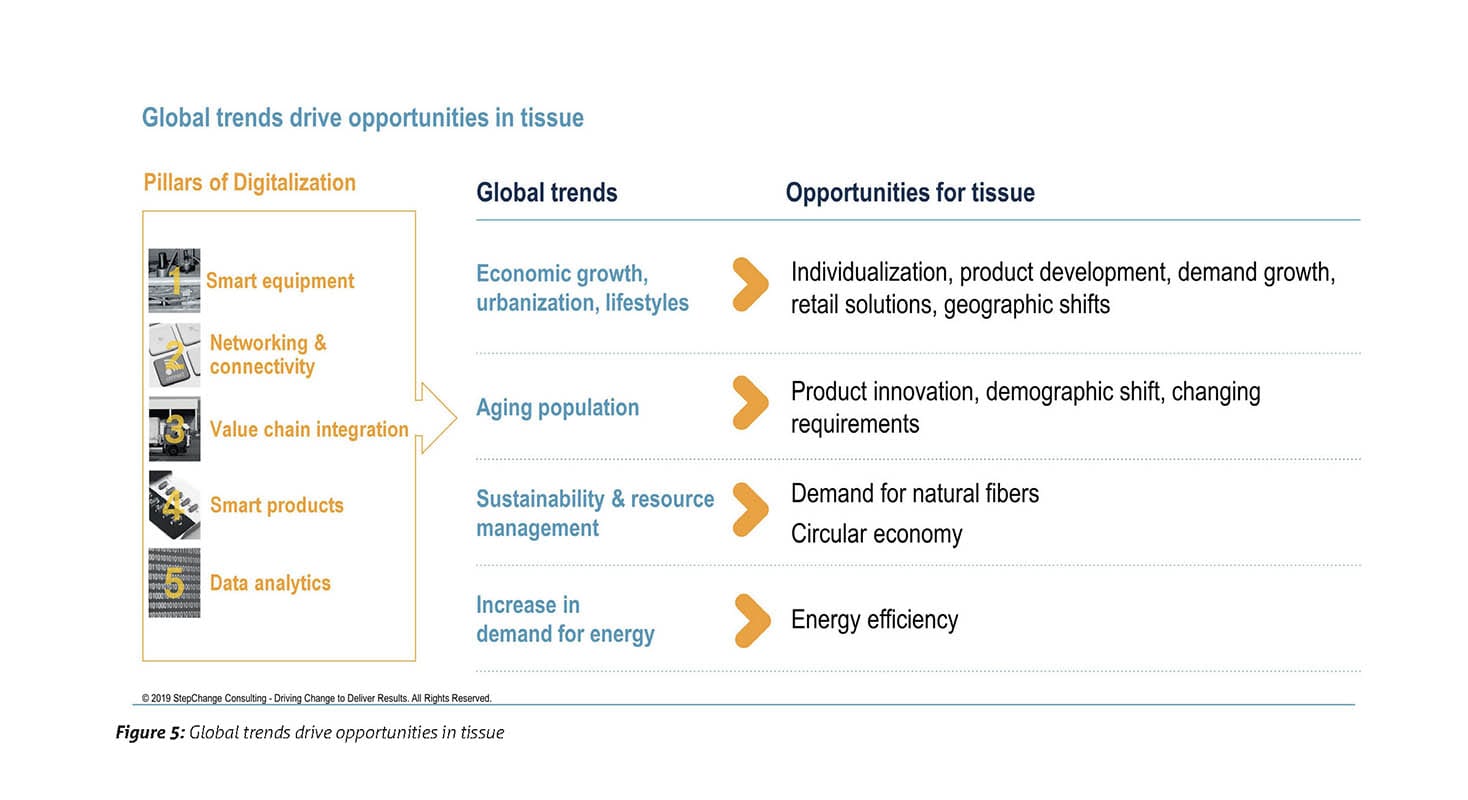 Since the 2009 recession, global demand in the tissue sector has been growing relatively stably between 3% and 4% each year. Limited but stable growth can be observed in developed countries, which is mainly linked to a steady population growth. The major driver for global growth of tissue consumption between 2007 and 2017 was China, which accounted for 41% of the total growth share. However, there is surplus tissue production capacity in the market, which drives competition within the global tissue industry. The following figures are the most recent tissue peer group benchmark results, based on financial year 2018 annual reports, among 12 global tissue players:
• The overall peer group average shows the worst results since 2013;

• The EBIT margin dropped from 16.0% in 2017 to 12.5% in 2018;

• Four companies reported a negative EBIT and none of the companies improved results in 2018 compared to 2017.
• The gap between the best and the worst increased significantly in 2018 from ~30pp to over 45pp;
• While two companies were able to keep EBIT margins above 15-20%, three reported negative results 10-20%;
• The five-year EBIT % average is still positive; however, majority of players are already below 10%;
• The five-year compound annual growth rate (CAGR) is positive for the majority of the players (Figure 2: Tissue Segment- only 5-years EBIT average vs. CAGR);
• The five-year average EBIT margin ranges between 0% and 25%, which is a considerable range.
These figures show that the tissue segment faced challenging times, especially in the last year. The tissue industry, as a mostly non-integrated industry, suffered from high pulp prices in 2018, which negatively impacted margins. Considering that pulp accounts for more than two thirds of manufacturing costs of jumbo reels, the significant extent of this input cost lever becomes evident. Additionally, the cost for packaging, plastics and freight also increased in 2018. Even if reduced cost pressure from dropping pulp prices can be expected, the foresaid overcapacities in the tissue segment will likely impact profitability (again). Solely looking at Western European capacity, the expected tissue capacity change between 2018 and 2020 is >400kt at an expected consumption growth of ~150kt in the same period of time. Additionally, tissue has become a traded (global) commodity, and cost-competitiveness plays a continuously increasing role in the business. Imports and exports of jumbo rolls have almost doubled globally in the past 25 years. US tissue imports from China were currently at a level of ~330,000tpy, which equals the annual capacity of about six large tissue machines. Tensions between the United States and China have already led to import duties, and assuming US import customs of 25% or more, Chinese tissue will no longer be competitive. This might lead to a significant drop in the US import quantity from China, which might become a major challenge for the global market balance. Input cost pressure, overcapacity in the market, suspected changes in the global market balance and ongoing consolidation, plus the impact of global trends are not only a risk for the tissue industry, but rather an opportunity for those players who can successfully handle the continuously changing environment. In this context, digitalisation serves as one of the key enablers to successfully and proactively anticipate trends, improve profitability, safeguard growth, and capture future opportunities. In the long run, digitalisation will help to unveil further potential and support sustainable growth and prosperity in the tissue industry. So, how prepared is the tissue industry for digitalisation, and where are major benefits and challenges seen?
Digital readiness – summary of StepChange Consulting's study results
In the beginning of 2019, we conducted a study among managers, decision makers and stakeholders from the European pulp, paper, tissue and packaging industries to identify company priorities and expectations relating to Industry 4.0 digitalisation. Digitisation was named as the top trend among all participants, mentioned by almost 75% of the respondents. Asking study participants from the tissue industry about their expectations regarding the highest benefits from digitalisation/Industry 4.0 for their businesses (compare Figure 3), 78% named cost reduction, followed by supply chain improvements and energy efficiency. On the other hand, the biggest challenges named where internal awareness of the topic (50%), changing the existing process organisation (46%) and IT systems and infrastructure (42%), followed by identifying opportunities and calculating ROI (38%). The top-five greatest barriers to implement digitalisation/Industry 4.0 are the same for the tissue industry as they are for other industry segments – (internal) awareness, change of the existing process organisation, IT systems and infrastructure, identifying opportunities and calculating ROI, and ensuring data security and protection. More than 40% of the respondents among tissue producers and throughout the pulp and paper industry are already engaged in Industry 4.0 projects (Figure 4). On the other hand, there is a larger share of "no work in progress" among the tissue manufacturers – 40% in tissue vs. 14% overall. Summing up the results of the study, digitalisation has become a priority topic in the industry, whereat the highest benefits are expected in cost reduction and in supply chain. Most digitalisation/ Industry 4.0 projects are in the operational environment, and top barriers are lack of awareness, change management requirements, technical infrastructure and a missing ROI.
How digitalisation and Industry 4.0 can enable and support strategic growth – global trends, and how the pillars of digitalisation can help to leverage opportunities for tissue from digitalisation
The tissue products value chain is full of interfaces, including plenty of value adding steps from the forest to end customers. Probably the most important connection in this value chain is the one between tissue producer/converter and the consumer – either through retail channels for at-home products, or through business-to-business relationships for AfH products. Digitalisation and Industry 4.0 enable new value opportunities, and strongly supports the reduction of muda along the value chain. The terms "digitalisation" and "Industry 4.0" can be mainly applied to three different situations:
People, machines, and industrial processes are intelligently networked and interact with each other;
Components interact independently within a production plant whenever necessary;
Feedback is captured digitally and incorporated across the value chain, automatically triggering events.
The Internet of Things (or "IoT") can be considered as one of the key enablers of digitalisation. Integrating sensors into processes of daily life, that feed data into usually cloud-based platforms, and thereby enable machine-to-machine interaction that ultimately serve the customer's convenience or improve any kind of process. Consequently, digitalisation allows for new levels of control and automation in industrial processes, factory operations and management of global supply chain networks, and new levels of supplier- customer interaction. The tissue industry is directly linked to the fast-moving world of retail in most of the "at-home" segments on the one hand. On the other hand, it is linked the same way to the continuously increasing functionality, efficiency and service level requirements in most of the AfH segments. It can be expected, that market trends will continue to drive those requirements further. A competitive tissue industry player has to be ready for a continuously changing and increasing set of requirements, and digitalisation is a powerful enabler to handle these challenges successfully. The mill of the future is enabled through the five pillars of digitalisation (Figure 5), which strongly support successful handling and anticipation of trends, and leveraging opportunities.
Economic growth, urbanisation, lifestyles
Economies are growing globally, albeit at different speeds. Likewise, the number of people living in cities has increased. Lifestyles are evolving and require products and solutions that satisfy the people's needs, wishes and requirements. Various opportunities are connected to these developments: growing demand, product development and product individualisation requirements, changing shopping habits, geographical shifts, and increased demand for advanced AfH solutions. Digitalisation can significantly help to optimally leverage those opportunities.
Smart equipment as the first pillar of digitalisation is the synonym for "intelligent assets", which work on a highly autonomous level and are able to interact with their surroundings, supported by sensors that trigger action. Information technologies and automation technologies are merging, and the Internet of Things is adding even more opportunities. The shop floor of the future will be centered around intelligent manufacturing assets, that are flexible and able to adapt to changing production requirements. Digital technologies for production, converting and printing allow for fast grade and product changes. Thereby, companies gain the ability to react faster to consumer and retail demand requirements through smaller lots and shorter individual runs. At the same time, competitive machine utilisation levels are secured, and markets' requirements that come along with lifestyle and individualization trends can be satisfied (e.g. mass customization, like toilette paper with individual print designs, embossing, or similar applications). This enables the tissue company of the future
to quickly respond to market requirements and to ensure high production flexibility, while simultaneously improving overall operational efficiency.
Networking and connectivity as second pillar of digitalisation represents the ecosystem for integration of new applications and equipment. To take advantage of the increased availability of information due to the digitalisation of the production processes, it is essential to connect all elements into a system that covers all aspects of a company's operations: From inbound logistics to product engineering, manufacturing, and outbound logistics. The role of such a system is to bridge the gap between the physical and digital world, therefore, those systems are called "cyber-physical system" or CPS. One practical example for the almost limitless potential for networking and connectivity is the area of production control and machine operations. The traditional control room setup location is mostly close to an asset, at older assets, sometimes even numerous specific operato stations along the production line can be observed. Those "fragmented" operator stations, and older control rooms, allow for monitoring of specific production sections and manual counteractive measures only. Highly manual processes by nature lead to sometimes significant variances regarding overall machine efficiency and effectiveness, material losses and breaks, maintenance notifications, and many other factors. The digitalised mill of the future allows for multi- asset and even multi-site control rooms, enabling the operators to control several assets easily at the same time. In addition, those control rooms will include the required monitoring technology for predictive analytics based on production parameters (e.g. like break prediction), machine condition, online real-time vibration control, and many other parameters. Data analytics is another core pillar of digitalisation. Advanced or predictive analytics is not only used to improve maintenance and production activities by processing large amounts of real-time signals. It also supports prediction of consumption and related demand patterns, market developments and product requirements. The potential gains from advanced analytics in real-time environments extend from cost savings through predictive maintenance and the significant reduction of storage requirements to the optimized utilization of assets. One of the numerous use-cases in regard to data analytics is – beyond marketing, sales, operations and supply chain – the area of maintenance. Today, maintenance is often reactive, incident based, and with a local asset focus. Reliability based predictive maintenance, utilising the opportunities of digital technologies and virtualisation, is already being implemented by technological forerunners. The digitalised future will bring additional levels and quality of asset sensor integration and online control, predictive data analytics supported by self-learning environments, and remote operations that allow for optimal knowledge sharing and efficiency.
Aging population
The average life expectancy has increased globally within the past 35 years by ten years. This leads to an increasing average age of the global population. This global development again holds a number of opportunities for the tissue and nonwovens industry. Older people have different requirements and require different products than younger ones. Tissue and nonwovens product innovation can help satisfy these requirements.
Smart products as additional pillar of digitalization support and serve all age groups, but especially an increasing share of elderly people represents an opportunity for the tissue and nonwoven segment. Smart products can either be products that participate in the production process by providing data to equipment on next steps, requirements, etc. – or/and, have the ability to interact with customers. Through customer interaction, the products provide additional benefits and services beyond their primary function. Those benefits for an aging populationcould potentially reach from smart sanitary and hygiene products over food safety and allergy control to smart bandaging materials. Smart Products do not only represent a significant value-add for the customer, they as well require a high level of know-how, skills, and research and development experience. Digitalization does not only serve the "functional" aspect of smart products, it also serves the skills- and knowledge management aspect. One important aspect in current skills- and knowledge management approaches is the attempt to locally document and replicate or duplicate skills. The digitalised mill of the future strongly supports skills management by consolidating and centralizing existing skills into a skill pool, which, similar to the multi-site control room, allow for multi-site responsibility of highly skilled employees, remotely supporting a lean team of local colleagues in solving issues.
Sustainability & resource management
The global trend towards sustainability
and careful resource management is inevitable in times where global warming, rising sea levels, and trash accumulation
in huge ocean garbage patches (just to name some examples) are reality. The term "climate crisis" is on the media on an almost daily basis.
Sustainability and responsible resource management play a crucial role in every tissue, paper and packaging company's corporate responsibility charter. The opportunities for tissue are in the demand for natural, recyclable and finally compostable fibers within a circular economy.
Value Chain Integration as additional, last pillar of digitalisation strongly supports (not exclusively) this global trend. It takes place with the integration of IT systems, including customers and suppliers across the whole value chain in order to optimise the flow of information and goods. In many current supply chain setups, semi-automated processes, and a lack of visibility across activities and requirements are reality. Digitalisation allows for full integration & visibility across the supply chain(s), including real time planning and sensor-based fulfillment ensuring reliability, quality, OTIF, careful use of resources (e.g. through maximized transport capacity utilization), and ultimately serving the customers' needs in a most efficient and sustainable way. Changes in demand and supply will automatically and directly be fed into the integrated value chain, and therefore enable companies/business partners to react quickly and more efficiently to volatilities, avoiding wastages, and supporting sustainability and resource management goals.
The potential optimisation benefits from digitalisation within the value chain functions are high
The disparity and individuality of various assets and sites lead to the fact that required purposeful investments into digitalization and related benefits from those investments can vary significantly from asset to asset and from company to company. StepChange consulting developed a multidimensional approach to assess the benefit from digitalization across the different supply chain functions and the related required level of digitalization (Figure 6). The Digitalisation Value Assessment Cube allows to individually assess and determine the individual "sweet spot" of each site and company between investments to reach the required level, and the expected net benefits from digitalisation. Overall potential optimisation benefits within the value chain functions are significant (compare Figure 7). The untapped potential from implementation of Industry 4.0 and digitalisation is estimated to be €5bn in inventories and €10bn in cost savings in Europe alone.
Conclusion
Driven by global trends and different changing market aspects, the tissue
industry faced challenging times in the last year. Simultaneously, the tissue
industry expects significant benefits from digitalisation, especially with regards to
cost reduction, supply chain operations and energy efficiency – which could be called a "perfect match" when it comes to managing challenging times. At the same time, more than 50% of the study participants indicated that they are not engaged in specific digitalisation projects. This is contradictory in itself, especially when reflecting the significant opportunities it provides to deal with global trends, to support strategic growth, and to leverage the multiplicity oftissue specific opportunities. It is crucial to choose an individual and multidimensional, and at the same time easily applicable approach, to leverage the full potential that comes along with digital technologies, and to determine
the individual sweet spot and related net benefits. The huge estimated potential of optimization benefits should be convincing enough to engage in this huge topic, and to take the next step towards the digitalised mill of the future.