As brand loyalty is slowly eroding in the US, Europe's leading discounters are set for major expansions. Report for TWM by RBC Capital's markets analyst Paul Quinn.
Change is afoot. Branded tissue products will soon see a ramp up in competition from private label and even private label is expected to see some margin compression as European discounters shake things up in North America. It's usually the threat of overcapacity that is of our prime concern. However, the changing customer landscape is expected to be even more of a challenge.
So not only is there a lot more tissue coming to the market over the next two – three years, but finding a home for this new facial, bathroom tissue and towel is going to work for some and not others.
This short article will look at the changing tissue customer base and examine some initial thoughts on the new trends. We will also take a look at the numerous capacity additions and resulting decline in industry operating rates. Without some capacity closures,we expect that tissue pricing will come under pressure later this year and through 2018.
The Europeans are coming – good for private label? Maybe!
Discount grocery chain Aldi plans to invest $5 billion to open nearly 900 stores and remodel hundreds more in the U.S. The expansion, over the next five years, puts the German grocer on track to becoming the third-largest food retailer in the U.S. by store count, behind the larger Wal-Mart Stores Inc. and Kroger, and to become a growing threat to traditional food retailers.
Aldi has stated its goal to have a total   of 2,500 locations across the U.S. by 2022. Its plan comes as another German discounter, Lidl, has just opened its first 10 stores in the U.S. this summer as part of a multiyear expansion with 100 stores expected by next summer.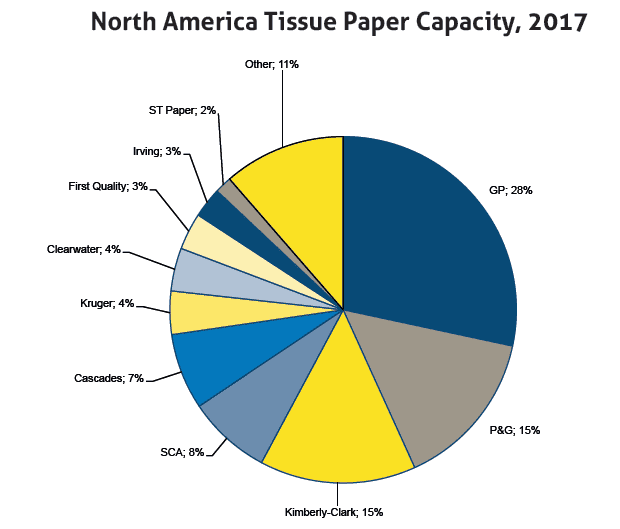 A recent report by Bain & Co, suggested that deep discount chains in the U.S. would grow by up to 10%/year through 2020, five times the rate of traditional grocers. Officials at Aldi and Lidl, which is new in the U.S., said they are a step ahead of their competitors given their longstanding use of store brands to drive down price.
About 90% of the goods carried at Aldi stores and the coming Lidl ones will be private label. While European shoppers are much more accustomed to buying private-label products than Americans, loyalty to brands in the U.S. is slowly eroding and could lead more shoppers to try Aldi or Lidl, especially millennials.
So while both Aldi and Lidl are expected to boost private label tissue volumes, they tend to be aggressive on their negotiations with suppliers, seeking the lowest cost for their customers. Clearly, the big winners will be the consumers, as they will benefit from strong price competition between branded and private label options.
2017 North American stats point to a balanced market for now 
Converted product shipments are up 1.8% in 2017 with total at-home (consumer) shipments of converted tissue products increasing 1.4% in 2017. This relative weakness was attributable to zero growth in napkins and facial tissue, combined with minor gains in bathroom tissue. Total Away-from-Home (AfH) shipments of converted tissue products continue to demonstrate resilience, growing 2.7% YTD (to June). Operating rates in June were higher than the 10-year average (96.9%) at 97.8%. High-quality virgin parent rolls prices strengthened in June to $1,404/ton, up 3.6% y/y, while high quality recycled parent roll prices increased 2.1% higher y/y.
Capacity additions are expected to overwhelm demand growth 
There are now eight tissue PMs planned to come on line in 2018 & 2019 (five TAD and three NTT) in 2018/19. Georgia-Pacific is scheduled to start a $400m new TAD tissue PM in Palatka, FL in 2019. Irving Consumer Products is expecting delivery of a TAD tissuemaking machine from Valmet in 2018 (capacity is estimated to be 70,000ST/year). Irving Tissue has also announced a $400m 75,000mt TAD machine for 2019.
First Quality Tissue also has two new TAD machines coming online as a part of its expansion initiatives. One machine will be constructed in Anderson, South Carolina and is expected to begin production in the second half of 2018 while the other will be in Lock Haven, Pennsylvania and is projected to start in the first half of 2019.
These two machines will add ~145K tonnes of production capacity. Additionally, Clearwater plans to build a new Valmet NTT tissue machine at the company's existing facility in Shelby, NC, with an expected annual capacity of 70K tonnes spread across high-quality private-label premium and ultra premium tissue products (expected to come online in the first quarter of 2019).
In terms of start-ups, Resolute Forest Products announced the start-up of its new tissue machine in Calhoun, Tennessee, which will continue to ramp-up production before reaching maximum capacity mid-2018. Lastly, Irving Consumer Products just announced a $400MM 75K tonne TAD machine in Macon, Georgia for a 2019 start-up.
Operating rates to fall by 4.1% in 2019
We believe that, barring significant tissue machine shuts, we expect operating rates to fall over the next two years and pricing pressure on all tissue products to surface.