Maflex has launched the Heracle embosser and laminator, which it said is a brand new and original design.
According to the company, the machine is designed to ensure a quick and safe upper engraved roller change, offering "unprecedented versatility".
Due to the presence of two hydraulic and telescopic arms integrated into the machine, it is possible to alternate – in a completely automatic way – the different engraved rollers for embossing the upper ply.
While the machine is working with an embossing pattern, the operator can simply select from the control panel, one of the other two rollers in storage, and the machine performs the roll change operation in less than three minutes, without the need to break the paper web.
If an additional engraving design is needed (in addition to the two already stored), the operator, without stopping production, can replace one of the two rolls in storage with an overhead crane system.
Additionally, the line can run DERL and DESL, which Maflex said is synchronised completely automatically through the HMI.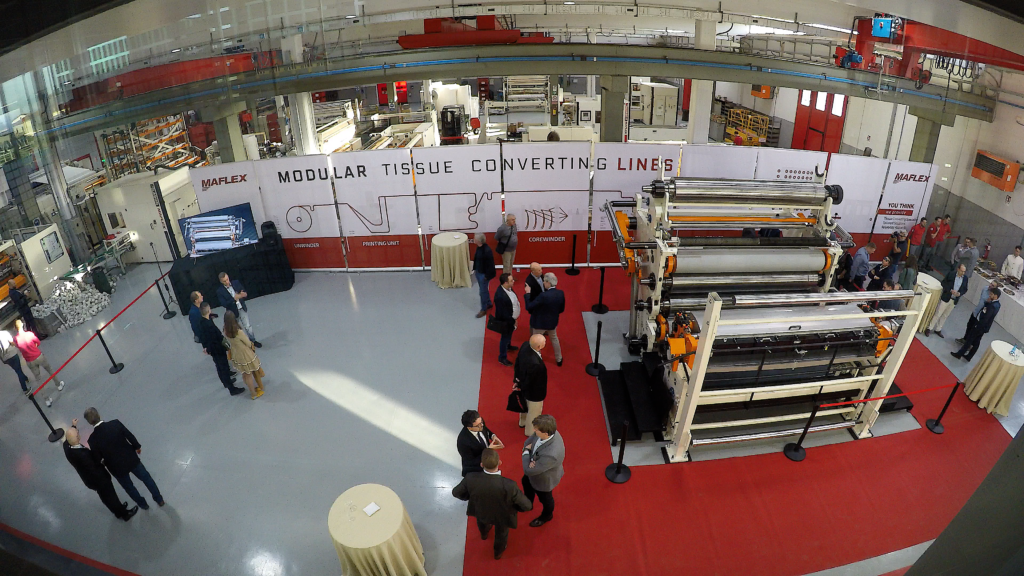 The strategic position of the rolls waiting above the machine, combined with the automatic selection and change of Heracle, allows infinite embossing changes.
In addition, it is possible to clean the rollers in total safety, without stopping production, simply by bringing the roller to be treated away from the production line.
The machine is designed to contain two different engravings for the lower ply, installed on the machine.
Because of Maflex's modular design, the Heracle has its own electrical and control panels, making it easy to install on existing converting lines.
The company said it is the only product on the market that combines all the above features.