Relatively new to western style consumerism, increasing numbers of sophisticated consumers with more money to spend are leading tissue from functionality to luxury.
Industry analyst Greg Grishchenko returns to report on progress.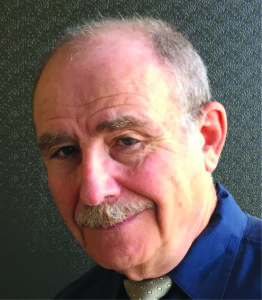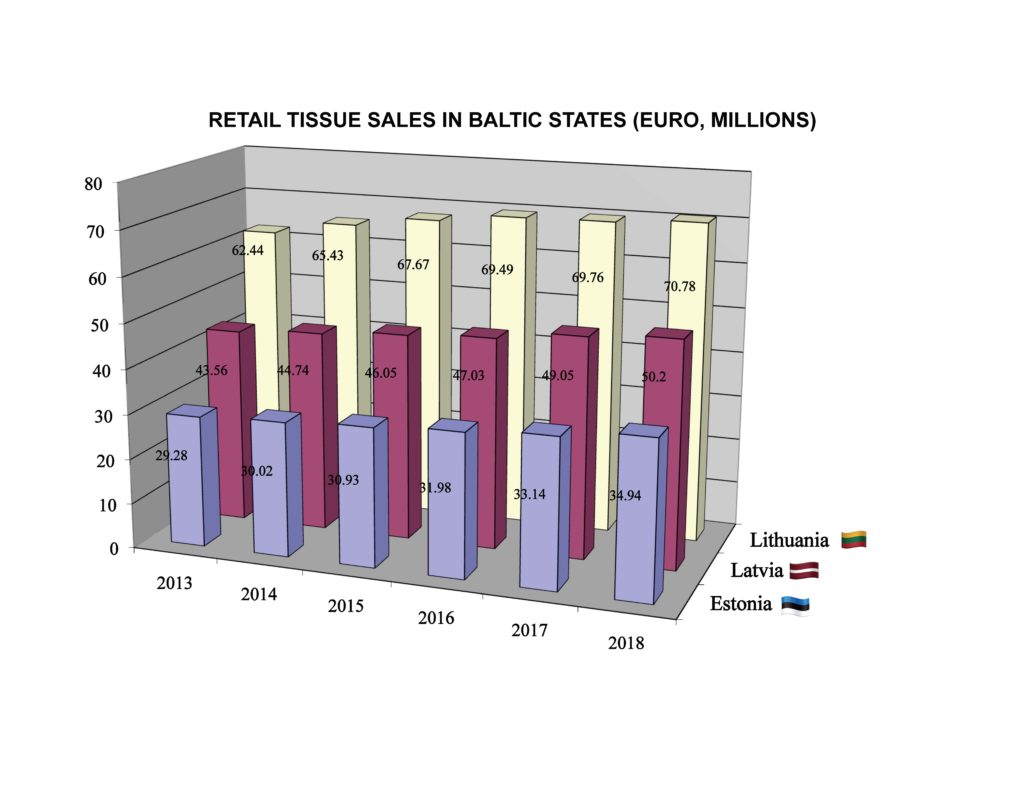 My previous report on the Baltic States – Estonia, Latvia and Lithuania – was written almost a decade ago when recent European Union membership was still a novelty, and western style consumerism was just beginning to kick in.
Tissue market structure then was in the process of forming and local players were gaining power.
Today all three Baltic States, combined population 6.1m, show healthy and gradual economic growth accompanied with improving disposable income and falling unemployment.
However, remaining threats for the tissue market in all three countries are common: a shrinking population that is being affected not only by the falling birth rate but also by emigration to Western European richer neighbours.
Regional diversity in market prospects According to the latest Euromonitor International reports, the Baltic States' combined annual turnover for retail tissue products in 2018 has reached €156m(€35m, €50m, and €71m for Estonia, Latvia and Lithuania respectively).
However, despite 15 years of EU and NATO membership, close proximity in location, similar political systems and even matching cultural habits, the Baltic States show quite diverse tissue market dynamics.
In 2018 the highest retail tissue growth rate of 5% was in Estonia, followed by 2% in Latvia and Lithuania.
Tissue product sales leadership rotated from year to year, however in 2018 and for the last two years, domestic tissue producer Grigeo Grigiskes has been the number one player in Lithuania with 35%, Sweden's Essity leads with 19% in Latvia and Frenchbased holding Antalis takes first place in Estonia with 23%.
In 2018, paper towels showed the most remarkable growth in Latvia where busy young consumers with rising disposable income began to value convenience of such a product in wiping up spills and cleaning surfaces. In the more populous and industrialised Lithuania, the consumption of toilet paper – a mature product for the entire region – continued shifting from economy to mid-priced and premium brands.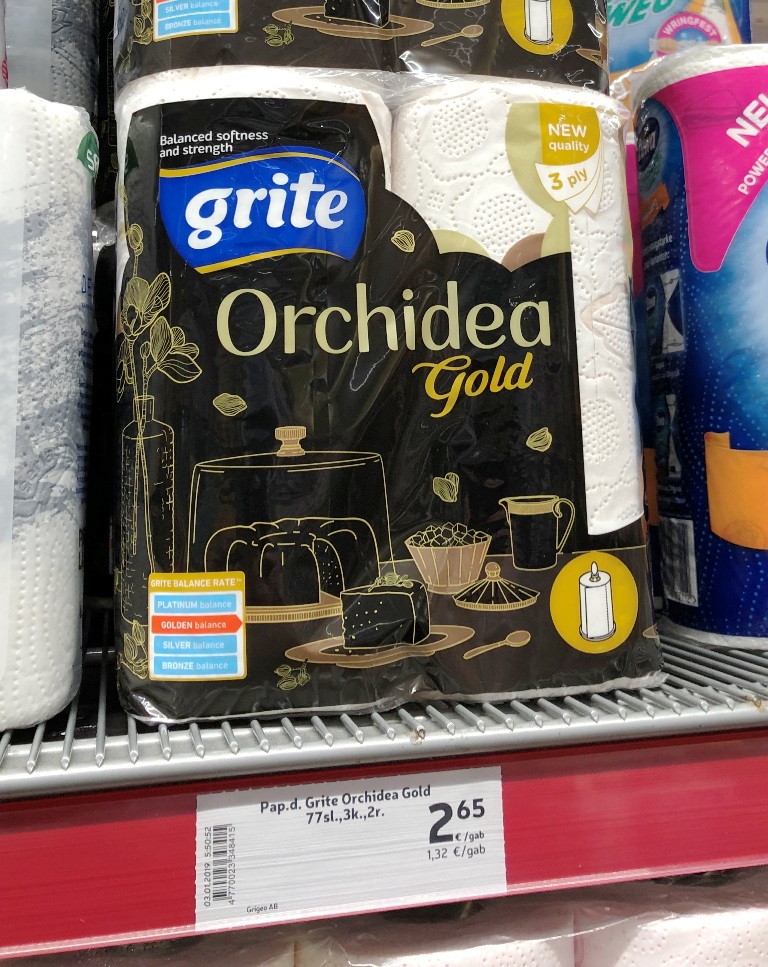 While the health benefits of natural (cellulose) products are driving demand for premium tissue in the Baltic region, recycled tissue brands are fervently promoted by major players like Essity and Grigeo due to their price advantage and ecological impact.
This ambiguity creates concerns regarding virgin fibre manufacturing in tiny and forestry rich Estonia.
Having the currently operating local pulp processor Horizon in mind, there is strong resistance to recently announced plans to build another pulp mill in the country.
Sales pitches about natural (virgin pulp) sourcing and domestic product origin may well be overrun by a quiet and deep public belief that such development destroys local aspen forests.
While writing this article in the middle of a barbeque season in the United States I made a trip to a local supermarket for food supply.
Passing shelves with fire starting paraphernalia I came across a row of birch stumps under the label Bonfire Log (see picture) claimed to create "a beautiful bonfire anywhere with one match".
It was advertised to burn for more than 1.5 hours (obviously, there was something flammable inside a stump). Ironically, this product by the company Essay Group, headquartered in New Jersey, USA, was marked "Made in Estonia".
Here comes a question about the fate of Estonian forests.
State of local manufacturing
2018 Grigeo Grigiskes was the strongest player in the Lithuanian retail tissue market.
The company is a part of Grigeo, the paper and wood industry group in Lithuania and one of the largest in the Baltic region with a wide range of products including tissue, packaging, container/ corrugated board and wooden hardboard.
Grigeo is listed on the NASDAQ Baltic exchange and processes 47,000 tonnes of tissue paper per year, employs nearly 800 people and supplies itself with bio-fuel, buys and recycles waste paper.
It is also engaged in reforestation and investment in water treatment facilities.
Over the last 20 years Grigiskes' tissue brand Grite has remained fairly popular in the Baltic Region – the Baltic States plus countries with shorelines along the Baltic Sea including Denmark, Finland, Germany, Poland, Russia and Sweden – showing outstanding growth rates in 2018 and gaining profits from the Grigiskes' move towards premium alternatives within toilet paper, facial tissues and paper towels.
The company also developed its own distinctive "Balance Rate" product labeling system used to further promote Grite brand.
The matrix with four ranks – bronze, silver, gold and platinum – allows consumers to rapidly choose the product line explaining its benefits such as softness, strength, absorbency, number of plies and even ecological impact.
Based on its detailed knowledge of the local market, Grigeo Grigiskes also attempted to premiumise its napkin product line in 2017 by dropping Grite Family Color coloured napkins and replacing it with new premium napkin product line Orchidea White.
This 3-ply product features new design and technology and is distributed across the upscale IKI supermarket chain.
However, due to low consumer loyalty for napkins the profitability of such move remains questionable.
Grigeo Grigiskes' recent investment in its production introducing 4-ply retail tissue products, innovative graphics in packaging and internet retailing with a Grite product line promotion via trendy internet store Barbora seems to be a promising step toward sales growth.
The leading retail tissue producer in Estonia is Horizon Tissue OÜ. This company was created nearly ten years ago on the premises of Horizon Pulp and Paper, an integrated pulp and paper mill founded in 1938 and worked throughout years of German and Soviet occupation.
Horizon was on the verge of liquidation after the collapse of the USSR in the 1990s and was revived in 1995 after privatisation and 100% acquisition by Singapore's Tolaram Group.
Being number five after its multinational competitors and with declining value share over the last few years (6% in 2018), Horizon Tissue owns the Daisy brand targeting mostly competitive prices in toilet paper, kitchen towels, tissues and napkins.
In 2018 the company launched a new combined heat and power plant (CHP) at the company's location in Kehra, Estonia, and used internally to reduce the mill's carbon footprint by 70% if compared with decade old numbers.
A new power plant is part of a €25m "environmentally – responsive" investment programme to make 80% of its energy consumption from renewable sources.
Horizon has the capacity to produce a total of 64,000tpy of 100% virgin unbleached kraft paper and is Estonia's only sack kraft paper producer.
The tissue group accounts for approximately 12% of its overall output and this detail may explain low activity in promotion of its tissue brand Daisy as a product of Estonian origin.
The manufacturing outlook for Baltic States may not be complete without mentioning small local tissue converters competing with domestic and multinational suppliers. Gruine UAB is a Lithuanian company from Kaunas with its own 2-ply toilet paper brand Diona and a line of generic off-colour toilet paper, paper towels and napkins for AfH customers.
SIA Lenek is a Latvian producer of AfH napkins from Riga.
The company was founded in 1996 and focused exclusively on non-printed 1, 2 and 3-ply napkins for HoReCa and private label.
SIA Lenek exports to cafes, restaurants and fast food chains in Europe (Germany, Sweden and Norway), Baltic States and in Russia.
The ISO 9000:2015 certified company sources jumbo rolls, wrapping film and packaging from reputable European companies.
As a small company with low overhead SIA Lenek offers better prices for high quality products that are fully compliant with all European hygienic standards.
Strong growth in AfH tissue is driven by HoReCa channel
According to Euromonitor International, in 2018 the AfH segment in the Baltic States reached €38.7m in combined sales, showing a 4%, 5% and 6% increase for Lithuania, Latvia and Estonia respectively compared with the previous year.
A growing number of independent small restaurants presenting themselves as unique in terms of food, interior decoration and service is increasing demand for more exclusive tissue products including bath tissue, paper towels and napkins.
In 2018, the share of the HoReCa segment in the AfH distribution business in the Baltic States reached 65.8% in Lithuania, 67.5% in Estonia and 70% in Latvia, with small positive or negative fluctuation from previous years.
There is a small gradual growth for business/industry segment share in 2018 (15.9% in Latvia, 18.7% in Estonia and 19.1% in Lithuania).
Hospitals/healthcare segment share slightly fell in 2018 in Lithuania to 12.8% despite increased immigration to the country and increasing number of private clinics targeting foreign clients.
In Latvia and Estonia this segment showed growth to 10.9% and 12% respectively.
The AfH public segment share in Baltic States is in low single digit without any significant changes in view.
During Soviet times, almost 30 years ago, all three Baltic States as "Socialist Soviet Republics" gained the status of the "almost Western Europe" for Soviet people from the rest of the Soviet Union who appreciated a significant advantage in food quality and service culture.
Lithuanian, Latvian and Estonian resort towns along the shoreline were extremely popular and managed to carry on and improve their reputation to present day tourists.
Current demand for hotels, restaurants and conference centres are rising, driven by a growing number of international visitors not only from close neighbours Russia and Poland but also from the rest of the world.
Well-known international luxury hotel brands such as Accor, Hilton, Marriot and Sheraton are being attracted to the region and expect to bring a new set of consumer standards in the HoReCa industry, increasing the use of premium AfH tissue products.
Estonia, the smallest of the Baltic States, is progressively recovering from a half century of Soviet rule.
According to Statistics Estonia, for the five year period from 2013 to 2017 the revenue from food and beverage enterprises (sectors with quite high consumption of AfH tissue) increased from €436m to €609m.
Private label holds its strong share in retail sales
During the last decade toilet paper matured in the region where the demographic situation (especially in Lithuania) was not beneficial even for limited new product development.
The dwindling consumer base (for the last decade 20% in Lithuania, 12% in Latvia and 4% in Estonia according to the World Fact book) compels tissue product manufacturers to apply premiumisation, a strategy that has created the bridge between the desirability of the luxury world and the function and necessity of mass market.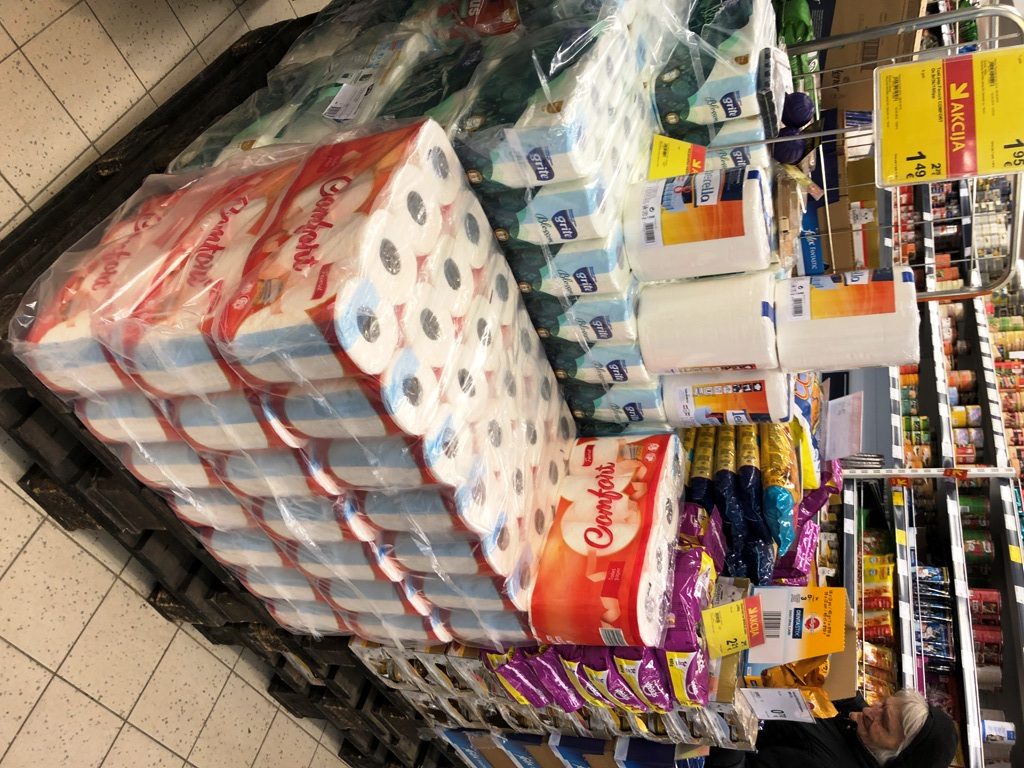 The growing number of sophisticated consumers with increased disposable income are choosing more premium and more layered tissue products.
In the Baltic States, the continuing popularity of chain supermarket shopping and promotions sets off price wars.
This leads to the decline of unit prices of premium bath tissue and paper towels, encouraging consumer to switch to higher quality goods.
However, as the cost of pulp is slowly increasing in Europe, unit prices of toilet paper are likely to grow so value and volume advance expected to be driven by premiumisation and positive economic conditions.
Private labels retain a significant stake in retail tissue while local chain retailers compete for customers buying tissue goods.
The result is a growing demand for quality private label tissue products made by Lithuania's leading grocery retailer, Maxima, which wants to premiumise its Bloom private label by offering 4-layer premium toilet paper.
In Latvia, private label toilet paper and paper towels hold a strong presence in the retail tissue segment.
With its large network stores and wide range of price segments, Rimi Latvia
was ranked second in retail tissue in 2018 selling such private label lines like ICA, Rimi and Rimi Basic. In Estonia, where the amount of financially struggling consumers is the highest among Baltic States, economy range products, especially toilet paper, play a vital role.
However, with low cost private label toilet paper taking nearly 12% in the category, not all private labels in Estonia aim for the lowest price.
As an example, Rimi Eesti Food promotes not only competitive prices but also sufficient quality.
Additional tissue private label lines claimed to be price leaders are represented by Hüva and Säästu Coop Eesti and Optima Linija by Maxima Eesti.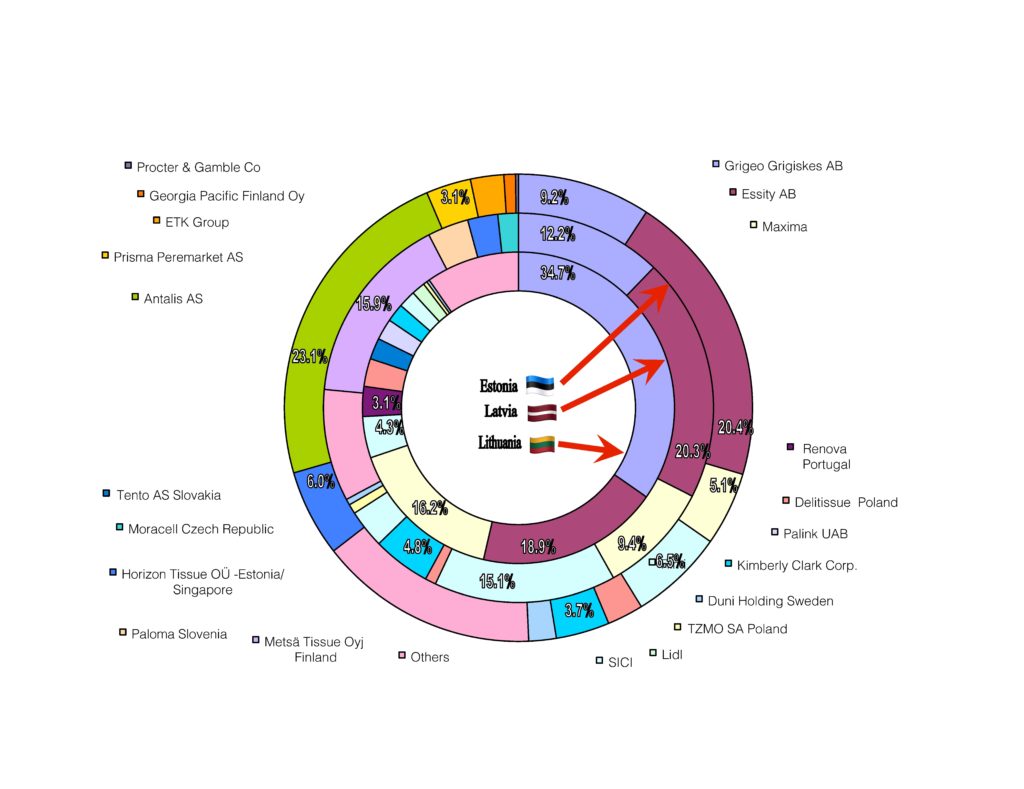 Even with offered higher quality, domestic private label tissue products are often being outperformed by international branded players who use better market penetration strategies and are more experienced in promotions and product development.
However, the share of private label in the Baltic States is likely to increase due to growing consumer's price/quality factor awareness.
Brand competition
In 2018, the Zewa brand remained the tissue sales leader in Latvia and Estonia with a share of 20.3% and 20.4% respectively.
Having a wide portfolio of products under the Zewa name in the Baltic region, brand owner Essity offers various price options for bath tissue consumers from eco-friendly recycled 3-ply Zewa Deluxe to 4-ply premium Zewa Exclusive.
In Lithuania, the domestic brand Grite by Grigeo leads retail sales taking over one third of the market with Zewa just behind (18.9%) followed by local supermarket private label names Favorit (Maxima), Optima (Maxima) and Rimi.
Lithuania is the only Baltic country where Portuguese brand Renova (known for distinctive coloured toilet paper) gained significant presence, especially in paper towels offering wide variety in sizes.
In Estonia, European brands Serla, number two (12.4%), and Lambi, number three (10.8%), made by Metsä Tissue (Finland) and sold via local branches of trading company Antalis (France) are very popular and highly rated due to regular advertising campaigns and reputed high product quality.
Lambi and Serla are also well-liked in Latvia and are ranked among the top five brands in 2018.
The toughest competition among brands taking place within such a mature category as toilet paper is resulting in a decline in average unit prices in 2018.
Despite a continuing pursuit for added-value (inclusion of aloe vera or moisturisers) and premium products by local consumers, price promotions based on extensive cost discounting prevail in Baltic States.
With higher personal income consumers having increasingly demanding lives, there has been growing use of paper towels.
While private labels from Maxima, Rimi and Coop chains offer economical and ecofriendly recycled options, the Zewa brand presents wider range of kitchen towels from Zewa Premium for value motivated users to Zewa Nature Lover for those concerned with environmental impact.
Even though the Baltic region's economic climate is positive, anxiety about any new geo-economic or political crisis is present and not anticipated to go away in coming years.
With the low unemployment rate and despite dwindling population the outlook for essential tissue products such as toilet paper remains positive with the low single digit growth rate for the next five years.