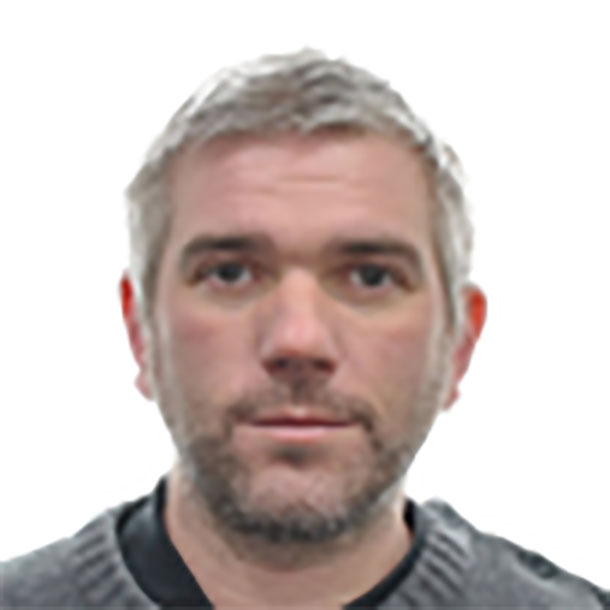 Spanish tissue products throw up a few surprises
Euromonitor International's global head of tissue and hygiene research
In a year during which a doubledip recession and some of Europe's highest unemployment rates moved Spain to the frontline of the eurozone crisis, tissue products proved – perhaps surprisingly – resilient.
As a commodity product distinctly lacking in glamour, tissue products are often among the first to suffer when consumer incomes fall, as seen in markets as far apart as Japan and Greece in the post-Lehmann shock era. At the start of 2012, anyone suggesting that private label products would gain share in Spain in 2012, while branded products would be the ones to suffer would have got short odds. Most would also have agreed on the likelihood of downtrading with mid-range products taking the place of luxury tissue on cash-strapped Spanish consumers' shopping lists, and some consumers moving out of the category all together.
GEORGIO-PACIFIC EXITS AS PRIVARE LABEL DOMINATES
With private label accounting for the vast majority of the Spanish retail tissue market (72% by value in 2012) and the economy worsening on what has seemed like a daily basis, major players could also have been forgiven for thinking tissue products were a losing battle – and evidently one did. At the end of 2011, Georgia-Pacific exited the European tissue market, with SCA acquiring its portfolio and a 7% share of the Spanish market as a result. However, the Spanish tissue market has delivered some surprises in 2012 and the major manufacturers that chose to hunker down in difficult conditions have at last some reason for cheer.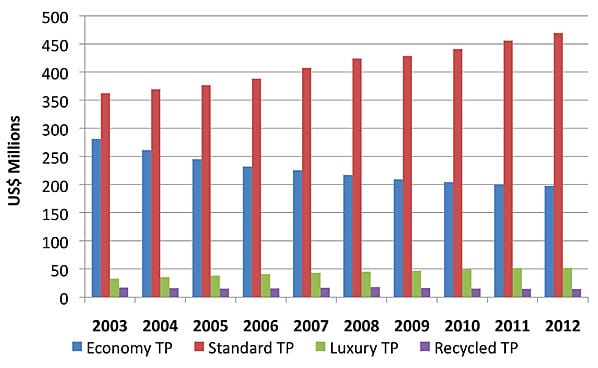 Despite the woeful wider economic circumstances, tissue products registered 2% value growth in 2012, a significant achievement given the circumstances. Faced with a do or die situation, major manufacturers shifted strategy somewhat surprisingly, choosing to develop new premium categories and in doing so managed to create growth out of the gloom.
"Despite the woeful wider economic circumstances, tissue products registered 2% value growth in 2012."
LUXURY LEADS IN TOILET PAPER
Toilet paper, Spain's largest tissue product category, is a prime example of how premium branded products have driven category growth during 2012. The €584m toilet paper category grew by 1% in value during 2012, and it was luxury toilet paper driving this growth, registering 1.2% value growth. In contrast, and perhaps against expectation, economy toilet paper registered a decline in terms of both volume and value. In the context of double-digit growth in Asian markets, 1% growth pales into insignificance; however, given that Spain's economic problems have caused FMCG in general to decline (for example the soft drinks market fell in value by an annual average of 5% between 2008 and 2011), toilet paper can be considered to have performed well.
Despite the proliferation of private label products in the category, and the difficult economic conditions, Kimberly-Clark and Industrie Cartarie Tronchetti launched new premium products under their Scottex and Foxy labels. This bold investment in luxury products paid off and drove growth in the category. Two- and three-ply papers, as well as softer paper with added cotton, proved most in demand.
DISCOUNING BOOSTS PREMIUM PRODUCTS
Although getting consumers to opt for luxury toilet paper in difficult economic circumstances may on the surface look like something of a challenge, in truth the wider effects of the recession served to drive consumers towards premiumisation.
Owing to the difficult trading environment, retailers instigated price wars, driving down the average price of many premium positioned products. As a result, many could be bought for roughly the same price as private label and economy brands. The narrowing price differential was enough to convince consumers to trade up. On top of low prices, many supermarkets increased their marketing efforts with branded products, as profitability became the watchword and retailers looked for the increased margins they bring. It is fair to say that premium products at a low price and prime shelf positioning pretty much sell themselves.
The proliferation of premium products at bargain prices has served to stifle the growth of private label at a time when many would expect them to have the upper hand. Looking ahead, while economic difficulties remain, private label is expected to decrease in share as branded products dictate the play. As economic conditions eventually stabilise and prices rise, premium products should still hold the upper hand until private label manufacturers catch up in terms of innovation. At this point private label is likely to see a resurgence and the scrap for share will once again begin in earnest.
INVESTMENT PAYS OFF IN WET TOILET PAPER
Aside from the premiumisation of toilet paper, innovation in wet toilet paper also helped drive sales. Accompanied by heavy promotion and a quirky "Culitos Besables" – translated as "kissable bottoms" – campaign, Kimberly-Clark launched wet toilet paper under its Scottex label in 2012.
This promotion boosted consumer awareness, especially amongst young consumers and women, and drove value and volume growth, taking the product to 5% of the total toilet paper category. In particular, as many public institutions such as universities reduced their supplies of toilet paper to cut down on expenditure, the product proved popular with younger consumers owing to its portable nature.
Looking ahead, wet toilet paper certainly offers possibilities for growth as the Spanish economy potentially returns to better health, pulling more manufacturers into the category, particularly as evidence from high penetration markets such as Germany and Austria show it is unlikely to cannibalise sales of dry toilet paper significantly.
However, there are challenges to expansion. In particular, manufacturers will need to invest further in educating consumers on the product's use and, in particular, focusing on how wet toilet paper can be of benefit given that many Spanish people already use a bidet. Innovations in packaging, especially if consumers continue to carry wet toilet paper with them, will also be of prime importance.
KITCHEN TOWELS TOP VALUE GROWTH
Outside of toilet paper, kitchen towels – again perhaps unexpectedly – turned in a standout performance during 2012, registering the strongest growth of all tissue products, at 4% in value.
Global health scares such as H1N1 live on in the mind of consumers, and various health awareness campaigns have heightened Spanish consumers' concerns over hygiene, especially in the kitchen. As a result, many consumers now prefer to use kitchen roll instead of the more traditional cloths, preferring to spend a little more on a product that reduces the threat of spreading germs.
Looking ahead, hygiene is expected to continue to remain high on the agenda in Spain, and kitchen towels are likely to grow in popularity as a result, with the category's relatively low penetration also allowing further room for growth. While kitchen towels have seen their popularity rise, this has been at the expense of impregnated wet wipes, as wipes' higher price positioning combined with their throwaway nature made them more difficult to justify for many households. Although consumers are prepared to spend to safeguard their health, there is a limit to the extent of this.
Kitchen towels could well be where new arrival SCA makes a concerted effort during 2013. It is the one category where its acquisition of Georgia-Pacific has given it the edge over Kimberly- Clark. SCA already had a small presence with its Marpel and Dovay brands, but has now acquired the Colghar brand, which leads the market with 13% value share. The manufacturer has plenty of experience in kitchen towels and will almost certainly be increasing its activity to drive and capitalise on the growth forecast in the category.
THERE'S LIFE LEFT IN TISSUE PRODUCTS
While kitchen towels and wet toilet paper would seem to be the products set for dynamic growth next year in the Spanish tissue market, even a commodity category such as tissue can bring some surprises, as 2012 has proven. With the New Year looming and no end to the country's financial turmoil in sight, Spain's consumers are unlikely to have any extra money to spend in the year ahead, but as 2012 has illustrated all too plainly, even when the economy appears dead in the water, there's still life in an old dog, such as tissue products.