World
Metsä Tissue records sales growth as EBITDA falls
Metsä Tissue has attributed its 5% year-onyear sales growth to a "favourable sales mix and advantageous exchange rates".
In January-June 2011, the company posted net sales of €478m, up from €456m the same time a year earlier. Sales of its own brands showed a year-on-year increase of 10%.
However, operating profit dropped to €10m from €24m a year earlier, while EBITDA was €30m, down from €49m.
The company said it had felt the impact of rising costs of pulp, other materials and energy.
It added that the demand for tissue and cooking papers is expected to remain stable and brand growth looks set to continue. Chief executive Hannu Kottonen said: "We estimate that the demand for tissue products will remain stable. Positive brand growth will continue along the new product launches and campaigns. Our volumes in SAGA cooking and baking papers will increase along with the new Düren millstart-up becoming visible."
Higher variable production costs and additional expenses will continue to be transferred to prices.
The company's key focus for the remainder of the year includes its baking and cooking investment programme in Düren, Germany, which is proceeding on schedule with the rebuild of both PM 5 completed and the new converting lines now operational.
Its three-year investment programme at the Krapkowice mill in Poland is now also into the building stage.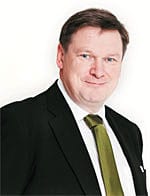 In June, Metsä Tissue announced an exclusive agreement with Georgia-Pacific under which it will obtain the license to manufacture, sell and market the Lotus consumer tissue brand in Russia.
The deal is expected to close at the end of the third quarter.
Metsä Tissue also said the deteriorating availability and quality of locally sourced recovered paper is threatening the production of recycled fibre-based products.
It said: "Drivers behind the threat are the declining consumption of primary fibre based paper and increasing exports of recovered paper both in and outside Europe.
"The quality of recovered paper threatens to deteriorate as a result of unsorted waste collection systems in certain European countries and a growing interest in the incineration of recovered paper as an energy source."
---
Kadant strengthens market position in Europe and China
Supplier Kadant has expanded its water management product offering after it acquired M-Clean Papertech, a Europe-based supplier of paper machine fabric and roll cleaning systems.
The Sweden-based company manufactures the MultiJet™ modular cleaning system that is used for fabric and roll cleaning, and it will be re-named Kadant M-Clean.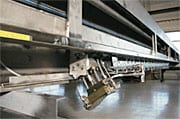 Jonathan Painter, president and chief executive of Kadant, said: "With more than 350 installations throughout Europe, China, and Asia-Pacific, the MultiJet product line adds increased depth to Kadant's water-management offerings to the paper industry and further strengthens our market position in Europe and China.
"The high-performance cleaning system has demonstrated success in helping papermakers extend fabric life and improve machine runnability and we are looking forward to completing the integration of the M-Clean business into our organisation."
The MultiJet modular cleaning system is applied to the after-dryers fabric to remove contaminants that reduce moisture removal efficiency to evaporate water from the towel or tissue web. It uses highpressure water with an effective evacuation and air knife system.
Wes Martz, Kadant's vice president, marketing, told TW: "The cleaning system is also applied to forming and press fabrics, of which the latter have a very bad reputation for stickies and causing web breaks and quality issues.
"Removal of stickies is extremely important to ensure tissue quality as well as machine runnability."
He added that the patented method offers excellent results in removing contaminants for increased drying efficiency, increased fabric life, and increased productivity.
"MultiJet cleaning systems clean during on-going production without leaving any moisture streaks or in any other way negatively affecting the paper quality. No chemicals or other additional ingredients are necessary," he said.
---
Will overcapacity threaten the global tissue industry?
MUNICH, Germany (Viewpoint) – By Esko Uutela, principal, tissue, RISI
The financial and economic crisis caused delays and partial stoppages of investments in new tissue capacity that lasted from less than one year to up to two years, depending on the region. China was only marginally hurt by the developments in the global economy while some countries, particularly in Europe but also in a few other regions, still continue to contend with recession consequences. In general, however, the global tissue industry experienced a major recovery with global tissue consumption growth of 4.1% in 2010. The rebound was even stronger than expected in some regions, such as North America and Eastern Europe.
The logical and unavoidable consequence from the return onto the long-term growth path was that companies around the world gained back their confidence in the future of the tissue business and began to plan new expansions. Several projects that had been postponed during the recession were reactivated and new projects started to emerge, gradually at first, but then at an accelerating pace when the economic outlook and financing possibilities improved. Since mid- 2010 the global tissue industry has been fully back in its strong expansion phase, with capacity additions led by China and followed by Latin America. New capacity coming on stream in other regions such as the Near and Middle East, Asia Far East, North America and Europe is also contributing to the total.
The list of new projects is long, particularly in China where new projects emerge monthly, if not weekly. A lot of new capacity is scheduled to come on stream in China in late 2011. There was a rush for new project announcements in 2010 and the start-up peak seems to cumulate for the period from late 2011 to early 2013 based on the current outlook. A number of projects that should have come online earlier in 2010 and 2011 have been delayed from their original start-up dates, which adds to the capacity change. Chinese market growth can absorb 400,000- 500,000 tonnes of new capacity annually, but capacity growth has exceeded market growth since 2006, with the exception of 2010 because of the tight financial markets and conservative policy for expansion decisions in 2009. But now the market seems to be overheated: new projects will add about 1.1m tonnes to China's tissue capacity in 2012 and more than 700,000 tonnes in 2013. This is absolutely too much, and overcapacity is obvious.
The restructuring measures announced by the Chinese government in its 12th Five-Year Plan, which include more than 8m tonnes of capacity closures in the pulp and paper industry, will also influence the tissue sector, but the main question is: how much of the old and inefficient tissue capacity will actually be closed? It is extremely difficult to estimate the influence of these mini mill closures on the Chinese capacity. Most of the mills to be closed belong to the category of unidentified capacity, which is in the range of 1.0m tonnes in the Chinese tissue industry. By our calculation, some 140,000 tonnes of tissue capacity closures have so far been identified for 2010 and another 150,000 tonnes are estimated for 2011-2012. These volumes have already been taken into account in our net capacity change and capacity utilisation rate calculations. Many of the tiny tissue mills have an annual capacity of only a few hundred tonnes, so the number of closures must be measured in three rather than two digits to have any major negative effect on the total capacity. And newly announced but still as yet uncommitted plans to add several new largesize tissue machines by the largest players will easily counterbalance these small capacity exits.
"The logical and unavoidable consequence from the return onto the long-term growth path was that tissue companies gained back their confidence"
Between 2010 and 2016, global tissue market growth will be able to absorb global capacity additions of up to 1.3m tonnes per year without negatively affecting the demand/supply outlook. In 2008 and 2009 capacity increases clearly exceeded the market expansion potential, and the average capacity utilisation decreased substantially to a level of 86% in the recession year of 2009. One positive result of the financial crisis was that new investments were delayed and new capacity coming online in 2010 and 2011 was in line or slightly behind the global market expansion; consequently, the average capacity utilisation is showing a small improvement. Unfortunately, this situation will change with too much new capacity becoming operational in the two next years. The average capacity utilisation rate is expected to return to its low level of roughly 86% in 2013 unless there are major delays in announced project schedules or massive closures of old capacity – – both of which are fully possible if not likely in certain regions, not only China, but also North America and Europe.
In North America, a lot of new investments have been recently announced, and their main effect will cumulate in 2013. However, we expect that the new investments will be accompanied by a number of closures. There is no official announcement, but we think that Georgia-Pacific will close some conventional tissue capacity after completing its two "f-TAD" rebuilds. In addition, Kimberly-Clark's plans to sell its Everett, Washington, mill on the US West Coast do not seem to be advancing well. There could also be some closures of smaller mills due to high costs, but we would not like to speculate too much with the mills in question in this context.
Our conclusion is that restructuring of the industry is the key issue that could improve the current rather gloomy outlook for the demand/supply situation in the global tissue industry. China and North America will play the main roles in this respect, but some closures can also be expected in other regions, including Europe and perhaps Latin America. Restructuring needs in the global tissue industry are evident when taking a closer look at the tissue benchmarking results reported by RISI's mill intelligence team. Industry consolidation and exit of inefficient capacity would be welcomed by the main players, but the pace of this process continues to be too slow.