Solar Turbines and its partners propose the most energy efficient solution for the tissue production taking advantage of natural gas and Combined Heat and Power (CHP also called cogeneration) properties.
Combined Tissue Direct Drying, Steam and Electrical Power
While producing the electricity for the tissue machine, the cogeneration system provides also the hot air and the steam for the drying process.
The gas turbine exhaust gases are sent to the Yankee hood to directly dry the tissue and the remaining energy is used in a heat recovery steam generator (HRSG) to generate the steam for the Yankee cylinder.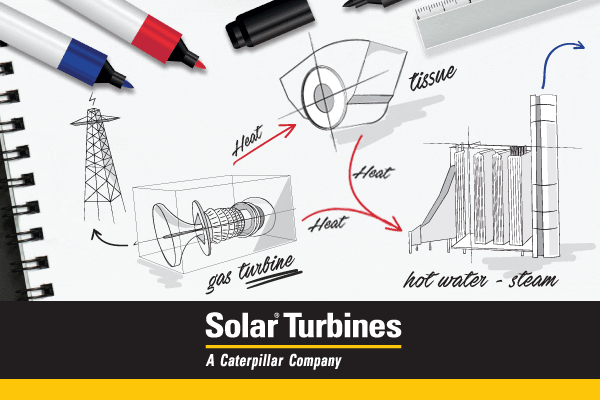 It results in very high energy efficiency and consequently in significant energy costs savings. Depending on the local incentives and utility costs, the savings can be as high as 50% and payback time below two years.
This unique solution is a combination of:
•   the performances of the Solar Turbines gas turbines solutions (electrical power, efficiency) and their world- renowned superior reliability and availability
•   the tissue production expertise of Solar Turbines' partners and their knowhow in integrating gas turbine exhaust gases into yankee hoods
enabling both high energy savings and undisturbed Tissue machine production as it was proven on our numerous running installations.
Solar Turbines supplied gas turbines packages for cogeneration plants with integration to Yankee Hood on 6 continents with gas turbines ranging from 4.6 MW to 22 MW.
Benefits
Benefits of these solutions typically include the potential to avoid grid disruption by power self-production, along with the energy cost savings and:
•   emissions reduction (CO2, NOx, CO and particulates) without need of SCR,
•   high power density,
•   ease of operation,
•   low noise level,
•   low operations and maintenance cost with, in particular, almost no lube oil consumption.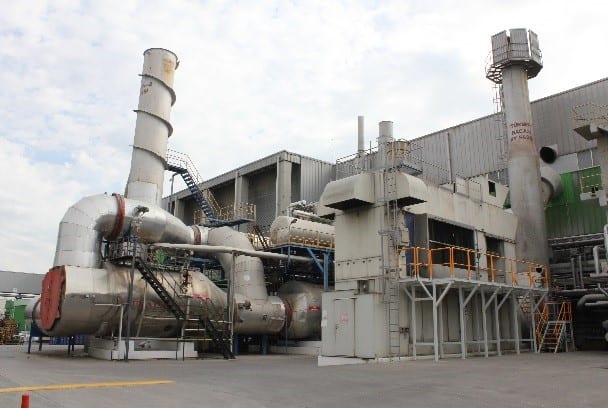 Plant in Turkey
Superior Reliability and Availability
The Solar Turbines packages are renowned for their superior reliability and availability backed by a knowledgeable local field presence (50 field service offices worldwide) and a unique Equipment Health Management system (EHM), which is a proactive, technology-based service powered by state of the art InSight Platform™ technology
Solutions provider

Solar Turbines and its partners can supply from the gas turbine package up to the cogeneration/CHP plant
(HRSG, Electrical room, fuel gas compressor…) including financing solutions.

Contact our expert to evaluate the cost savings you can achieve with Solar Turbines solutions:
Global Pulp & Paper Products, Benoit Fecamp: +41 918 511852, benoit_fecamp@cat.com
And visit our Pulp & Paper webpage:
https://mysolar.cat.com/en_US/products/power-generation/industry-solutions/pulp-paper.html
Headquartered in San Diego, California, USA, Solar Turbines Incorporated is one of the world's leading manufacturers of industrial gas turbines, with more than 15,000 units and over 2 billion operating hours in over 100 countries. Solar Turbines' products include gas turbine generator and compressor sets (ranging from 1 to 22 megawatts).
We are part of Caterpillar Inc., the world's leading manufacturer of construction and mining equipment, diesel and natural gas reciprocating engines and industrial gas turbines.